In December of 2021, we announced our largest grant program to date, allocating thousands of dollars in $1K cash grants and $1K Skip service credits. Over the last year, we've been donating our YouTube revenue back to individuals and small businesses to help them during the pandemic.
If you could use a $1K grant, you can enter here in a few seconds, or keep reading to learn more about the Skip Grant Program.
📌 Pro tip: Check out our ultimate guide to small business grants for 2022.
What Is the Skip Grant Program and Who's Eligible?
The Skip Grant Program is open to all business owners and entrepreneurs. We hope you apply and share this information with others.
Since March of 2020, we have been posting videos on our YouTube channel nearly every day, helping businesses with the Paycheck Protection Program (PPP), Economic Injury Disaster Loan (EIDL) program, other SBA programs, and other grant opportunities. We've also been donating a large portion of our YouTube revenue back to business owners.
Our CEO, Ryder, announced our new grant program on Skip's YouTube channel. Through this program, we will award $1K cash grants and $1K in Skip services to several business owners every month (number of grantees will vary based on YT revenue).
We will strive to select winners on the third Wednesday of every month – live on our YouTube channel – but subscribe to our channel, as we will announce any changes to our drawing timeline there.
How Do I Apply to the Skip Grant Program?
The Skip Grant Program is easy to apply to and can be done in as little as two minutes. Here's how to apply.
Step 1
Go to the Skip Grant page and fill in basic information, such as your name, email, work email (optional) and business role. Then click the "next step" button.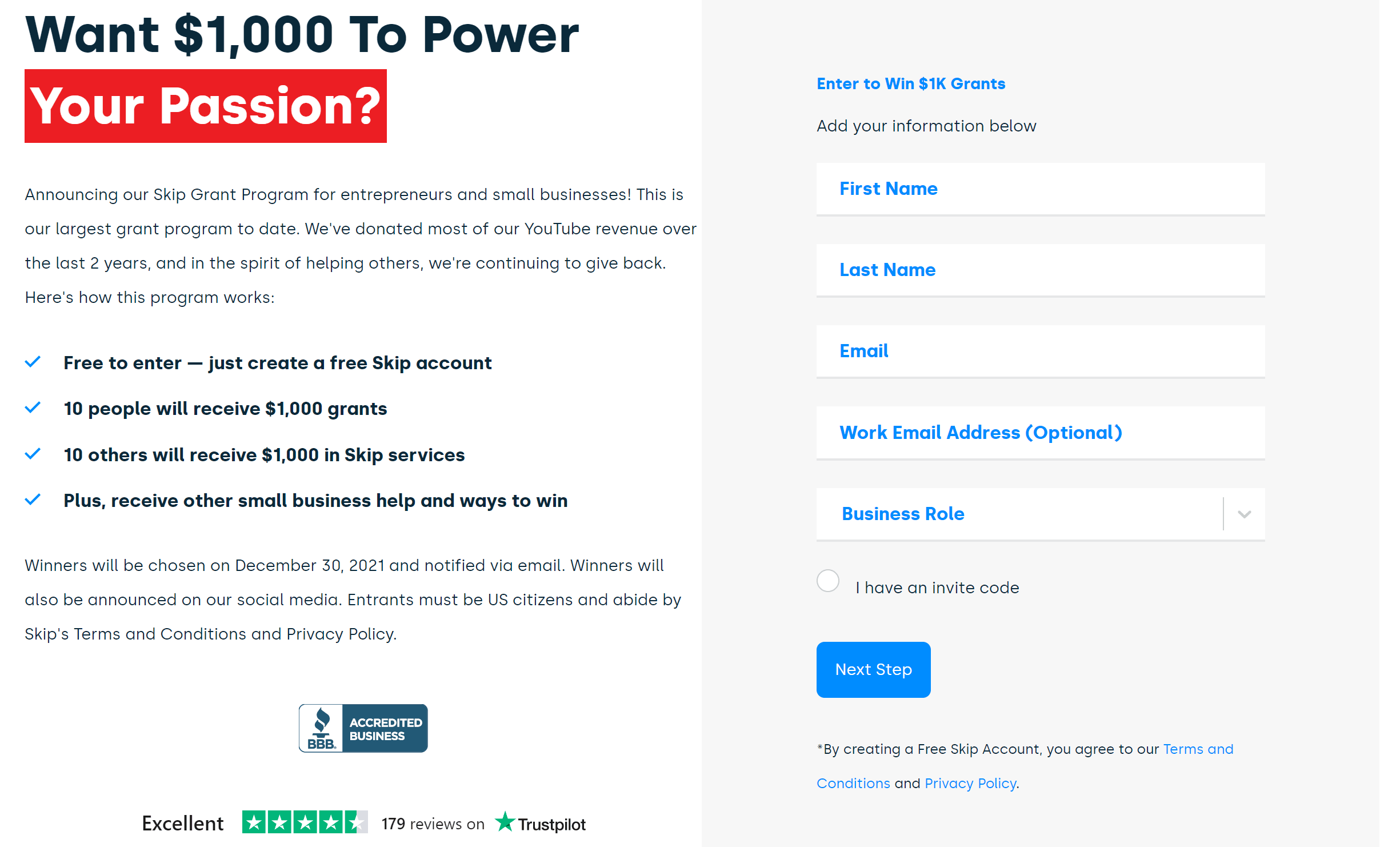 Step 2
Then you will be asked to provide your business name, business entity type (Sole Proprietorship, LLC, etc.), your annual revenue, number of employees, business start date, website (optional-type in na.com if you don't have one), and then your business address. The auto-fill function will begin once you start typing.
Click the "final review" button.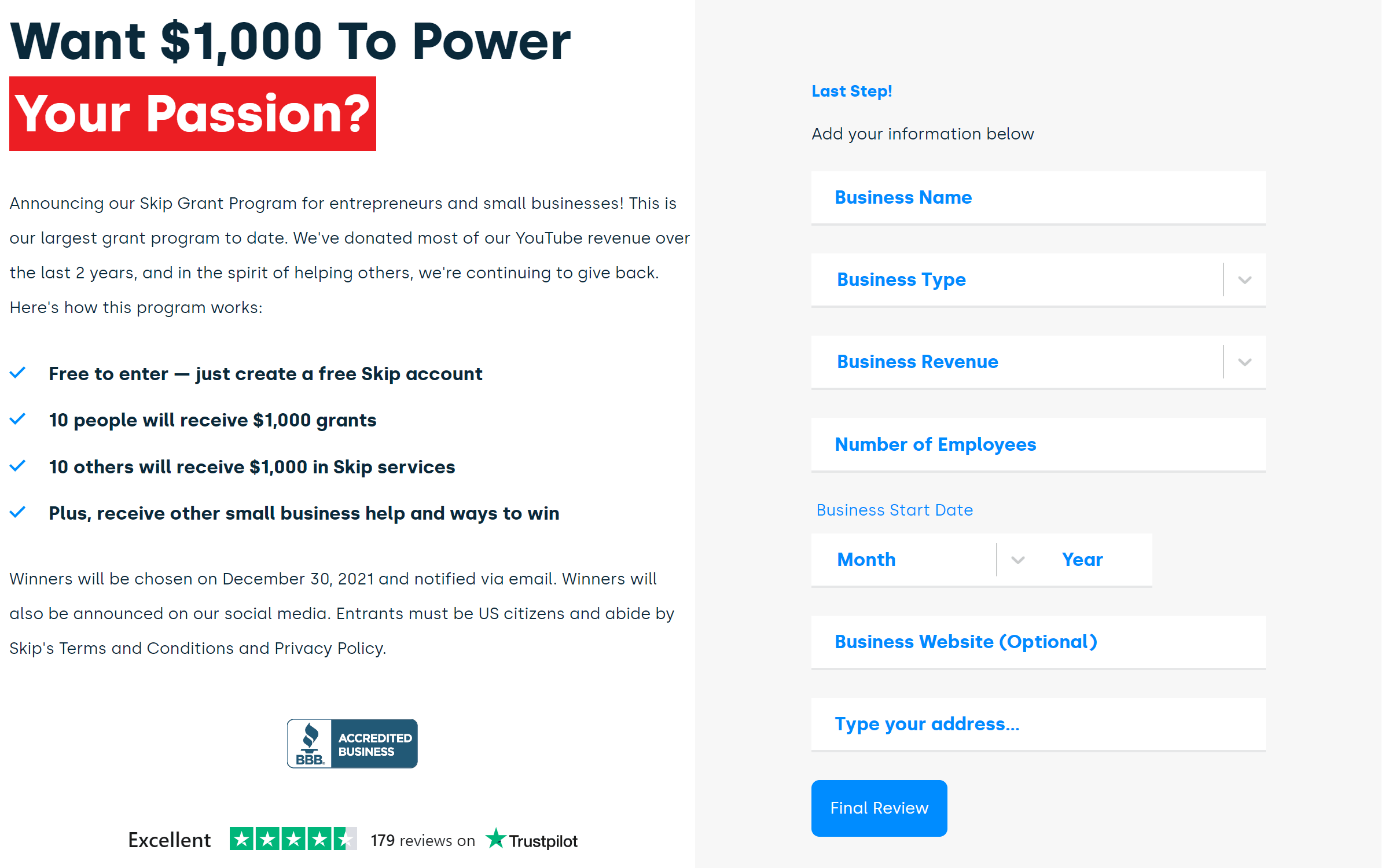 Step 3
The last step is to review your information, check the radio button to agree with the terms, and click the entry button. That's it! Be sure to check your email, as we will send a confirmation email with a few ways to get extra entries (also discussed below).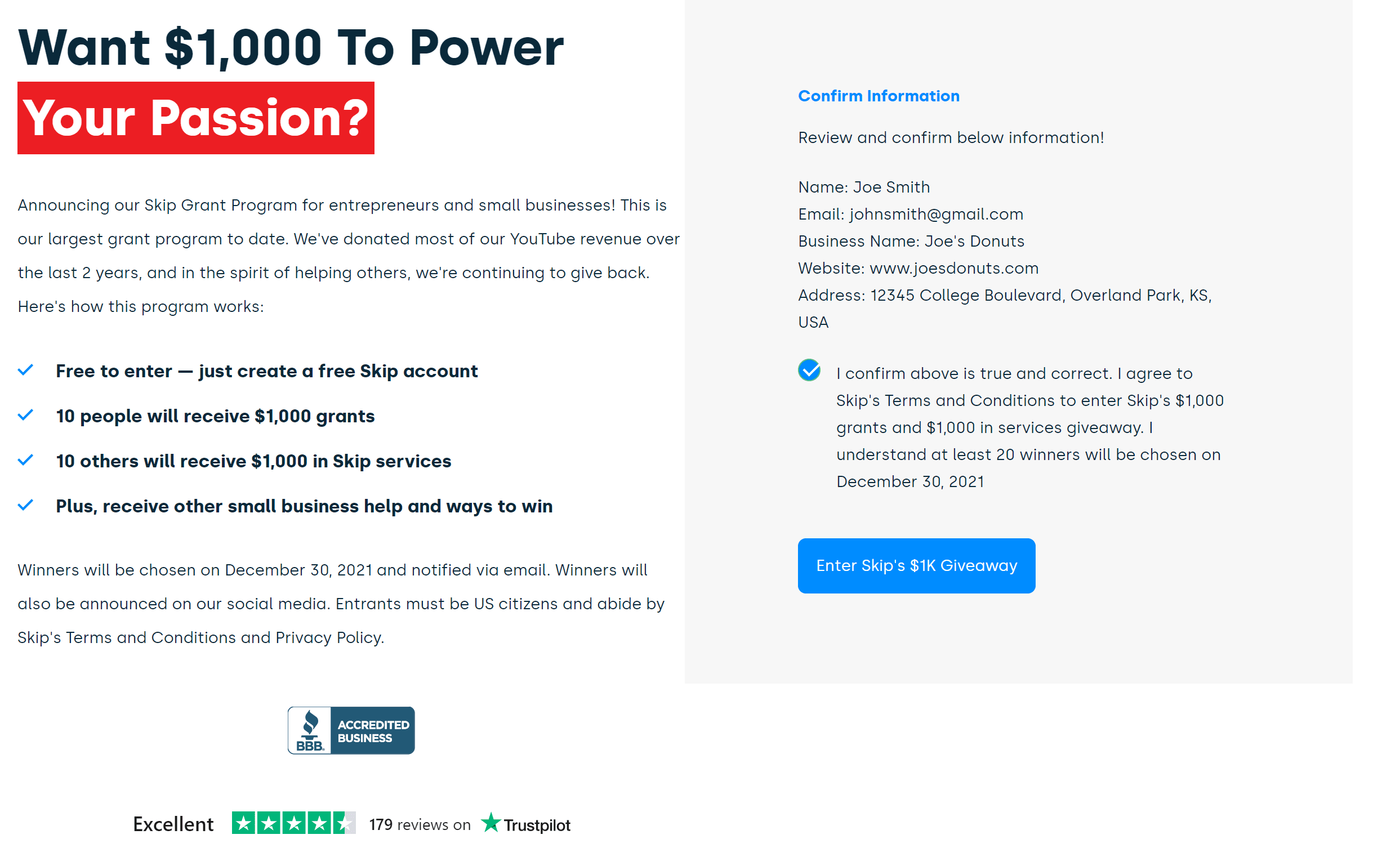 How Do I Get EXTRA Entries Into the Skip Grant Program?
When you apply to the Skip Grant Program you get one entry, but there are three ways you can earn more entries.
Subscribe to our YouTube Channel: When you subscribe to our YouTube channel, you will earn 1 additional entry.
Follow us on Instagram: When you follow us on Instagram, you will earn 1 additional entry.
Share your link with others: After you submit your application for the Skip Grant, you will receive a confirmation email. In the email, we will provide you with a personalized link that you can share with others. It will look something like this: https://helloskip.com/1K/?ref=DAN113  

When other people use your personalized link or the code (anything after the equal sign – DAN113 in the above example) you will earn 5 extra entries.

So, if two people use your link to enter, you will get 10 additional entries. If five people use your link to enter, you will get 25 additional entries, so on and so forth.
Need Funding Assistance?
Do you need help getting funding for your business? We can help with EIDL, SBA loans, grants, or other business financing options. Get ongoing personalized help from our team. Join Skip Premium today and get 1-1 support for your business.
---
How Else Can Skip Help? Whether you need assistance navigating funding for your small business — like SBA loans, grants, or other financing options, or guidance with government-related services — like TSA PreCheck or DMV appointments, we're ready to help. Become a member and skip the red tape.