5 Common Small Business Scams And How To Avoid Them
Business owners who need funding can apply for a loan without ever leaving their homes. While this makes it easier for businesses to find funding sources, it also makes it easier for scammers to capitalize on this need for quick, low-interest capital. Here are five common small business scams to look out for and how to avoid them.
YouTube 'Guaranteed' Loan Approval Scam
YouTube can be a great source of information, but it does involve some risks. It's a scammer's playground because anyone can comment on YouTube videos. Scammers generally target YouTube channels with tens of thousands of subscribers and leave comments to entice the readers.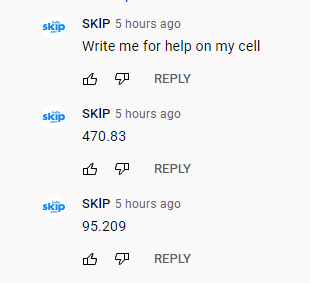 Often, scammers pretend to be the official channel or YouTuber (as in the example from our account above) and ask people to text them, email them, or follow them to another profile. From there, they attempt to convince the unsuspecting business owner to pay them money to "guarantee" a loan approval.
How to avoid this scam: Never respond to someone on YouTube that asks you to message them directly and then demands a payment for "guaranteeing" a loan approval.
SBA 'Verify Account Info' Scam
This scam is particularly tricky for businesses who applied for an SBA loan, such as a PPP or EIDL loan. Scammers will email business owners pretending to be a loan officer from the SBA. The email asks business owners for personal information, such as bank account information, in order to finalize and deposit the loan. Scammers use a third-party site to collect the information and then withdraw money from the account.
How to avoid this scam: It's important to read the email address from the sender. Any correspondence from the SBA will come from a @sba.gov email address. Do not trust any email that does not come from that designation, even if it has SBA logos and signatures.
Ghost Investor or Unknown Angel Investor Scam
This scam aims at businesses that are looking for early-stage funding, but any business seeking financial assistance can succumb to it. The scammer pretends to be a representative for a venture capitalist firm, angel investor, or another foundation that is interested in financially supporting your business.
Instead of inviting you to apply or make a pitch, they simply offer you a certain amount of investment capital money in exchange for a transaction fee. They may also ask for your SSN, EIN, address, and other financial documentation. With this info, they can do a host of damaging acts, including identify theft and business identity theft.
How to avoid this scam: Applying for equity investment will require a lot of work and a lot of time. Any real investor will want to speak with you, go over your business plan, and discuss specific details long before they ever offer you any money. Avoid anyone offering lots of investment money from an unknown investor, especially if they have a "transaction fee."
'Build Credit Fast' Scam
Your credit history (personal and business) is one of the most important aspects that lenders look at when assessing your creditworthiness. This is why scammers seek to make money off of people and businesses who have bad credit. They guarantee a dramatic increase in your credit score within a short amount of time for a fee.
While there are legitimate ways to increase your credit score, sometimes rather quickly, you don't need to pay anyone in order to do it. You can do it yourself, for free.
How to avoid this scam: You alone can raise your credit score, it just takes a little work and dedication. Anyone offering to raise your credit score for a price is illegitimate. Stay away from them.
Business 'Loan Application Fee' Scam
The business loan application fee scam is sometimes called the advance fee scam or processing fee scam. Scammers notify businesses via email that they are prequalified for a business loan with 0% interest, no credit check, long terms, bankruptcy is acceptable, no collateral is required, or a combination of these. They make the offer very appealing to the business owner.
The catch is that the business has to pay a one-time "application fee" or "advance fee" to claim the amazing deal. These pretend lenders want you to believe that you qualify for a loan, no matter how unqualified you may be, as long as you secure your spot by paying a fee. Business owners that are desperate for financial help fall prey to these schemes.
How to avoid this scam: Every lender, with the few exceptions of costly merchant cash advances, will have minimum credit and collateral qualifications, depending on the size of the loan. No lender is going to offer 0% financing for the life of the loan. If it sounds too good to be true, it usually is.
Find Genuine Help For Your Small Business
If you need financial assistance for your small business, considering applying to the SBA EIDL program, other SBA loans, or private lending alternatives. Every week on our app, we post new grants and loans that you can apply for. Try Skip Plus free for 2 weeks and never miss out on another major funding opportunity for your business.
If you need specialized assistance with your loan or funding options, you can get ongoing personalized help from a member of our team. There are over 4,000 on our waiting list, but you can skip the waitlist completely with this invite link.