One of the most important steps you take when starting a business is deciding on the name of your business. Did you know that you can use different business names? You can operate under your legal business name or use a trade name.
In this article, we explain the difference between a business name and a trade name, the pros and cons of using a trade name, and how to register for one.
What is a Legal Business Name?
Your business's legal name is the name on the paperwork you filed when you registered your business. If you have an LLC, the business name is the name recorded on the Articles of Organization. If you have a corporation, it's the name on the Articles of Incorporation.
The business name is also called the formal name. It is the name the IRS uses when issuing an Employer Identification Number (EIN), the name that will appear on your tax returns, and the name that should be used on other formal documentation.
For sole proprietors, your business name will automatically be your legal name. You and your business are considered one, in the eyes of the law and the IRS, so if your name is Jane Doe, your legal business name is Jane Doe.
What is a Trade Name?
A trade name is commonly referred to as a fictitious name or DBA (doing business as) name. It's essentially a pseudonym, or nickname, for a business. Instead of operating under the full legal name, a business can operate under a different name or an abbreviated name.
A trade name is what you use when you advertise your business, and what your customers commonly refer to your business as.  Normally, businesses use the name of the business, but drop the "LLC" or "Inc."
For example, the legal business name of the company that owns amazon.com is Amazon Technologies, Inc. The trade name it uses and advertises is simply, Amazon. Walmart is another example. The trade name (name on its website and advertisements) is just Walmart, but the legal name is Wal-Mart Inc.
Your DBA can also be something entirely different than your legal business name. This is a common practice among sole proprietors that don't want to use their legal name, but limited liability companies, partnerships, and corporations frequently use trade names as well.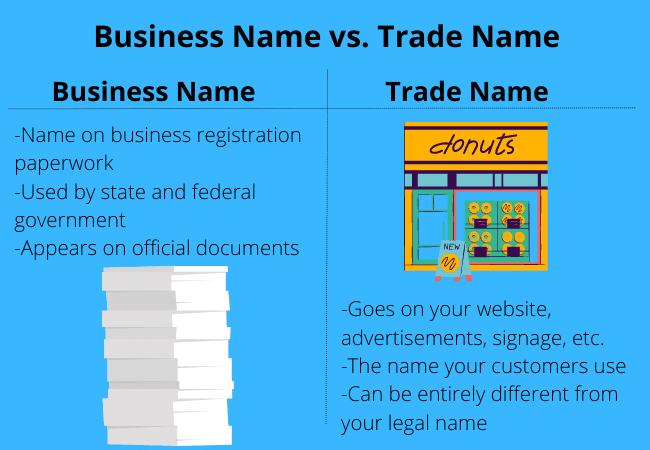 How Do I Register a Trade Name?
Registering a trade name is a relatively simple process. To conduct business under a trade name, register your trade name with the Secretary of State's office in your state. There should be an online form that you fill out to operate with a fictitious name or operate as a DBA.
After completing the trade name registration with the state, check with your County Recorder's office (or related business office). Find out if state registration is sufficient, or if the county has additional registration requirements.
What are the Pros and Cons of Using a Trade Name?
One of the benefits of filing a trade name is legally identifying the name that your customers will refer to you as. Using the Amazon example, nobody–probably not even Jeff Bezos–calls the company Amazon Technologies, Inc. Everybody calls it Amazon.
Having a trade name also enables you to accept payments (specifically checks) made out to the trade name. If someone writes a check to Joe's Donuts or Joe's Donuts LLC, the bank can accept it either way. Having a trade name also enables you to form different brands if you have multiple products (think Amazon Prime, Amazon Music, etc.)
The biggest downside to a trade name is that most states do not give you exclusive rights to use the name. No one else can use your legal business name, but trade names can be used by multiple people. If there are two donut shop owners in the same state named Joe or Joseph, both could potentially use "Joe's Donuts" as a trade name.
The only way to ensure that you have the exclusive rights to your trade name–and prevent anyone else from using it–is by registering it as a trademark through the U.S. trademark office.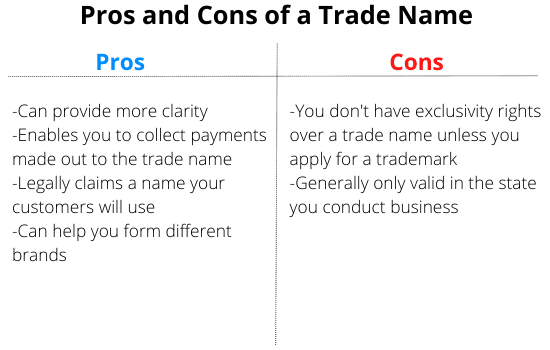 Is a Trade Name the Same as a Trademark?
A trade name and trademark are not the same and it's critical to understand the difference. A trade name is a nickname or fictitious name. A trademark is a legal action that establishes ownership of that name.
A trademark can be applied to a name, logo, symbol, or slogan. When a company registers a trademark, no one else can use it. If a trademarked name or logo is used by another company, the company that owns the trademark can sue.
Once you have an active trademark registration, you can use the registered trademark symbol, ®, wherever your name appears (advertisements, packaging, etc.). You can register a trademark through the U.S. Patent and Trademark Office (USPTO), but you may consider hiring an attorney to help.
Need Ongoing Funding Help for Your Business?
Do you have funding questions about your business, such as EIDL applications, SBA loans, or other business financing questions? Get ongoing personalized funding help from our team. Join Skip Premium today and get 1-1 support for your business.