CDC Updates Mask Guidelines As Delta Continues To Spread
In this week's coronavirus update, the CDC urges people to wear masks indoors once again due to the delta variant. We also discuss the reappearance of mask mandates in certain areas. Lastly, we have updated nationwide and worldwide infection numbers for you.
CDC's New Mask Guidelines
This week, the Centers for Disease Control and Prevention (CDC) updated its mask guidelines. Now, the guidelines recommend wearing "a mask indoors in public if you are in an area of substantial or high transmission." This update marks a stark shift from the CDC's May update, which stated that fully vaccinated individuals did not need a mask nor needed to socially distance in most situations.
According to their map, over 78% of the United States falls under the "substantial or high transmission" criteria. In fact, the only states that don't have areas of high transmission are in the Northeast. Every other state has at least some percent of high transmission and some states are entirely categorized as high transmission.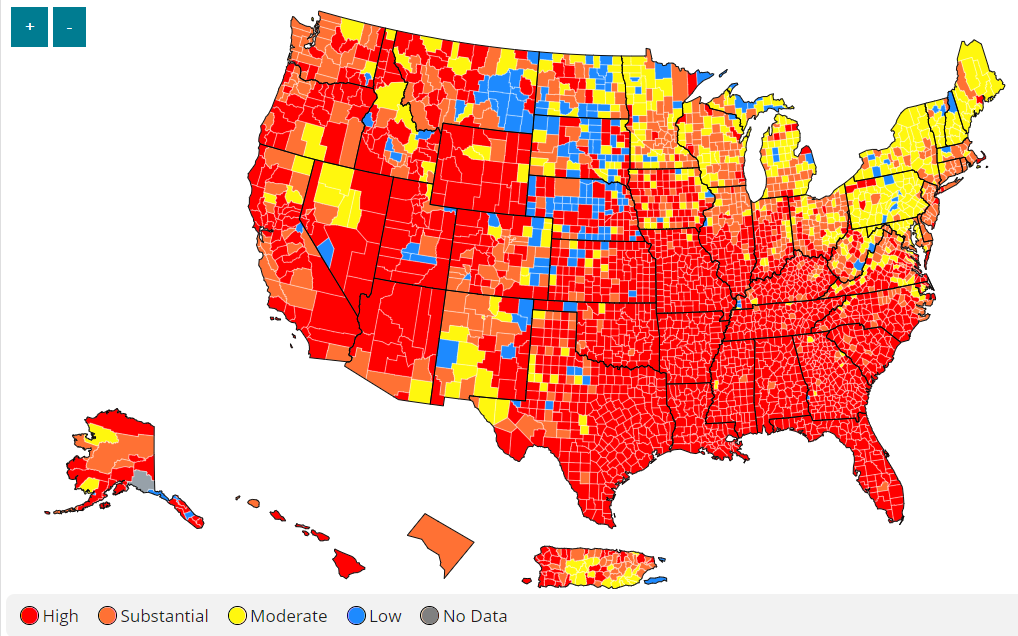 Rochelle Walensky, the Director of the CDC, stated that the revised guidelines are a result of the new data they collected on the delta variant. While vaccines continue to protect against severe illness, hospitalization, and death, vaccinated people continue to have "breakthrough" cases. Walensky stated, "In rare occasions, some vaccinated people infected with the Delta variant after vaccination may be contagious and spread the virus to others."
This has caused some to worry about what lies ahead, fearing more restrictions from the federal government that could dampen the growing economy. Despite President Biden mentioning that there could be stricter measures imposed, Press secretary Jen Psaki states that there are no plans to return to drastic restrictions similar to six months ago.
Also this week, the CDC updated its guidelines for K-12 schools. The CDC now recommends "universal indoor masking for all teachers, staff, students, and visitors...regardless of vaccination status." This updated guidance for schools is also a large drift from their earlier recommendation that only vaccinated teachers and students should wear masks. The CDC continues to recommend that students return to full-time in-person instruction in the fall, with safety measures put in place.
Mask Mandates Return
Meanwhile, as the CDC recommends that everyone wear a mask indoors when in public, areas have already reimposed mask mandates. In our last update, we mentioned that Los Angeles and St. Louis reimposed mask mandates in their counties. Since then, other places have followed suit.
Nevada's governor has reinstituted a mask mandate throughout the state. As of Friday, masks must be worn by everyone, whether vaccinated or not, when indoors. Las Vegas had just dropped their mask mandate on June 1st.
Kansas City has reinstituted its mask mandate as well. Beginning August 2nd, everyone five years and older will be required to wear a face mask indoors. Several Kansas City Metro health departments, who released a joint statement in July recommending face masks to be worn in public, and now urging other cities to join Kansas City in imposing mask mandates to curb the spread of the Delta variant.
Latest U.S. Numbers
Over the last two weeks, there has been a 148% increase in the cases, a 73% increase in the number of hospitalizations, and 13% increase in deaths. The delta variant makes up about 82% of all new cases in the U.S.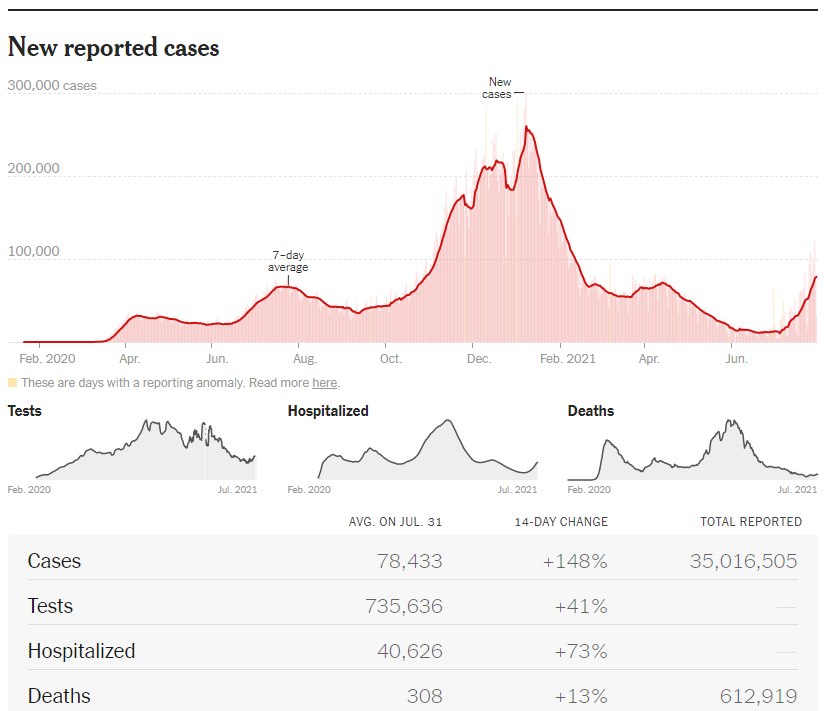 Several areas in the U.S. continue to have hot spots. Louisiana's cases have increased 244% over the last 14 days with 89 cases per 100,000. Florida's cases have increased 144% with 84 cases per 100,000. Arkansas' cases have increased by 70% with 57 cases per 100,000.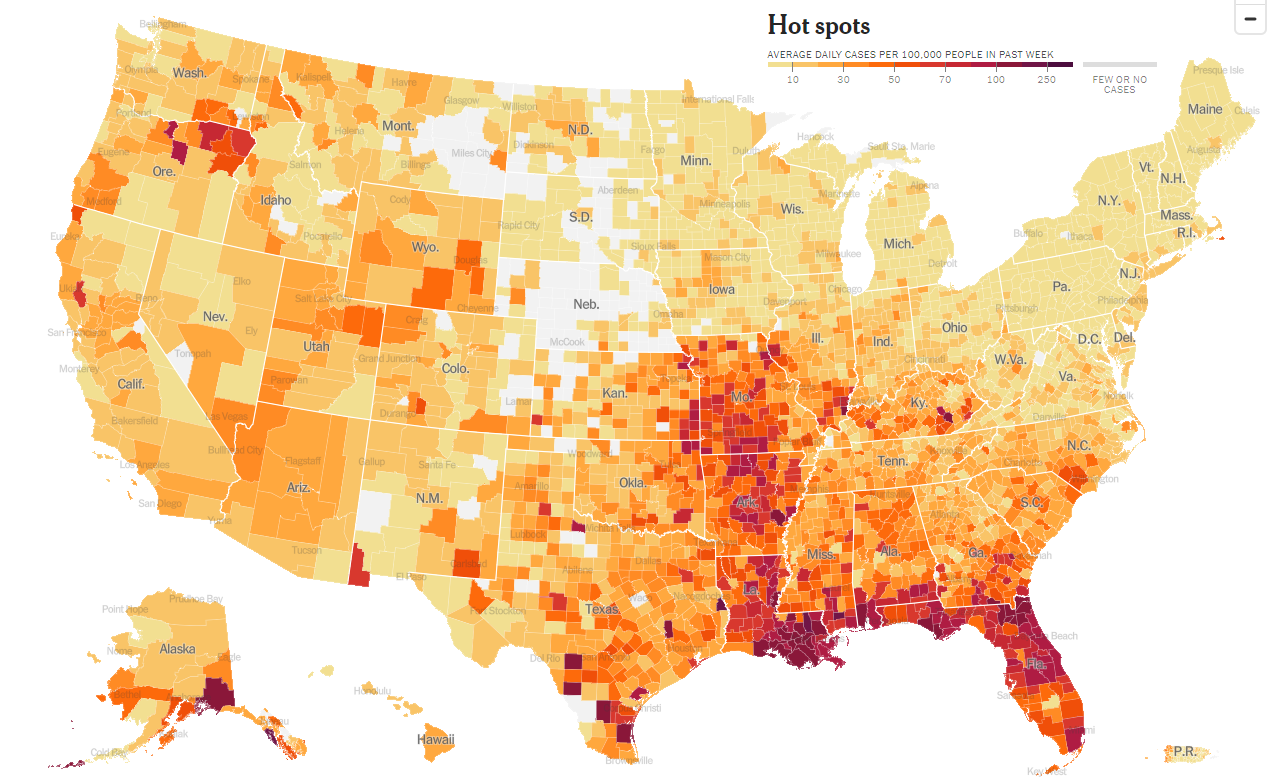 The CDC estimates that 164.8 million Americans are fully vaccinated. This accounts for 49.6% of the total population and 60.5% of adults 18 years and older. 57.7% of the total population (69.9% 18 and over) have received at least one dose.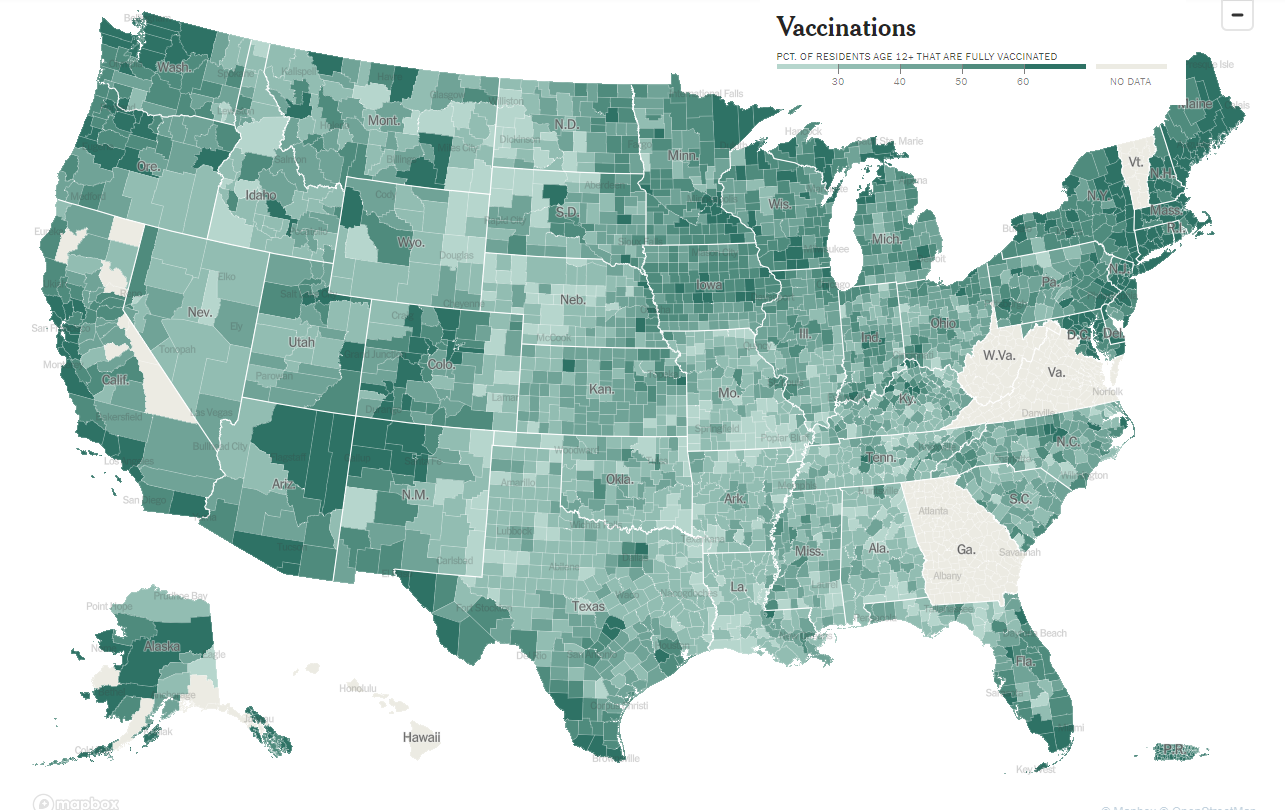 Latest Worldwide Covid Numbers
The number of Covid cases is increasing around the world as well. Cases have increased by 18% and deaths have increased by 13%.
Countries around the world are continuing to have spikes in cases. Countries with the highest level of cases per capita are Fiji, with 117 cases per 100,000, Isle of Man with 96 cases per 100,000, and Gibraltar with 78 cases per 100,000.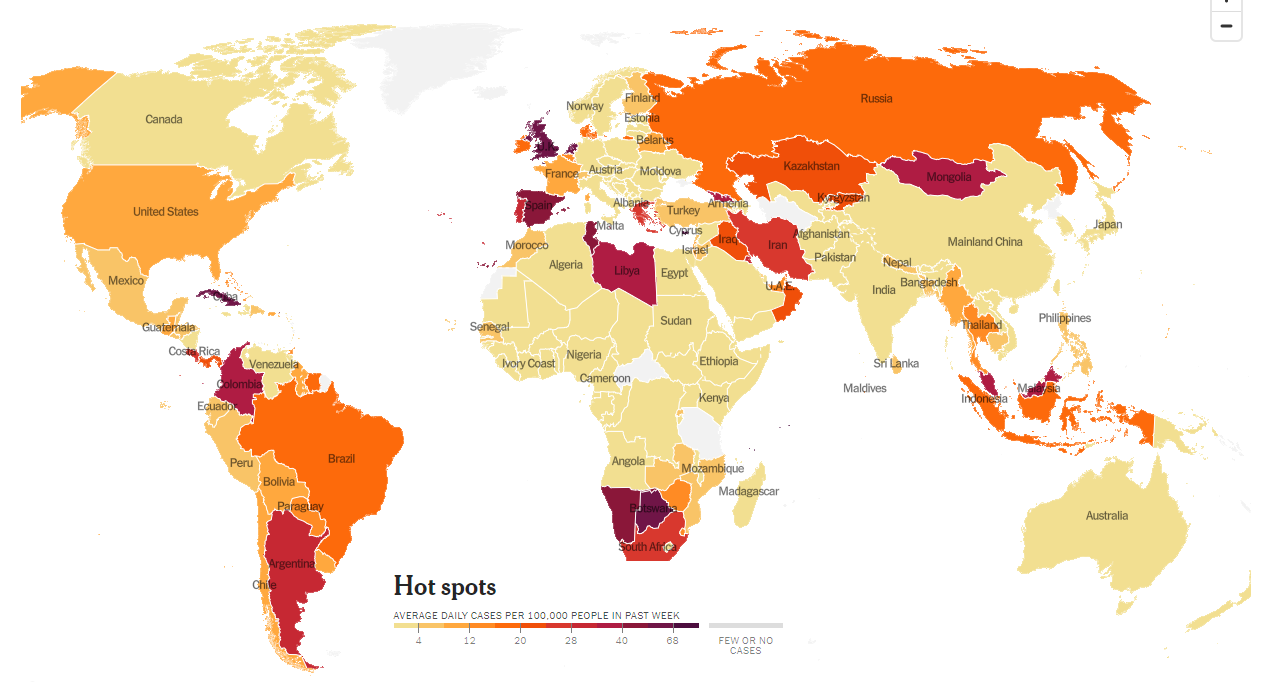 If you are traveling anytime soon, be sure to check out the appropriate travel requirements. We track each country's testing and vaccination requirements for you, so you don't have to.