PPP Loan and EIDL Grant Tuesday Update
Here's What You Need To Know About the EIDL Grants and PPP Loans
Tuesday January 19th: The major PPP lenders are now live! We recommend applying through Bluevine with our partner link, which has the simplest and quickest form.
If Bluevine doesn't work for you, you can also apply through our partner Funding Circle or our partner Credibly.
In EIDL grant news, the SBA has said today that the EIDL grants process is now delayed until mid-February. In addition, they will reach out to those who may qualify for the "Targeted EIDL grants" first and then reach out to people who may have missed the first EIDL grants round due to lack of funding. So there is NO ACTION NEEDED at this time.  Here's a screenshot from the SBA updated website from today: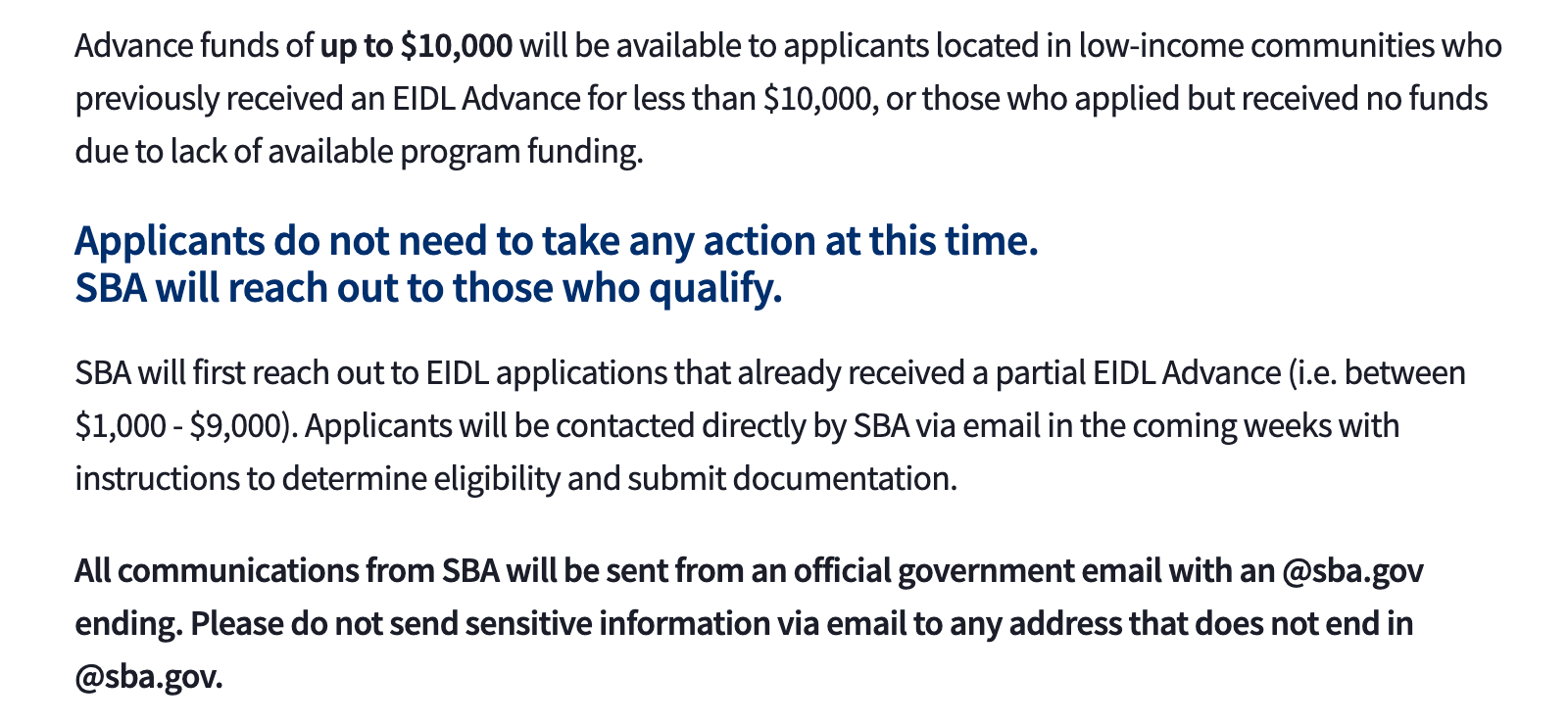 Finally, we'll keep you updated on our Instagram so feel free to follow us there, and if you're not following us on YouTube, be sure to do that as well. In summary, the SBA will contact you, for now, regarding the EIDL grants. The only thing you may want to consider taking action on now is applying for a PPP forgivable loan.
Here's today's video on the delayed EIDL funding timeline and other SBA funding updates. For the full SBA EIDL press release, click here.
How Does The PPP Forgivable Loan Process Work?
The PPP program was first started from the Cares Act in March 2020 to provide forgivable loans to small businesses to help in response to the pandemic. With the new bill, there is the opportunity to apply for a second PPP round through an SBA-approved lender.
Millions of businesses took advantage of these forgivable loans by applying through lenders and banks to get this funding. Over 2,000 banks and lenders participated in the program.
Basically, the process is this:
The SBA sends rules to the banks and lenders
Banks have online forms for small businesses or sole proprietors to apply
Banks review applications and if you qualify, they will seek final approval from the SBA
The SBA will ensure the application is correct and you haven't already received PPP funding from another bank
The bank will approve you, have you sign documents, and they'll wire you the money
Do you Qualify for a Second PPP Loan?
If you have less than 300 employees and your revenue declined by 25% or more from a quarter in 2020 versus 2019. There are other rules as well you'll need to know but those are some of the basics.
If you're interested in finding out how much you're potentially eligible for — both EIDL grant, EIDL loan, and PPP funding — here's our new SBA funding calculator.
How Do PPP Loans Impact EIDL Grants?
In the first round, borrowers had to deduct EIDL Advances (aka Grants) from their PPP forgiveness amount. Now you don't have to. This is especially good for independent contractors or self-employed individuals. In the past, it often didn't make sense to apply for both, because the additional PPP amount may have been negligible.
How Does Forgiveness Work with PPP Loans?
In most cases, your bank or lenders will submit the PPP forgiveness application directly to the SBA. Your bank or lender will have more information about this. The SBA has up to 90 days to decide on forgiveness but in many cases this has been extended.
PPP Round 2 Summary
If you want to get a head start on your PPP application, you can start a free Skip Plus trial here. We'll send you our partner lenders that are accepting a limited number of early applications as well as support you throughout the EIDL and PPP processes.
If you find this information helpful or know someone who could use funding as well, feel free to share Skip with them.