FDA Panel Votes Against Booster Shots For General Public
In this week's coronavirus update, an FDA advisory panel met on Friday to discuss the issuance of a Covid-19 booster shot, as proposed by President Biden and recommended it for high-risk populations only. We also have updated nationwide and worldwide coronavirus numbers for you.
FDA Panel Endorses Covid-19 Booster for High Risk Population Only
Friday, an advisory panel of the Food and Drug Administration (FDA) discussed whether or not a Covid-19 booster shot from Pfizer would be necessary. This meeting came about due to President Biden's proclamation that booster shots would be available the week of September 20th, pending FDA approval.
The advisory panel determined that booster shots for the general public would not be necessary at this time, but recommended them for those 65 and older and other high-risk individuals. There was intense debate between the proponents of the booster shot and skeptics of it.
Jeanette Lee, a panel member and professor of biostatistics at the University of Arkansas stated, "I think that a lot of individuals do feel there is a role for another dose in populations, and we would like to see that come forward." Support for a booster shot coming from the assumed decline in the vaccine effectiveness and the current spread of Delta.
Those against the administration of a booster shot for the public at large are concerned that there is not enough evidence to suggest its safety and effectiveness. The science, they report, justifies allotting booster shots to the high-risk (who do not always develop the same level of immunity) and the elderly only.
Eric Rubin, a panel member, editor in chief of the New England Journal of Medicine, and a Harvard microbiologist stated, "The marginal benefit of a third dose of vaccine for people who are already vaccinated is likely to be very small for reducing the overall burden."
Dr. Ofer Levy, a vaccine and infectious disease specialist at Boston Children's Hospital said, "It's likely beneficial, in my opinion, for the elderly, and may eventually be indicated for the general population. I just don't think we're there yet in terms of the data."
Another concern raised during the debate was the potential for a third dose to raise the risk of myocarditis. The panel concluded that the data is insufficient to determine whether or not a third dose would raise the risk. It was determined, by a 16-2 vote, that the booster should not be recommended to the general public at this time.
Biden's Booster Plan May Move Forward Anyway
The Biden Administration planned to offer booster shots to the American public on September 20, 2021, but this was in anticipation of FDA approval. The FDA generally follows the recommendation of the Vaccines and Related Biological Products Advisory Committee, but it has not always.
Dr. Peter Marks, the FDA's top vaccine regulator, reminded the panel after their vote, "We are not bound at FDA by your vote, just so you understand that. We can tweak this as need be." The FDA has not officially made a determination in regards to the booster shots, but are expected to soon.
Latest U.S. Numbers
Over the last two weeks, there has been an 8% decrease in the number of cases, an 8% decrease in the number hospitalizations, and a 29% increase in the number of deaths.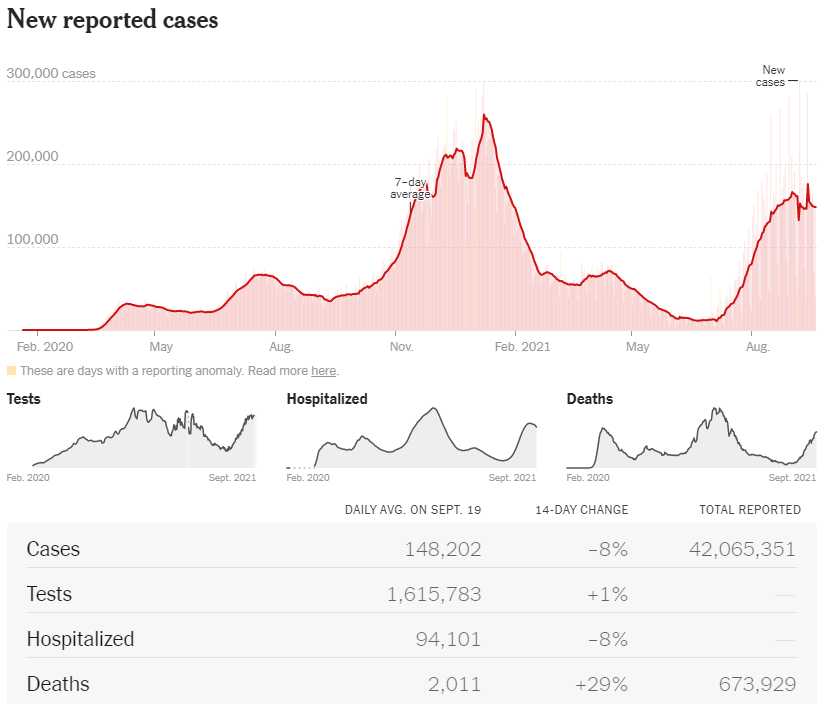 Several areas in the U.S. continue to have hot spots. Tennessee's cases have increased by 9% with 109 cases per 100,000. West Virginia's cases have increased 23% over the last 14 days with 102 cases per 100,000. Alaska's cases have increased 33% over the last 14 days with 101 cases per 100,000.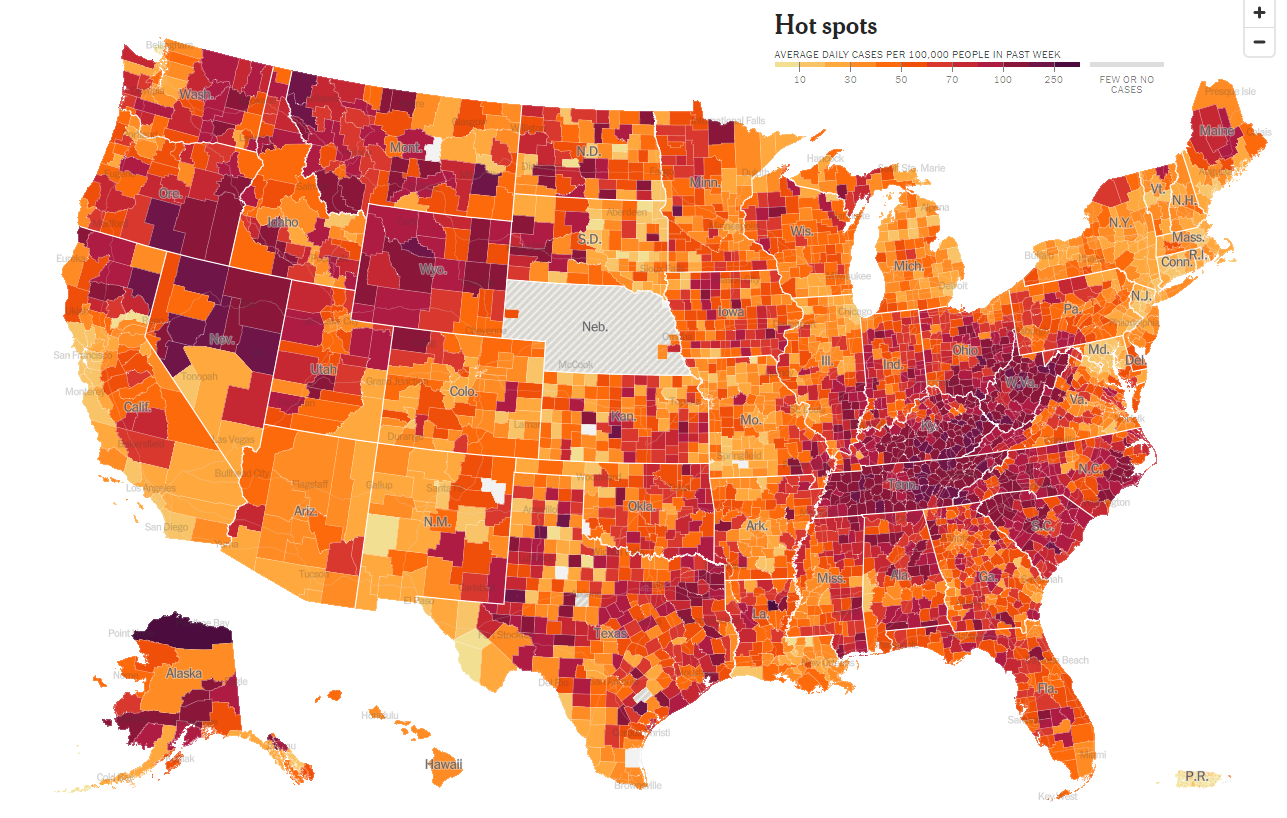 The CDC estimates that 181.4 million Americans are fully vaccinated. This accounts for 54.6% of the total population and 65.8% of adults 18 years and older. 63.8% of the total population (76.5% 18 and over) have received at least one dose.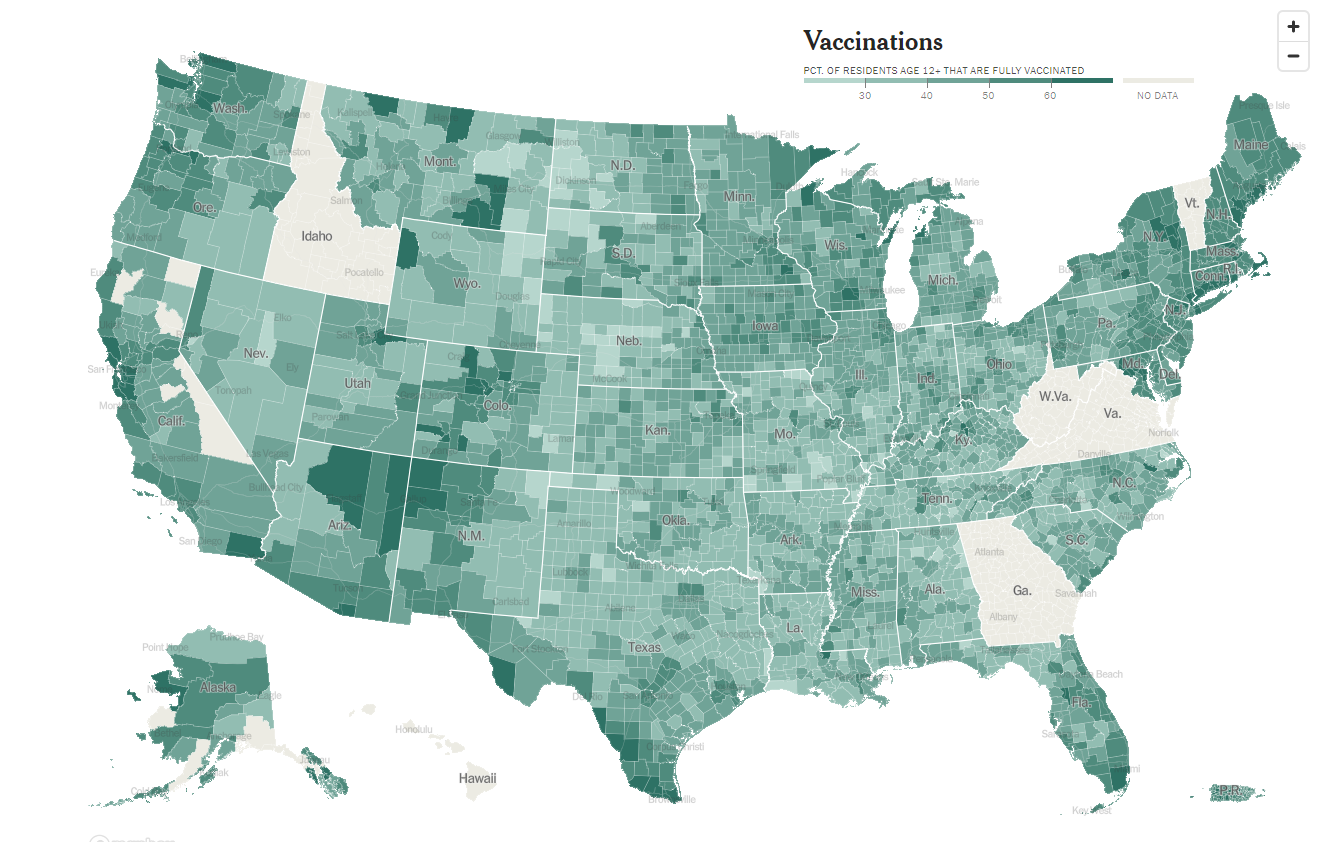 Below is a risk map of the U.S. based on testing data and current cases.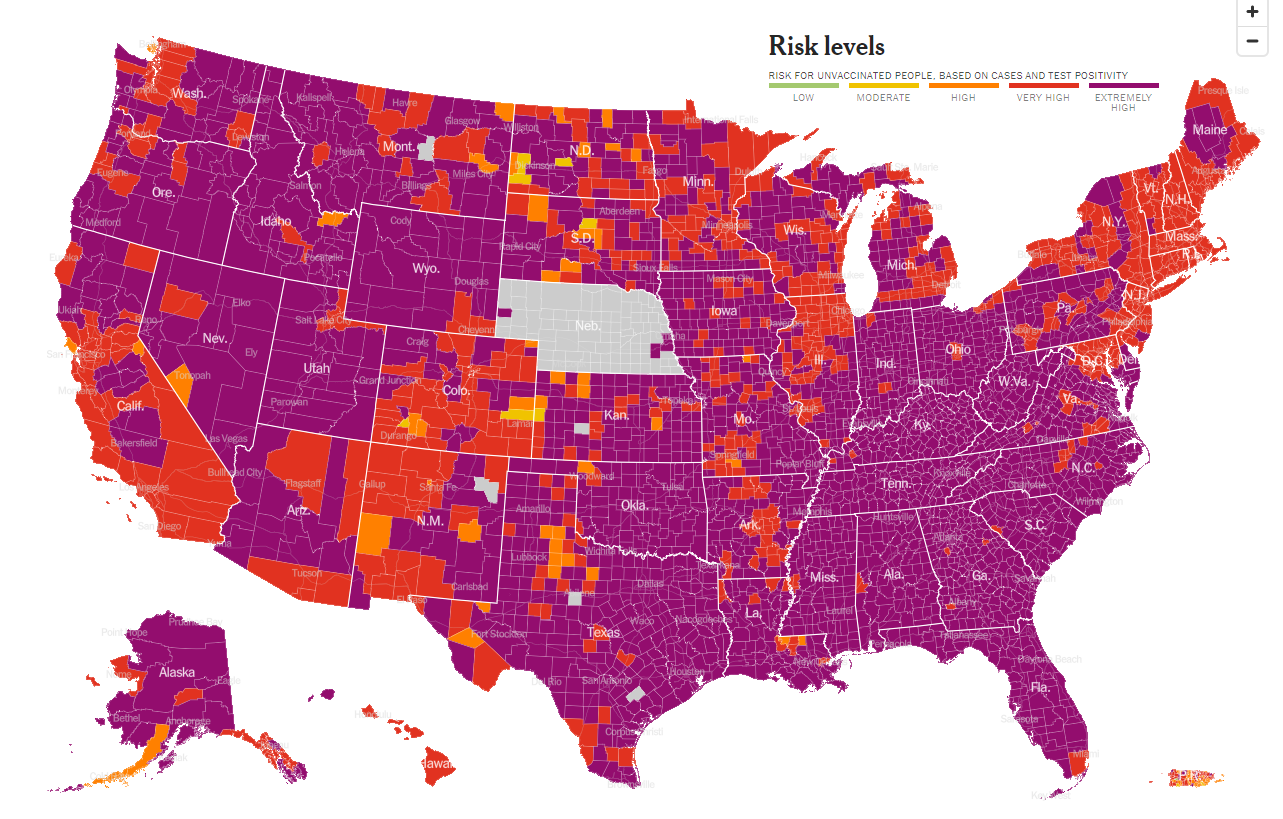 Latest Worldwide Covid Numbers
The number of Covid cases decreased around the world. Cases have decreased by 12% to just over 541,000 cases on a daily average. Deaths have decreased by 8% to over 8,700 on a daily average.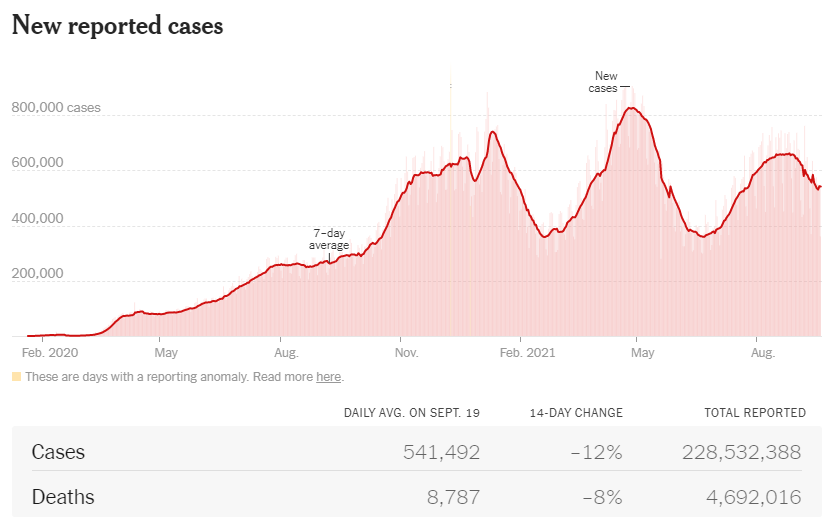 Countries around the world are continuing to have spikes in cases. Countries with the highest level of cases per capita are Grenada with 159 cases per 100,000, Mongolia with 106 cases per 100,000, and Bermuda with 93 cases per 100,000.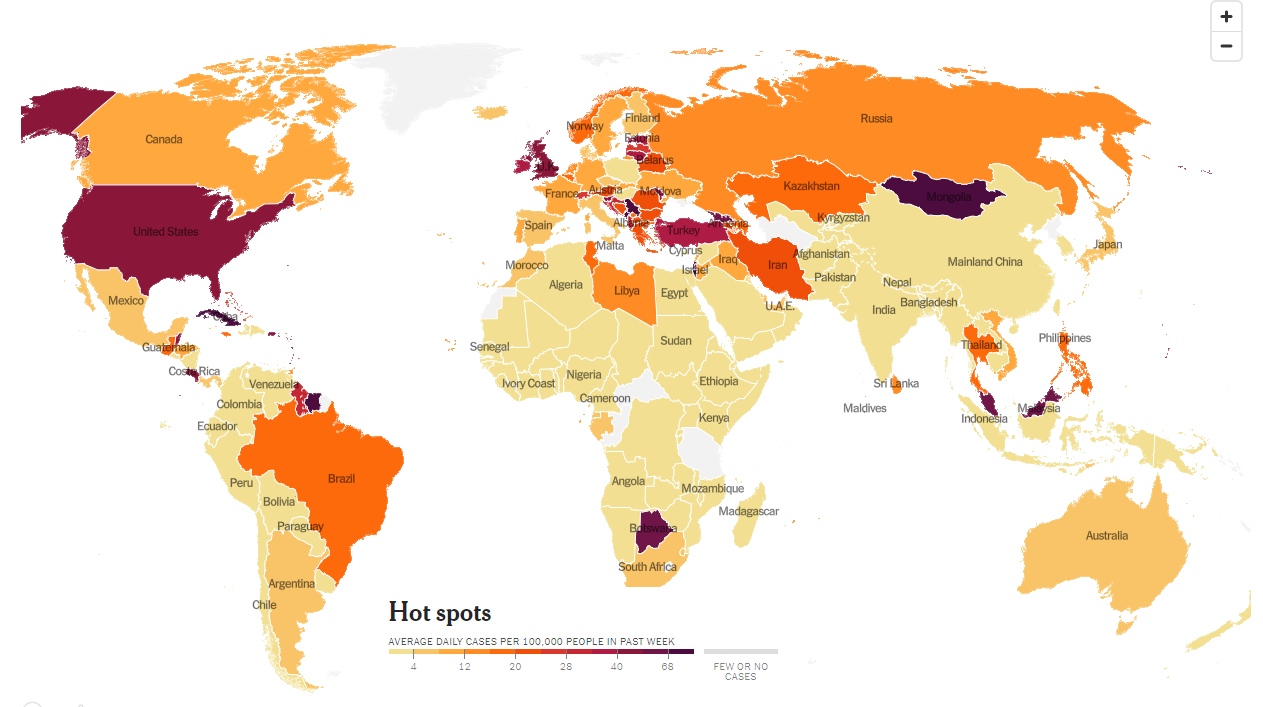 📌 If you are traveling anytime soon, be sure to check out the appropriate travel requirements. We track each country's testing and vaccination requirements for you, so you don't have to.