Every year, the federal government awards billions of dollars in federal contracts. To bid on these contracts – as either a prime contractor or a subcontractor – you must have a profile with SAM.gov (SAM). Prime contractors must also register their business.
In this article, we explain what sam.gov registration is and who needs it, and we provide step-by-step instructions on the sam.gov registration process.
In This Article:
What is SAM.gov?
SAM is an official U.S. website for government contracts. Recently merged with beta.sam.gov, SAM assists business owners find government contract opportunities, research wage determinations, search for other business entities, and a lot more.
What is SAM Registration Used For?
SAM registration – or entity registration as it is referred to –  enables your business to receive a contract, or other form of assistance, directly from the federal government.
Some programs offer awards or contracts to organizations, which then subcontract to other businesses. SAM registration allows you to bypass any intermediaries along the supply chain, and conduct your business directly with the U.S. government.
Who Needs to Register With SAM.gov?
If you intend to bid on federal contracts directly as a prime contractor – or interested in federal grants – you'll need to register your entity (business) with SAM.
If you're interested in pursuing sub-contracts then you normally do not need a full SAM registration – a unique identifier or Unique Entity ID issued by SAM should suffice.
What Types of Contracts Are Available?
If you register your entity with SAM.gov, you will be able to bid on numerous types of contracts. Many government entities – such as the Department of Defense, Department of Agriculture, etc. – post their contracts on SAM.gov.
The types of contracts vary greatly, from medical research to irrigation installation, and everything in between. SAM has a search function that allows you to narrow available contracts down by federal organization, description, and other filters.
How Much Does a SAM Number or Registration Cost?
There is no fee to register with SAM.gov or to obtain a SAM number. Maintaining your registration is free as well.
Do I Need a DUNS Number to Register with SAM?
Yes, you currently need a DUNS (data universal numbering system) number to register with SAM. A DUNS number is a unique identifier that verifies the identity of your business to other businesses and government agencies .
📌 Starting on April 4th, 2022, the government will stop using the DUNS number and replace it with the Unique Entity ID (SAM). Similar to a DUNS number, a Unique Entity ID is 12-digit alphanumeric code that the government owns, controls, and assigns to your business. It enables the federal government to validate your organization's legal business name and address.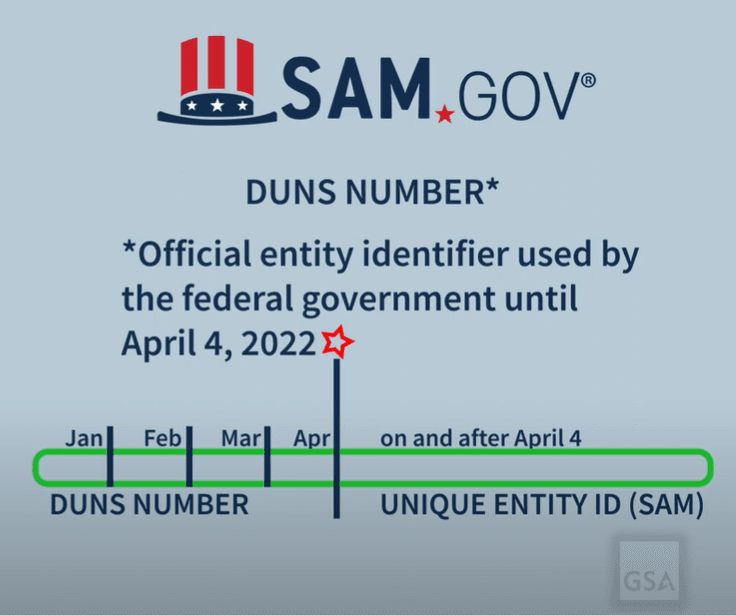 What Documents Do I Need to Register With SAM ?
The full SAM registration process is time-consuming and gathering the required information may take several days – or weeks – depending on your situation. You will need the following information to complete your registration.
DUNS number (until April 4th, 2022)
Legal business name
Physical address (zip code plus the four additional digits at the end)
SAM.gov user account
Contractor and Government Entity (CAGE) code — if you have one
NATO Commercial and Government Entity (NCAGE) code if your entity is located outside of the U.S.
Banking information
If you are seeking federal assistance only, you will also need these documents.
Representations and certifications questionnaire
Points of contact (both mandatory and optional)
If you are pursuing federal contacts directly, you will need to complete all of the forms above in addition to the forms below:
The SBA supplemental page (for small businesses)
The Federal Acquisition Regulation (FAR) responses questionnaire
The Entering Assertions section
The Electronic Data Interchange (EDI) information section
The Architect and Engineering Responses questionnaire
The Defense FAR Supplement (DFARS) questionnaire (if applicable)
All of these forms are available in the SAM registration portal.
How Do I Register With SAM.gov?
In order to create a SAM account, you need to have an account with login.gov. Once you create an account, you can go back to the SAM site and finish your profile. Once logged back into SAM, you will be brought to your workspace.

Inside the "Entity Management" section, click on the "Get Started" button to begin the process of requesting, or registering for a Unique Entity ID (SAM).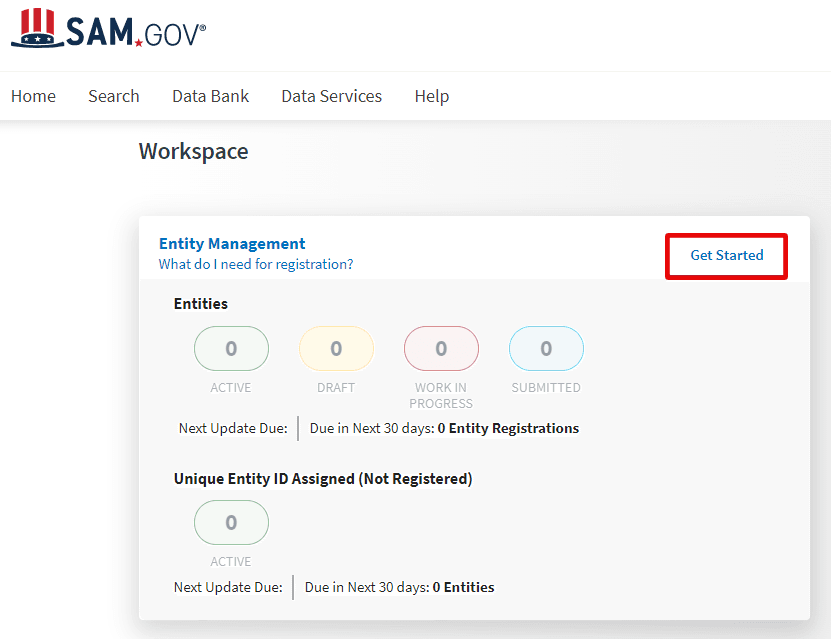 If you plan on maintaining status as a sub-contractor, e.g. you do not intend to directly bid on government contracts – there is no need to register your business with SAM. However, if you do register, your entity will be assigned a Unique Entity ID (SAM) in the process.
Get Unique Entity ID (SAM)
If you decide that you do not want to register your entity then select the "Get Unique Entity ID" button. The next page will have you enter your DUNS number, business name, and business address.

Your information must match the information you entered into the Dun & Bradstreet system when you applied for your DUNS number – even down to punctuation and capitalization. If necessary, update your information with Dun & Bradstreet beforehand.
The next page is your opportunity to verify the information is correct, and choose whether you want your entity to be searchable in the SAM database or not. On the third page, you will enter your request to obtain a Unique Entity ID. The fourth page will reveal your Unique Entity ID, and you will also receive a copy in an email.
Register Entity
If you are pursuing business with the federal government through federal contracts – as a prime contractor – select the "Register Entity" button. You will be brought to a screen that highlights the registration process.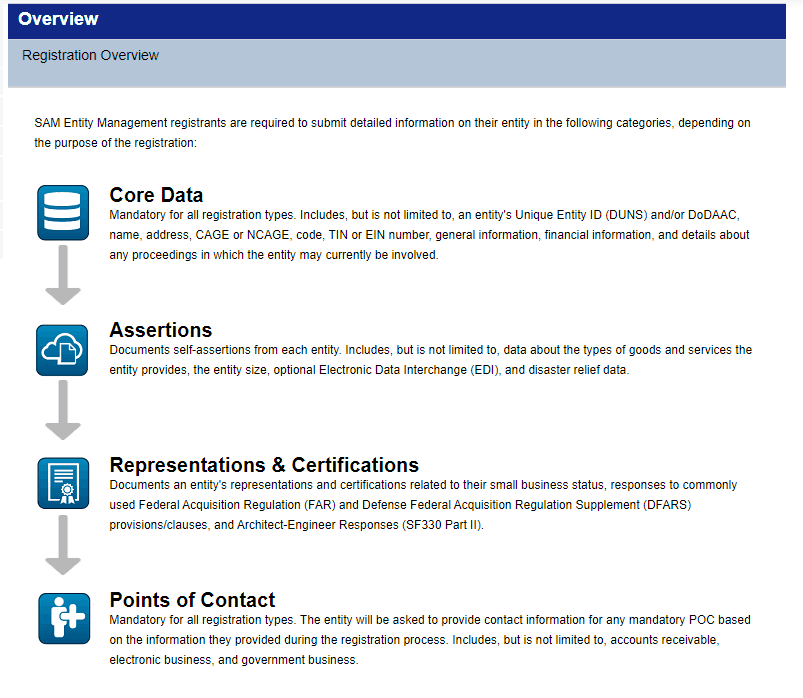 As previously mentioned, you will need to provide a lot of information about your business – such as your DUNS number, goods, and services description, business information, and much more. Be sure you accurately – and honestly – enter your information on each page.
To reiterate, this is going to take some time. When all of the pages are complete, submit your registration.
You can monitor your progress in your SAM workspace. It can take up to ten business days for your registration to be accepted and active on the site. It's also inherent upon registered business to renew their registration annually, and update any outdated or incorrect information.
If your registration validation fails, the most likely reason is a mismatch with the TIN the IRS has on file, and what you entered in the SAM registration. Ensure that it is accurate. If it is, you can get help from SAM Customer Service.
Need Help With SAM Registration?
Do you need help with SAM registration or getting funding for your business? We can help you with SAM registration, SBA loans, grants, or other business financing options. Get ongoing personalized help from our team. Join Skip Premium today and get 1-1 support for your business.
---
How Else Can Skip Help? Whether you need assistance navigating funding for your small business — like SBA loans, grants, or other financing options, or guidance with government-related services — like TSA PreCheck or DMV appointments, we're ready to help. Become a member and skip the red tape.