Here's Who Received EIDL Grants in the First EIDL Grant Program
We've examined state-level data provided by the SBA to help share average EIDL grant (technically known as EIDL Advance) amounts from the first $20 billion in funding. The new $40 billion for EIDL grants is slated to kickoff any day now. As it get's underway, it's important to look back at the results of the first round.
Latest EIDL Application Timing Updates
Today is 15 days since the new stimulus bill was signed into law, and that's technically the time period the SBA has to issue new rules and guidance for the EIDL grant program. PPP guidance was issued last week. However, as of this writing we do not have new rules yet.
In today's video we discuss the latest on EIDL application timing as well as discuss possible EIDL grant scenarios depending on your situation:
If you haven't received any EIDL grant
If you've received partial EIDL grant
If you've received full $10,000 EIDL grant
State-by-State EIDL Recipient Data
Let's take a look at the variations between states on who received EIDL grants in the first round and, on average, how much they received.
In general, the total number of EIDL Advances corresponded similar to state population. There weren't many variations there and this was to be expected.
California, Florida, Texas, Illinois, and New York received the most amount of total EIDL Advance funding.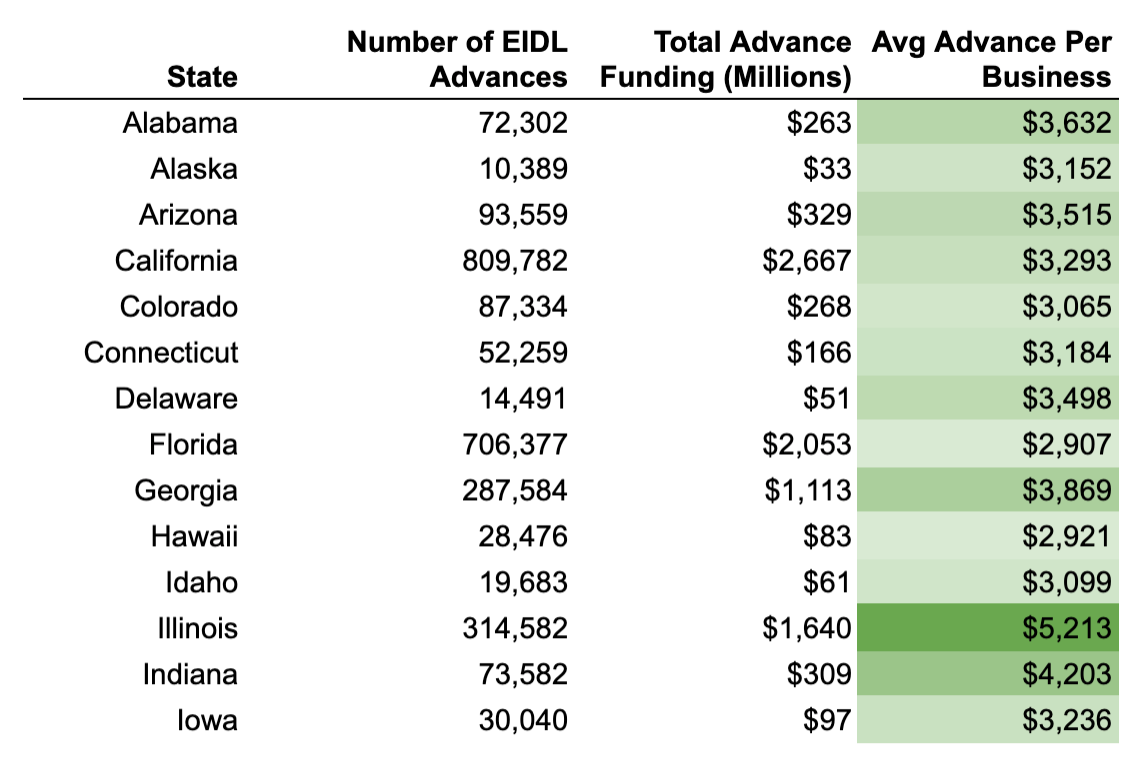 What's most surprising in looking at the data is the variation on average EIDL Advance per business — this varies from $2,000 to $5,000 across every state. Of course, this is related to the types of businesses that applied and the $1,000 per employee criteria, but there are a few outliers.
As we can see, Illinois (above) has the highest average EIDL grant per business of all states at $5,213 followed by Massachusetts (below) with an average of $5,010.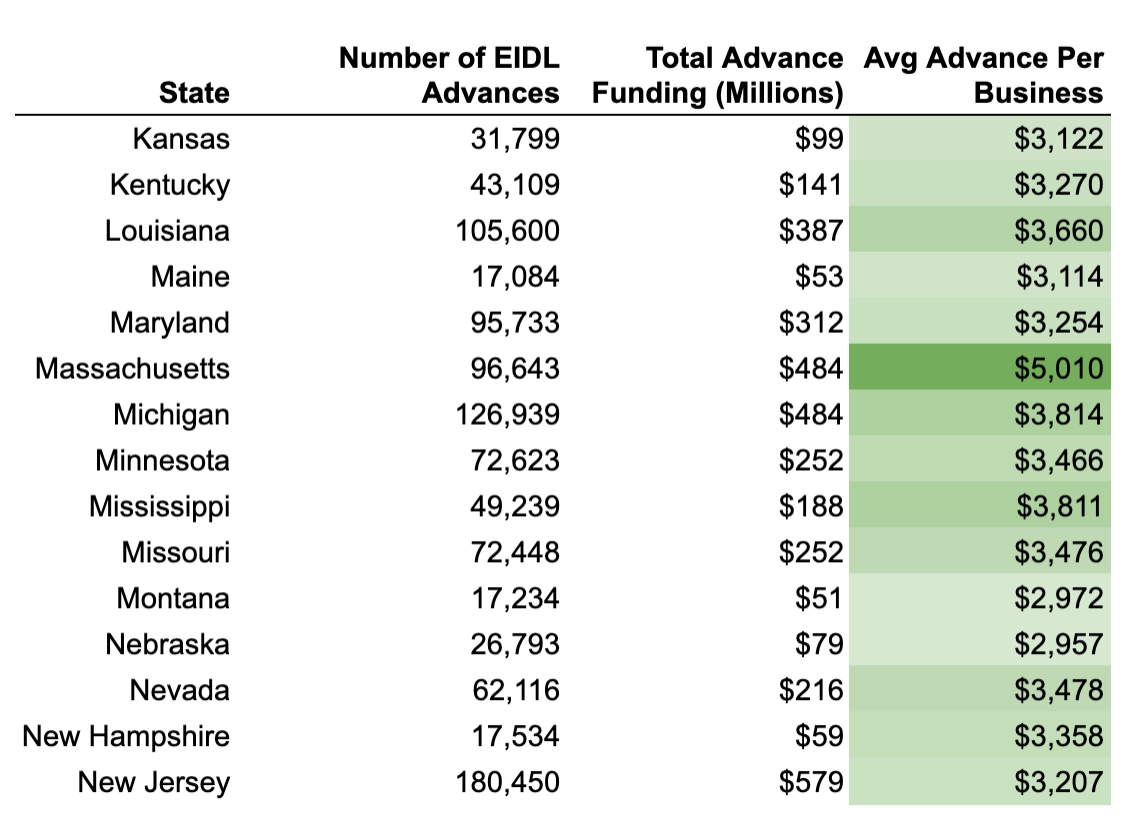 A handful of states also had average EIDL Advance amounts under $3,000, below the overall average. These include New York ($2,943), South Dakota ($2,912), Nebraska ($2,957), Montana ($2,972), Hawaii ($2,927), and Florida ($2,907) — the lowest EIDL Advance average.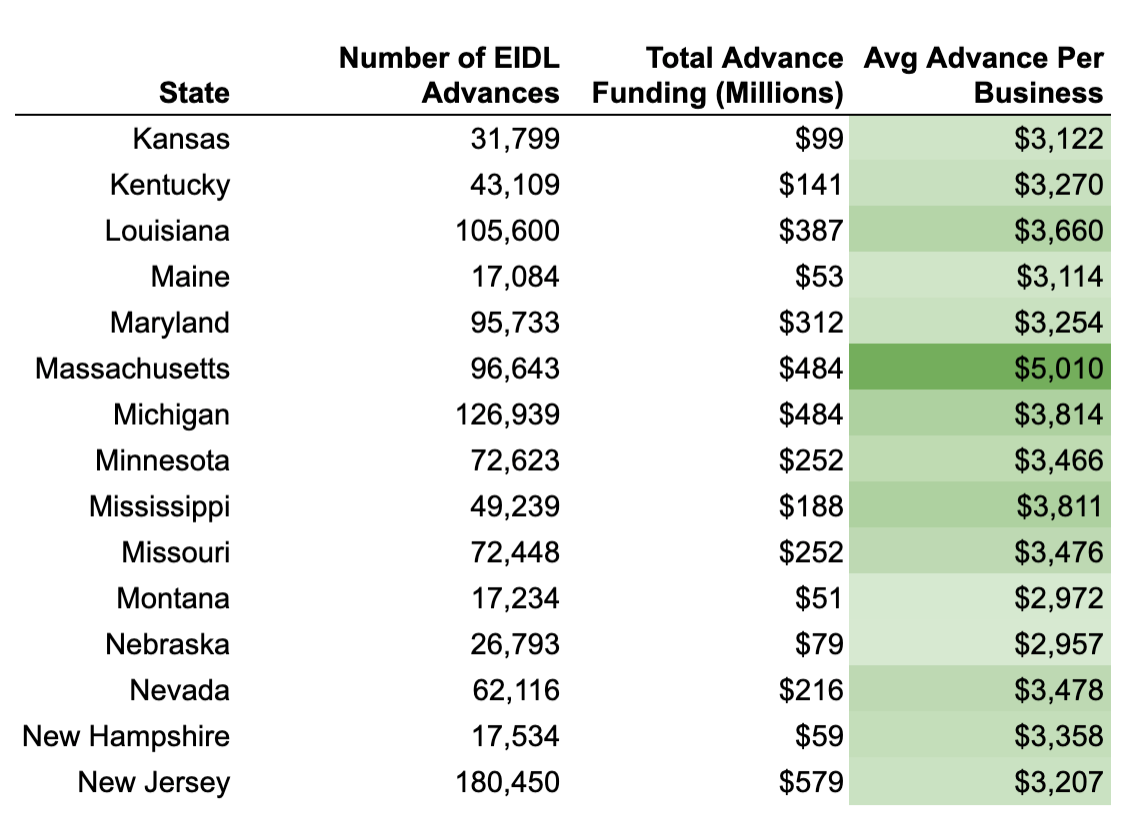 Our main takeaway when looking at EIDL Advance state level data is that surprising variations by state did exist, and we wonder if we'll see a similar pattern in the second EIDL grant round.
Secondly, the biggest questions still remain and those are:
How many people in total applied for an EIDL Advance in the first round?
How many businesses or individuals were denied for EIDL Advances?
And, how many businesses or individuals were left out because the funding ran out?
📌 Use our free EIDL grant tracker on the Skip App, "Hello Skip" in the App Store or Google Play, or just go to TrackEIDLGrant.com