Here's Why People Are Getting Rejected from Targeted EIDL Grants
Nearly 1 out of 10 people have been rejected from getting a Targeted EIDL Grant according to our latest poll. Dozens of our followers have sent in examples of the denial letters and we've compiled them below. If you have questions about them, feel free to ask on our YouTube channel, or start a free Skip Plus trial to ask us for more info.
Here's Why People Are Getting Denied from Targeted EIDL Grants
According to our latest poll (below), 15% of people have been approved for Targeted EIDL grants, 9% have been denied, 54% are still waiting on a decision, and 22% haven't been invited.

When we take out the 22% who haven't been invited, the percent denied gets even higher, closer to 12%. Here are the few common reasons people are getting denied and example letters.
Targeted EIDL Grant: Not Eligible Denials
To get approved for a Targeted EIDL Grants you need to meet a few criteria. First, you need to have applied last year for the Grant, aka Advance. Then you need to:
Be in a low-income area defined by census tract (like on our EIDL Grant Tracker)
Show 30% or more revenue loss over an 8 week period
Meet original EIDL grant requirements, such as being in business prior to February 2020.
Unfortunately, many people have been deemed "Not Eligible" because the IRS hasn't processed your 2019 tax returns. Therefore, when the SBA did their tax check, they couldn't verify that your business existed in 2019. See below example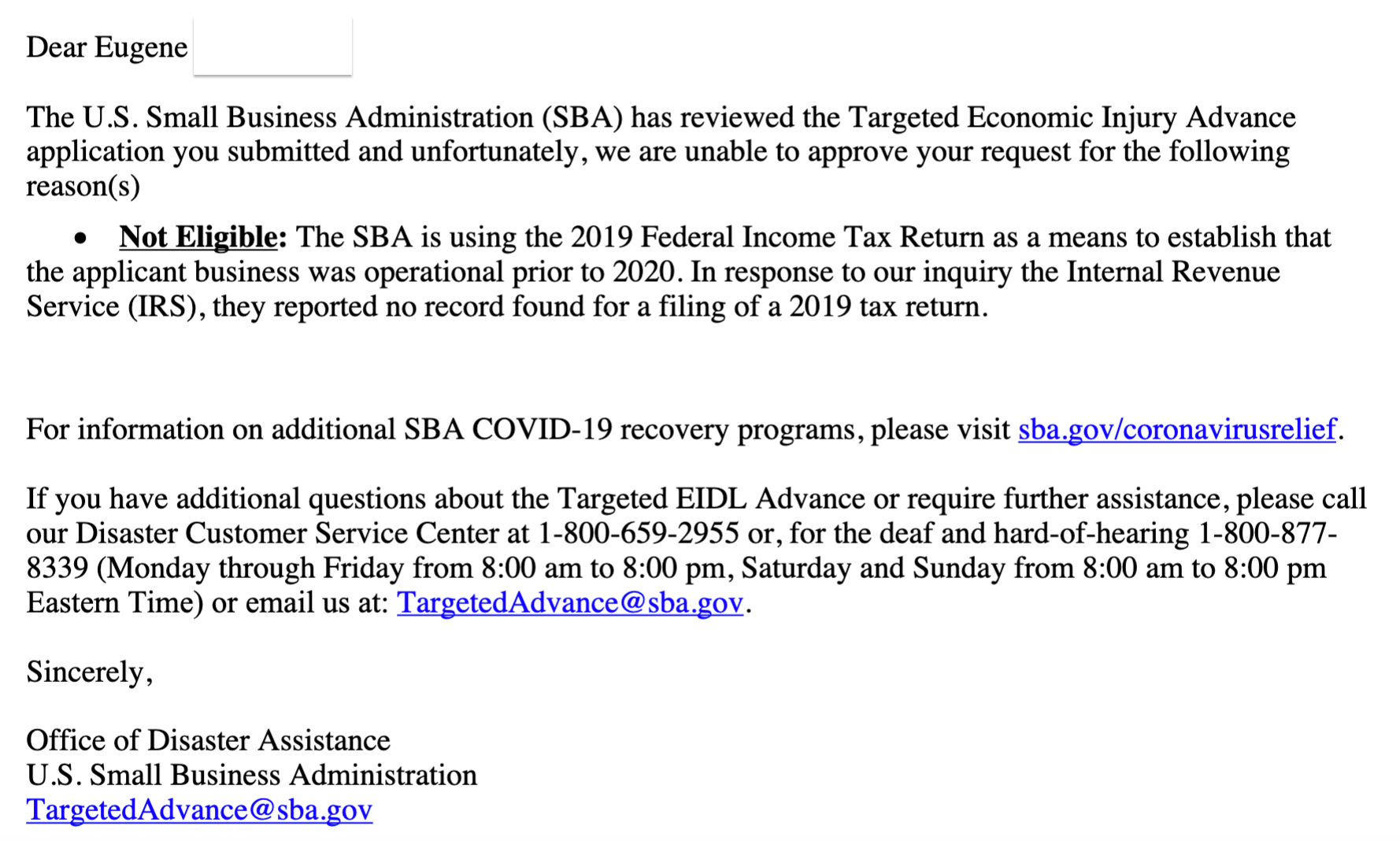 The other main "not eligible" reason is if your 2019 tax return didn't substantiate a 30% revenue reduction. See the following example: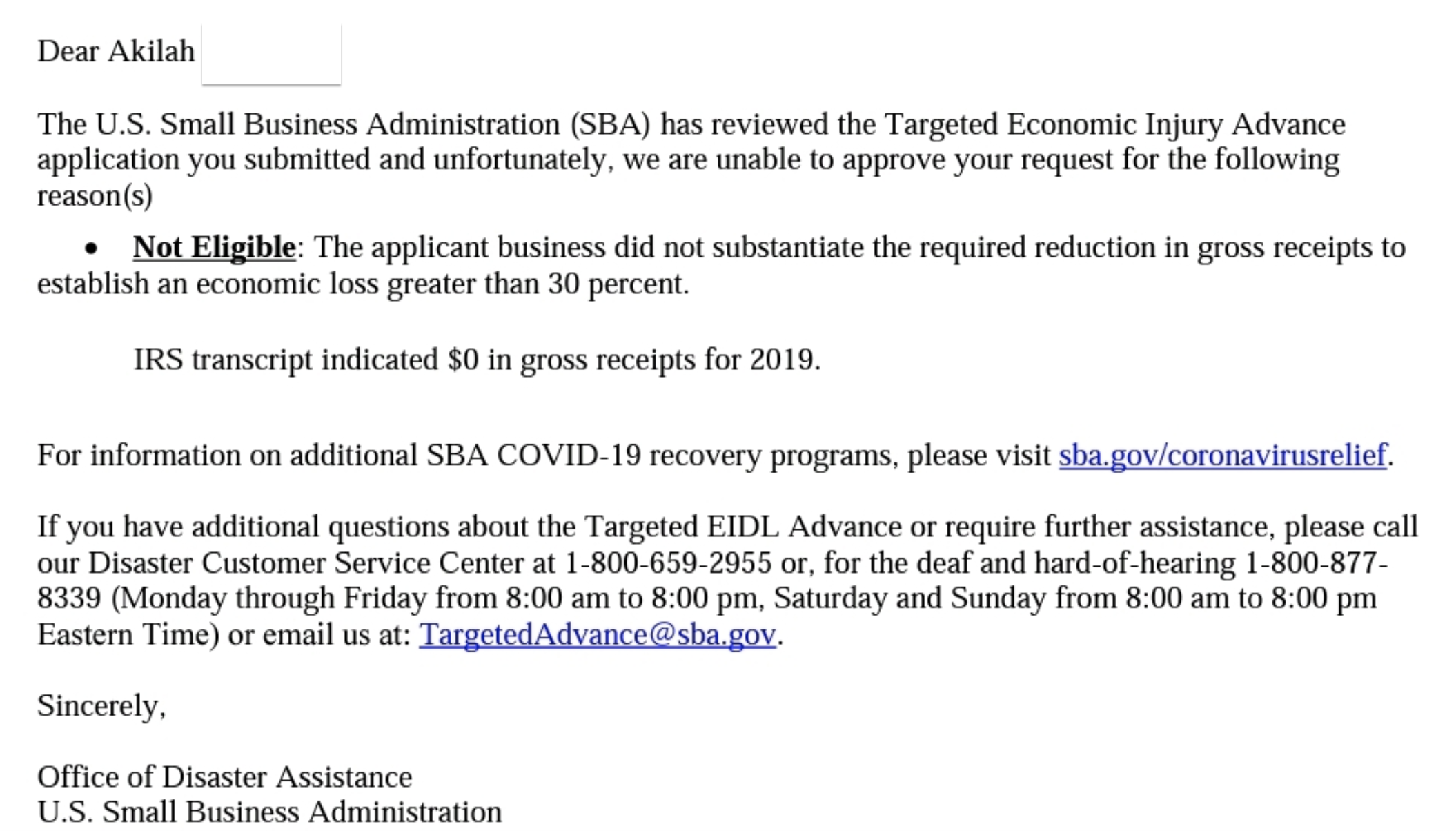 Targeted EIDL Grant: Unverifiable Information
In other cases, the SBA cannot verify your information or your bank information, and denies you. In this example below, the SBA simply says they cannot verify your information submitted.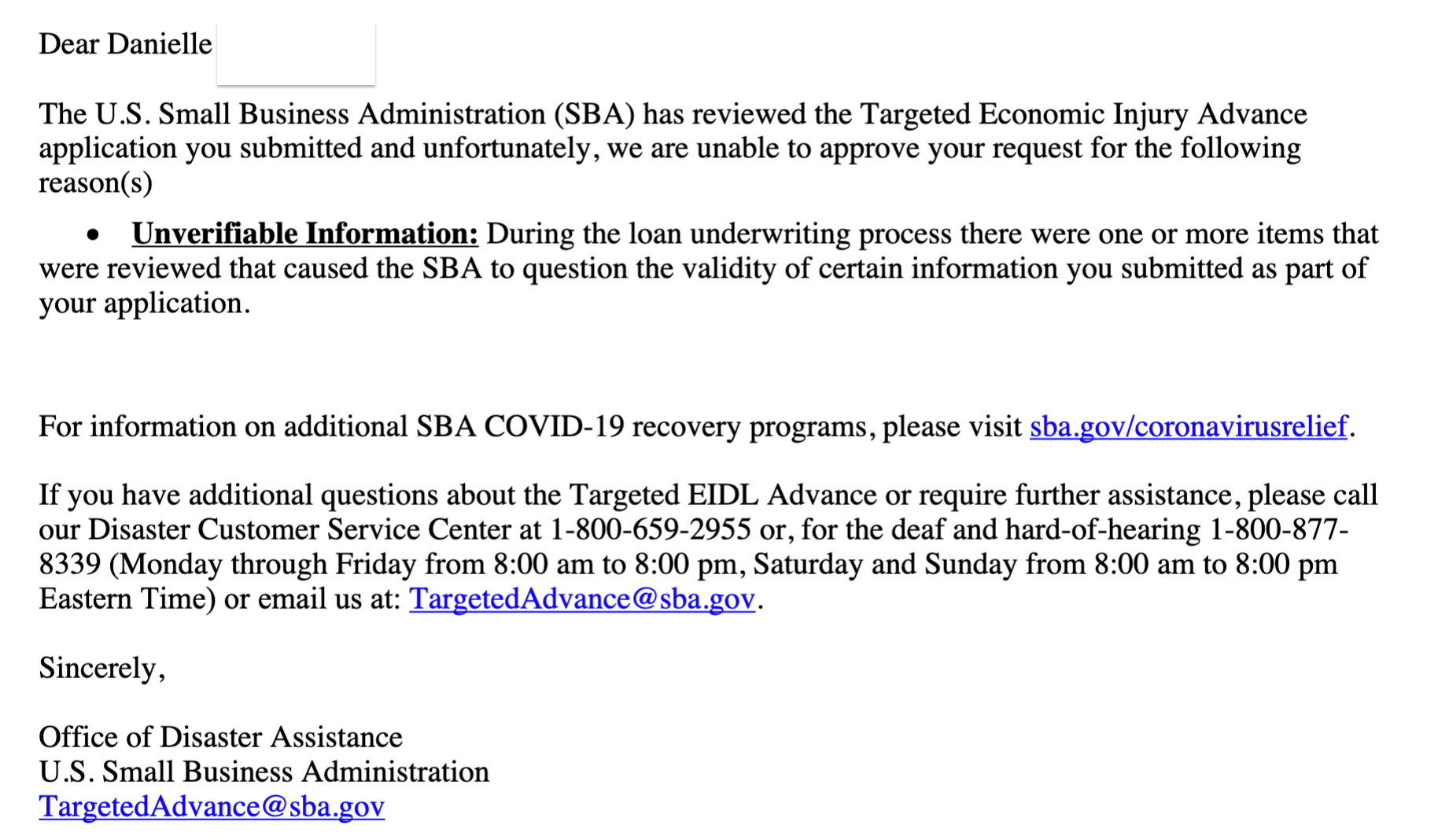 In this example below, the SBA has said they're unable to verify your bank information and therefore has rejected your application.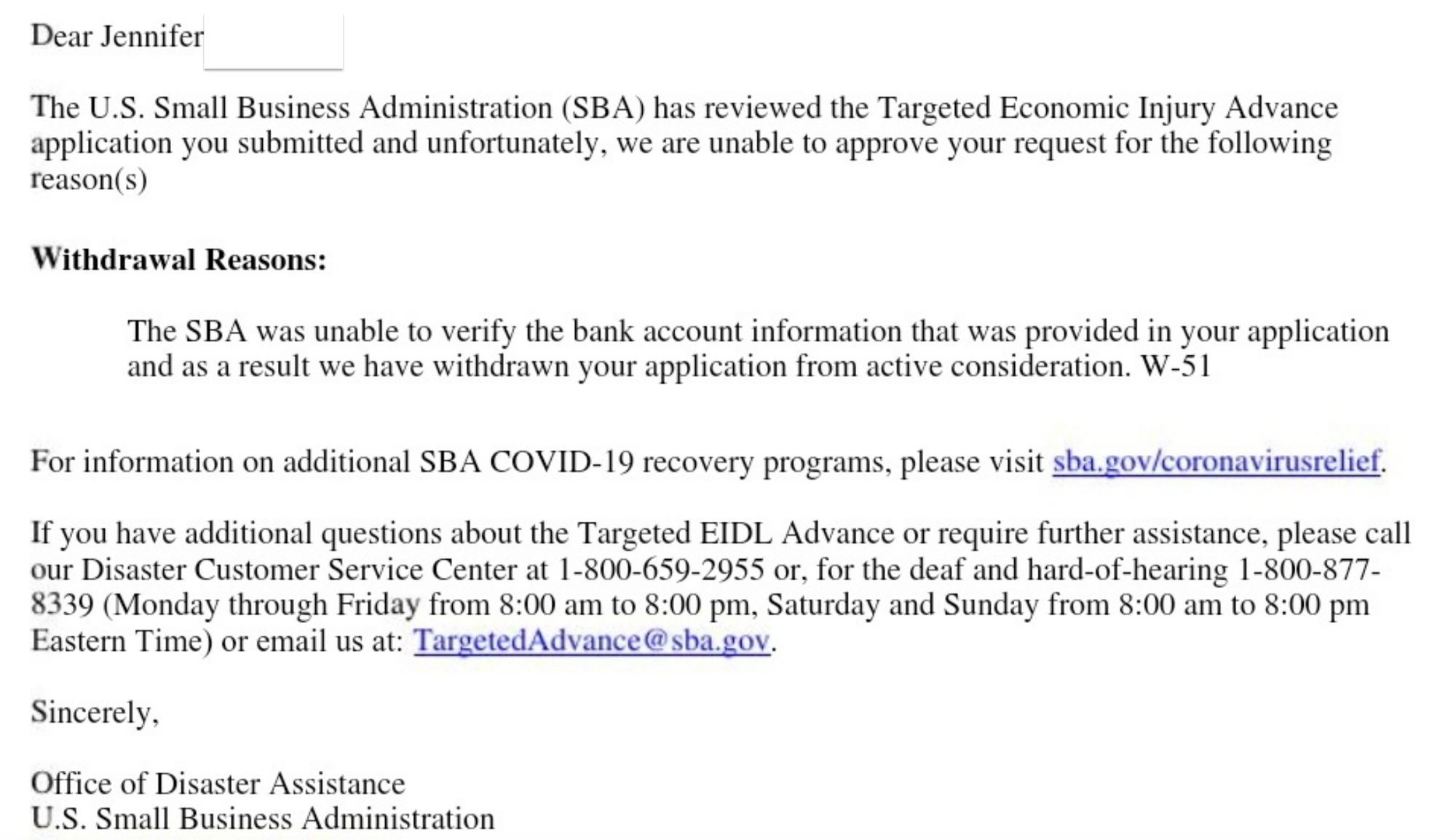 Targeted EIDL Grant: On a Do Not Pay List
Finally, one of the other reasons we're seeing is if you're listed on a government database, for whatever reason, which deemed that the SBA should not pay you grants or loans. Here's is that letter: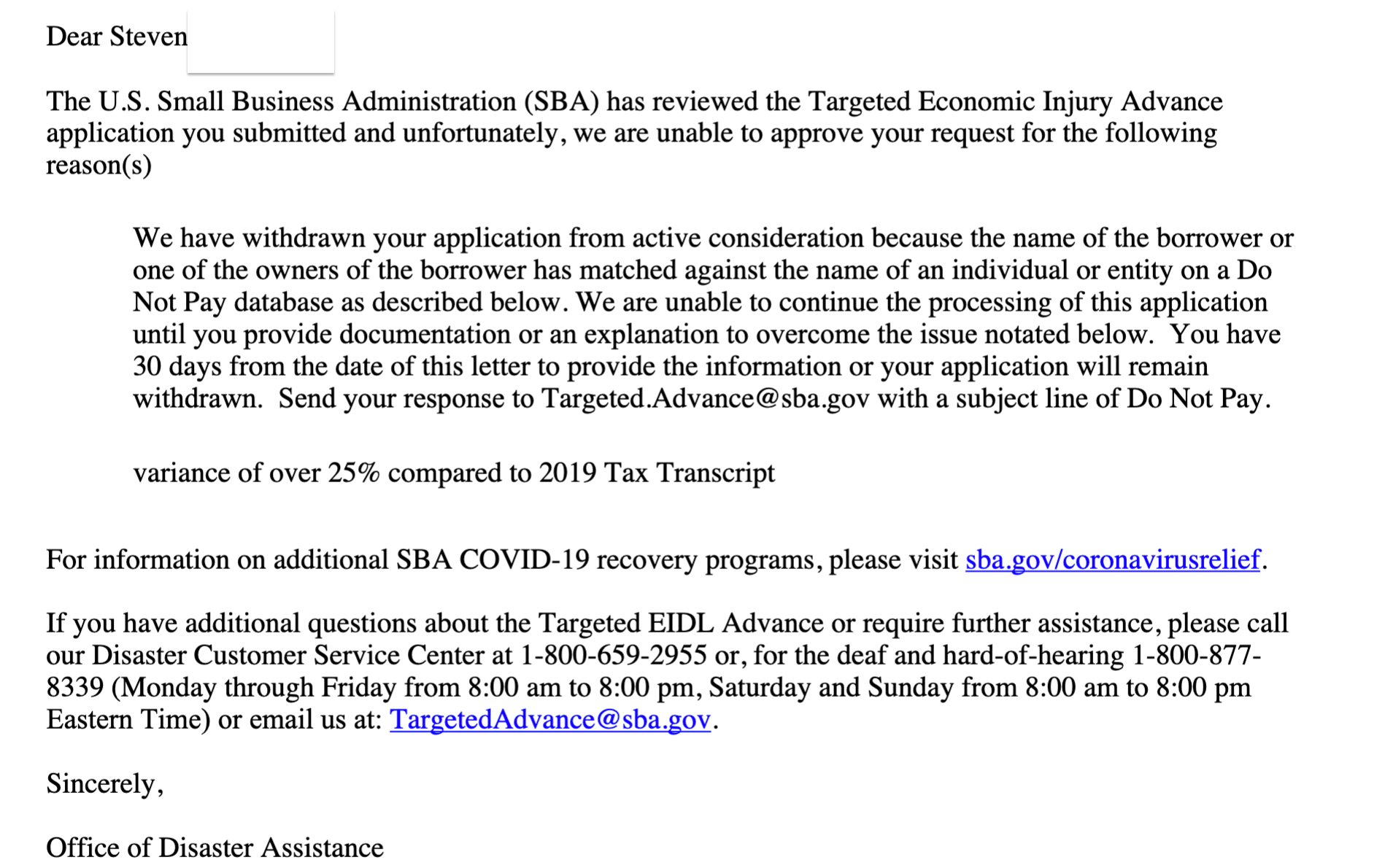 Can You Appeal a Targeted EIDL Grant Decision?
At this moment, the answer, unfortunately, is no.
As you can see in all the letters above, the SBA is very clear about this. They say if you have questions about this decision you can email them at TargetedAdvance@sba.gov.
If you'd like more help, especially when it comes to other programs, grants, and funding, we're happy to help as well with our premium grants and funding information. If you've been denied, you're not alone, but there are many other programs and resources out there to help small businesses, and you can join the tens of thousands of others getting extra help.