How Do Small Business Loans Work?
Whether you're one of the millions of Americans venturing into the business world for the first time, or you're ready to take it to the next level, a small business loan can get you there. What type of small business loan is right for you?
We've simplified the broad strokes and outlined the benefits — and liabilities — of several common types of small business loans to assist you in selecting the best option.
What is a Small Business Loan?
Small business loans provide entrepreneurs with access to capital—without sacrificing the equity in their business. These loans can be used to cover a variety of needs, including daily expenses, payroll, hiring, equipment purchases, and upgrades to physical facilities.
A business loan falls under the category of debt financing, where repayment terms vary depending on the loan type, length of time in business, and creditworthiness. In general, there are two types of business loans: Secured Loans and Unsecured Loans.
Whether you're borrowing from a traditional lender or seeking a Small Business Administration (SBA) loan, it's important to understand the difference between secured and unsecured loans. Both types of business financing have their upsides and risks.
What is a Secured Loan?
A secured loan for small businesses is a loan backed by a form of collateral—a home, a property, vehicle, or business-related equipment. It's similar to a mortgage, whereby the lender holds the "deed" to your collateral until the loan is repaid—including fees and interest.
Lenders see collateral as a guarantee of repayment because people generally take care of those items (house, real estate, etc.). Moreover, using a home, or other valuable assets as collateral, often provides a small business owner with greater access to funding and at better terms.
Although secured loans provide access to more capital, their downsides are significant. If you, the borrower, are unable to make the loan payments in a timely fashion, your lender can place liens on your collateral until the debt is repaid.
In the worst-case scenario, if your business defaults on the loan, ownership of their collateral reverts to the lender.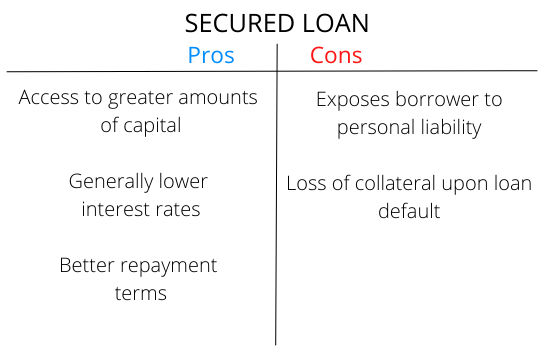 What is an Unsecured Loan?
If you don't have collateral to offer a lender, or you're looking for less risk and liability and you have good credit, you're a good candidate for an unsecured loan. In this scenario, the lender bears the majority of the risk because there is no collateral offered to secure the loan should you default.
Most lenders base their decision to provide unsecured loans almost entirely upon personal and business creditworthiness—past and present. In an unsecured loan, expect higher interest rates, shorter pay-off terms, and less funding than a secured loan.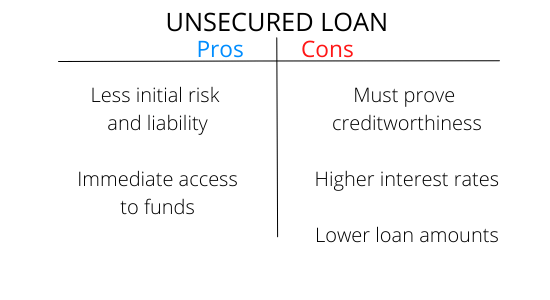 What Are the Different Types of Business Loans?
There are a variety of business loans, each with different terms and conditions to suit your needs. They generally fall into two categories: Small Business Term Loans and Small Business Lines of Credit.
Small Business Term Loan
Term loans are designed to address a business's longer-term needs and can be used for research and development, facility upgrades, and other business expenses. A term loan is received in one lump sum. You may be asked to provide some form of collateral and make regular recurring payments on principal and interest, just like a home mortgage.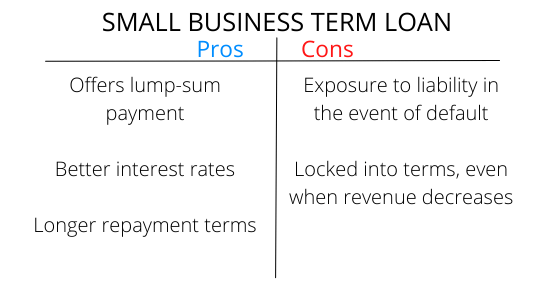 Small Business Line of Credit
A small business line of credit is a short-term loan designed to help meet the immediate needs of a business's day-to-day operations, like covering payroll and rent, and provides periodic access to a set amount of capital.
With a small business line of credit, a lender determines how much capital they'll extend and sets the draw period, e.g., a timeline for access to cash and repayment schedule. Small businesses benefit from flexible access to cash if and when they need it, instead of receiving it in one lump sum.
Like a credit card—with better terms, you only pay interest on borrowed money. A small business line of credit allows you to re-borrow any repaid portion, up to your credit limit, and until the draw period concludes.
What is an SBA Loan?
An SBA Loan is more of a partnership with lenders by way of a government-backed loan guarantee. With an SBA loan, lenders are guaranteed up to 80% repayment should a small business default. In this way, the SBA incentivizes lenders to offer greater access to capital, at lower interest rates, and with better repayments terms.
How Do SBA Loans Differ from Other Business Loans?
To be clear, this is not a government type of loan. An SBA loan is a loan "product" banks and other lending institutions can offer their small business clients. SBA loan 7(a) is the most common SBA loan program. An SBA 7(a) loan is secured by the borrower, with a down payment as collateral, but at a far lower interest rate than conventional loans.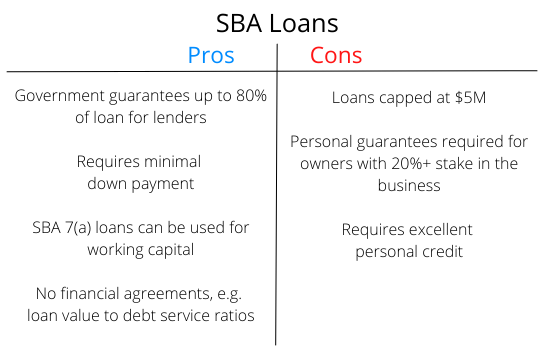 Do I Qualify for a Business Loan?
Requirements for initiating and qualifying for a loan vary from lender to lender and can vary based on the loan amount you request. Generally, the application processes are similar, and borrowers will most likely need to provide the following:
Purpose of the loan
Annual revenue or monthly sales receipts
Personal and business bank statements, tax returns, credit reports (pulled by institution), and financial statements
Cash flow
Proof of collateral
What's the Right Loan for My Business?
Once you have a realistic set of objectives and a clear understanding of your business goals, you'll be able to base your decision on which type of small business loan, and lender, is right for you. With a plethora of lending options and historically low interest rates, now's a terrific time to start a small business.
Many local banks and other financial institutions offer business loans, but online lenders are also viable options if you are interested in a business loan. BlueVine and Fundbox are online financial institutions that offer business lines of credit, up to $250K and $150K respectively.
Funding Circle is an online lender that offers term loans up to $500K. Online lenders are often able to fund business loans quicker than local banks can, which makes them attractive options for businesses who need capital fast.
Need Help With Business Funding?
Do you have other questions about your business, such as EIDL applications, SBA loans, or other business funding questions? Get ongoing personalized funding help from our team. There are over 3,500 on our waiting list, but you can skip the waitlist completely with this invite link. Join Skip Premium today and get 1-1 support.