Rethinking Targeted EIDL Grant Eligibility
The second relief package signed into law on December 27, 2020 includes significant new funding for small businesses — including $40 billion for EIDL grants and nearly $300 billion for second PPP draws. The EIDL Grants in particular are popular among tens of millions of people who tried to get all or part of the $10,000 in the first round. However, there are strings attached to this $40 billion which will leave out the people who deserve EIDL grants the most. This post goes into detail on current EIDL grant eligibility and why the SBA administrator should consider modifying the existing eligibility criteria.
The New Targeted EIDL Grants: Who's Eligible?
Let's put aside the $20 billion for regular EIDL grants for now ($1,000 per employee for people who applied last year but didn't receive a grant).
In the relief package there's a Targeted EIDL Grant provision that will give the full $10,000 in EIDL grants if you meet the following criteria:
Located in a low-income community;
Has suffered an economic loss of greater than 30%;
And has less than 300 employees
Those are the basic eligibility criteria, and here's how it's written in the relief bill, calling attention to the low-income community provision: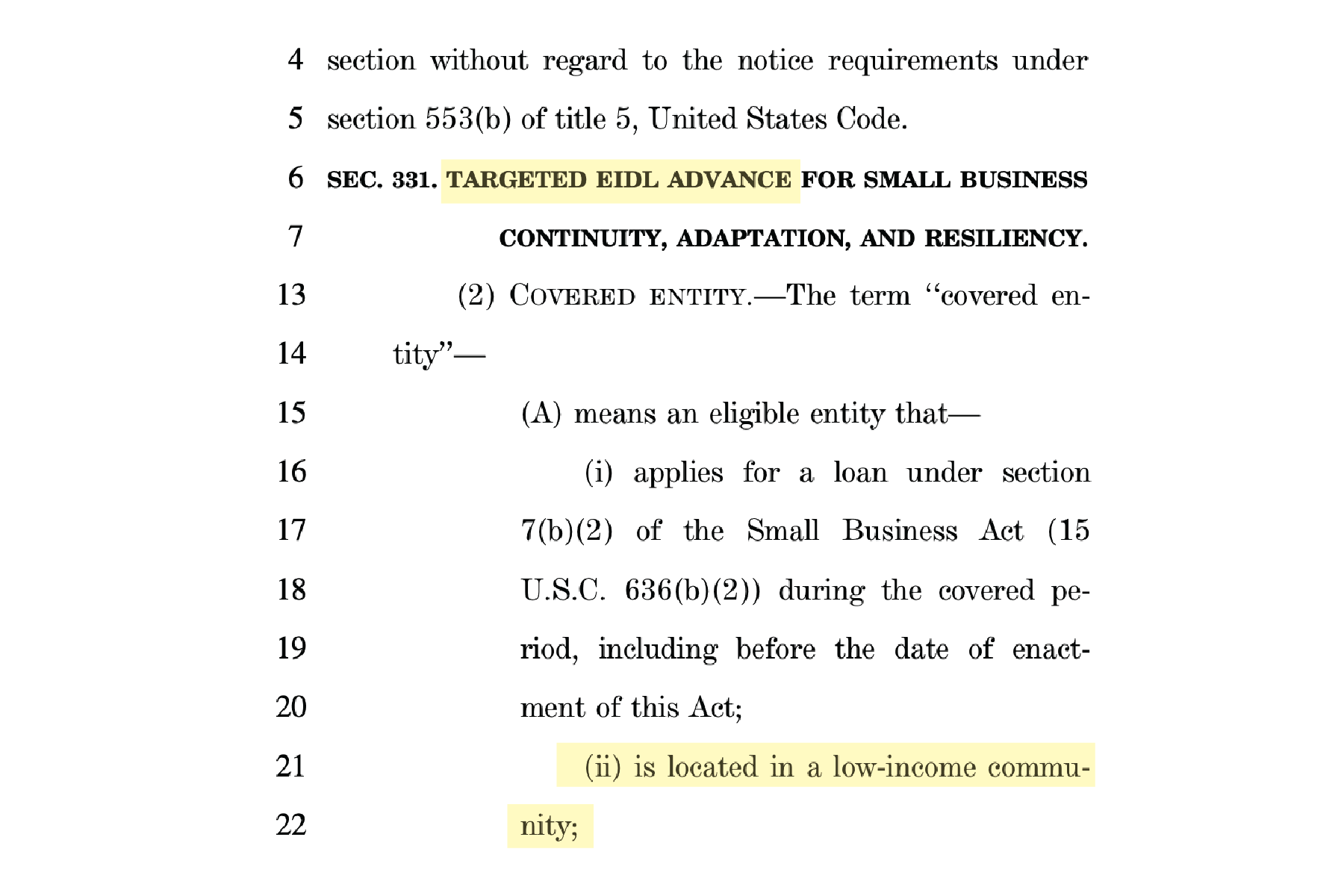 So, if you received anything less than $10,000 in EIDL grants from last year — and you qualify for a Targeted EIDL Grant — you'd be able to "top-up" essentially, to the full amount.
📌 Pro-tip: If you'd like early access to other state-level grant information, start a free 15 day membership trial here. Plus, we'll share info on any new SBA grant or loan programs.
Here's Why The Low-Income Community Criteria is Limiting
We've heard directly from hundreds of people that they're low-income but they happen to live in what's defined as middle income or wealthy areas. Essentially, if you are unfortunate enough to be lower income in a more well-to-do area, you won't be eligible for the Targeted EIDL grants.
We've even gone further to looks at the hundreds of thousands using our EIDL Grant tracker to calculate eligibility. You can quickly check to see if you're in a low-income area as it's defined and then see how much, if any, the SBA might give you, subject to availability.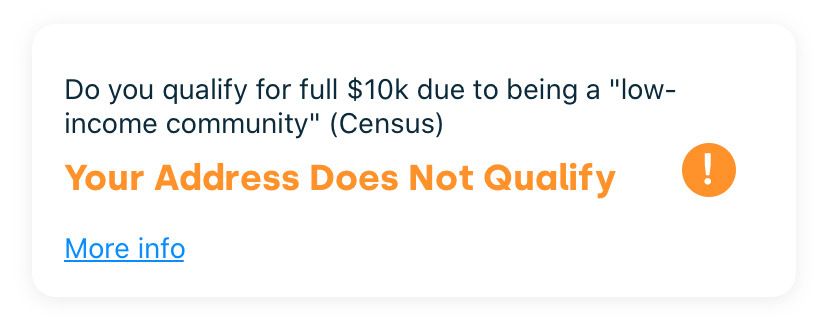 While the intent of the Targeted program is good, based on our data, less than 6% of people are eligible under this low-income neighborhood criteria. While we don't know the percent of our users who are "false negatives" — truly low-income people who deserve the full EIDL grant but happen to be in the wrong neighborhood or census tract — we believe it's certainly greater than the 6% number.
A Proposal to Change the Rules to Help More People
If the intent of the EIDL grant program is to help the small business owners — from small businesses to self-employed individuals — who need it the most, shouldn't the eligibility criteria be based on actual income?
President Biden has nominated Isabel Guzman as the new SBA Administrator. While no confirmation hearing is scheduled yet, as of this post, many people hope that Ms. Guzman gets approved soon. Once she takes over the SBA reins, we hope she'll re-evaluate the eligibility rules when it comes to the Targeted EIDL Grants.

Especially since we expect there will be money available in the EIDL grant pot after "low-income areas" are approved, we are hoping for expanded eligibility considerations from the SBA based on a person's actual income. If a small business owner or independent contractor earns 80% or less of area median income — a common criteria used in state level grants among other benefit calculations — the small business owners should be eligible for the full $10,000 EIDL grant.
📌Thanks for sharing this post and spreading the word! For our Skip app users, we've got some exciting new changes coming to the EIDL Grant tracker in the next couple days. You can apply for a PPP loan here if you haven't yet!