Here's a quick recap of important news from today you may have missed, related to Targeted EIDL Grants, EIDL Loan Increases, PPP Loan Increases, a new $10,000 grant opportunity, and details on the Restaurant Revitalization fund.
New $10,000 Grant Opportunity
Yesterday we covered in-depth a new $10,000 grant opportunity though the KKR program. It's available to businesses with 5 to 50 employees or contractors who have less than $7MM in annual revenue. Here's more information and we also do a run through of the application. To find out about these grant programs first, you can enroll in our extra grant and loan opportunities.
PPP Loan Increase News
In PPP Loan Increase news, for certain businesses who received First Draws last year, here is the procedural notice released today on how to go back and request a PPP loan increase.
We also covered this week that funding is running out, so here's what to consider if you're still considering (or waiting) for PPP funding.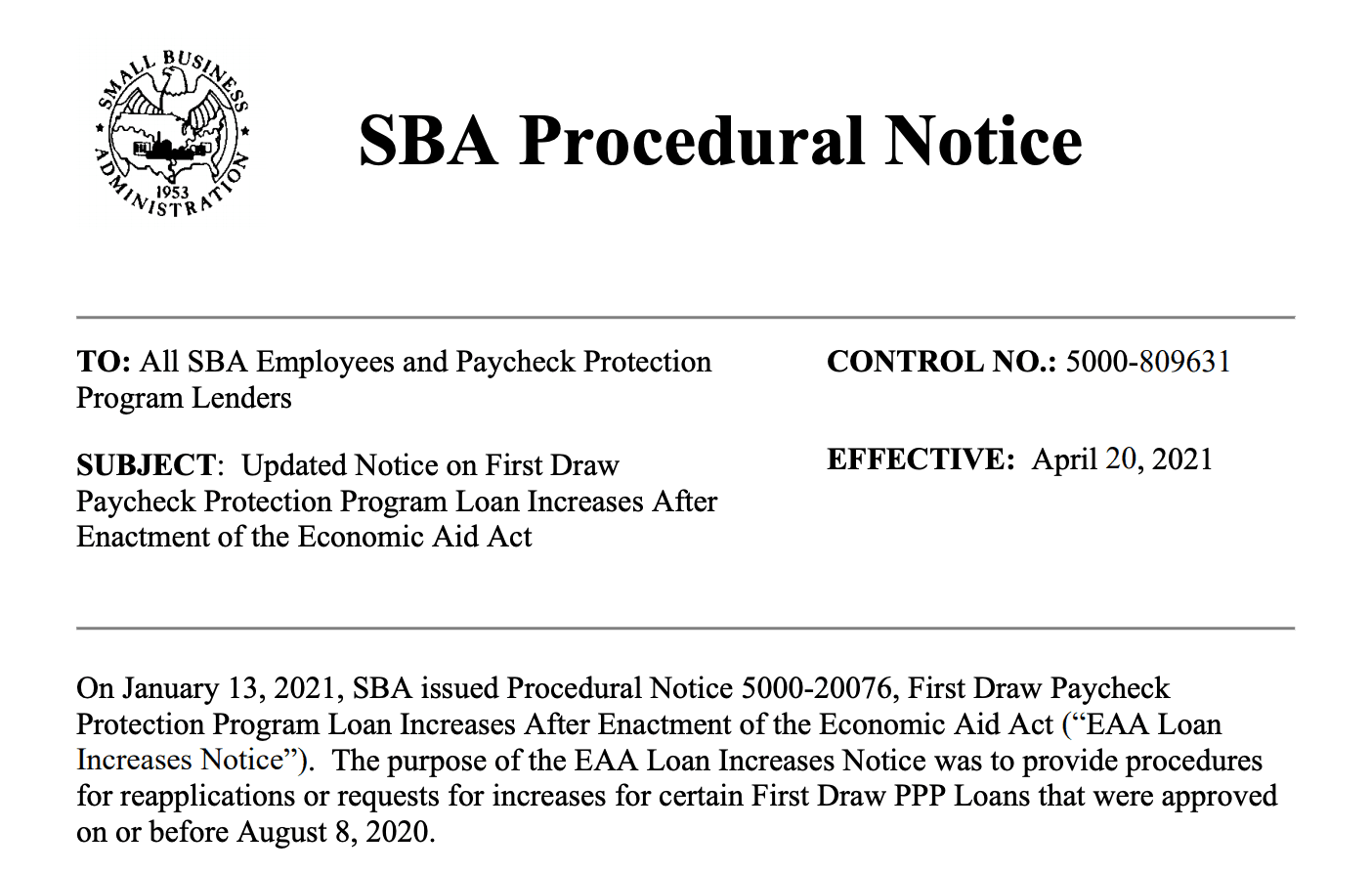 EIDL Grant and Loan News
In EIDL Loan Increase news, the guidance we received exclusively from our SBA contact on how increases will be calculated is the following:
For small businesses, the loan amount is the lesser of $500,000 or 24 months of economic injury and the economic injury is calculated by Gross Annual Revenues – Annual Cost of Goods Sold. For nonprofits and agricultural enterprises, the loan amount is calculated by the lesser of $500,000 or 24 months of operating expenses.
Here's our announcement from earlier in the week on how to track EIDL Loan Increases on our app, or you can go right to the EIDL Loan Increase Tracker.
4/22 Update: You can now request EIDL Loan Increase directly on your SBA portal and select how much funding you're interested in.
In EIDL Targeted Grant Reevaluation news, tips on emailing the SBA for reconsideration is as follows:
You should provide any information that will help to overcome the reason for the decline. If the file was declined because the IRS responded to SBA that No Record Found for 2019 tax returns, but the applicant has the stamped tax returns or a tax transcript received from IRS they should provide it with their request. Only provide documentation or information that pertains to the specific reason(s) for the decline.
Here is more information on what to do if you haven't recived a Targeted EIDL Grant yet to keep in mind.
More SBA Resources and Perspective
Isabel Guzman has been on the job as had of the SBA for 4 weeks now. She's made a number of major changes — including the EIDL Loan Increase to $500,000 Limit and in general better communication across all levels of the SBA.
Recently, Forbes did an interview with Ms Guzman where she talks about her background and her priorities for transforming the SBA. Plus, the SBA has recently put up a website with resources and assistance to help small business owners.
Restaurant Revitalization Fund Details
Today we've put up an in-depth post on the Restaurant Revitalization Fund (RRF). The RRF is a $28.6 billion dollar stimulus program run by the SBA for businesses that serve food and drinks, which can provide up to $10 million in funds for your business. Although the RRF isn't open yet, the SBA has released information about the application process, eligibility and allowable expenses you can use the funds for. We go over everything you need to know.
📌 Pro-tips: Check out the new $10k grant, sign up for our grants tracker, and subscribe to our YouTube.