What To Expect For Thanksgiving Travel, And How To Be Prepared
Updated 11/24/21
Thanksgiving is one of the biggest traveling holidays of the year, and this year is expected to make a huge comeback. Borders are opening up, U.S.-bound international travel is open once again, and people are yearning to meet with family and friends for the first time in a while. AAA is expecting over 53 million travelers for this Thanksgiving holiday season. If you're one of the travelers this season, here's what you need to know to prepare.
Weather-Related Travel Delays Should Be Minimal
Travel for Thanksgiving day is going to be much better than expected. As cold air comes off of the Great Lakes, parts of the Midwest from Chicago down to Dallas could experience some rain and wind. Some areas of the Midwest and Northeast will have snowfall and colder weather starting Friday and heading into the weekend.

Many states along the northern border will have rain and some snow flurries. Parts of Southern California will also see some rain and high winds gusts that could lead to power outages. Overall, weather-related travel delays should be minimal for Thanksgiving Day.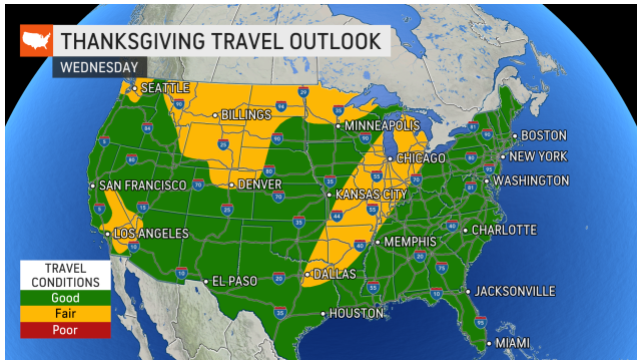 Last week, Thanksgiving travel was expected to be intense in the central and eastern parts of the United States. A a jet stream coming down from Canada was expected to bring anything from high-wind gusts to heavy snowfall and cause delays for travelers from Indiana to Virginia and up into Maine, from Sunday through Wednesday of Thanksgiving week.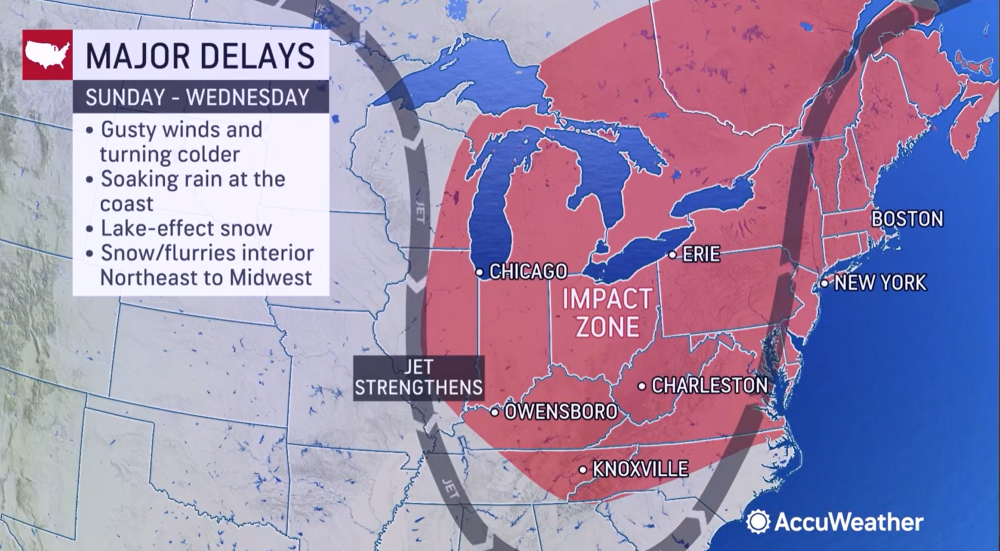 📌 How to be weather prepared: If you are traveling through these areas by car, be sure to drive safely. Tune in to local stations to keep yourself updated on the weather, just in case it starts to change. If traveling by air, keep entertainment and necessities in your carry-on, just in case your flights are delayed.
Expect Long Waits At Airports Thanksgiving Week
Fall air travel has already surpassed air travel from 2020. During the first two weeks of November 2020, just over 10.7 million people flew in the U.S. In that same period this year, over 25 million people have flown.
That number will continue to grow substantially over the holiday season. According to Adobe Digital Economy Index, the number of Thanksgiving flight bookings are 78% higher than the same period in 2020 and 3.2% higher than 2019. Airports are going to be congested and wait times are going to be considerably higher than they have in a long time.
Based on current flight data, here are the projected 10 busiest airports for Thanksgiving travel, starting with the busiest.
Atlanta (ATL)
Dallas (DFW)
Los Angeles (LAX)
Denver (DEN)
Miami (MIA)
Chicago (ORD-O'Hare)
Orlando (MCO)
Las Vegas (LAS)
New York (JFK)
Phoenix (PHX)
📌 Airport pro-tips: To beat the wait at the airport, consider enrolling in TSA PreCheck. There are currently over 10.5 million people in the program to beat long airport lines, and keep bags packed and shoes on. You can get approved and obtain your Known Traveler Number (KTN) in a couple weeks. It's only $85 and is valid for five years. You can pre-enroll in a couple minutes with Skip Plus. If you're returning internationally to a major U.S. airport, download the Mobile Passport app (it's free) — you'll be able to have an immigration line virtually to yourself. We also have door-to-door passport renewal too.
Be Prepared To Wait Even If Traveling By Car
AAA expects there to be over 48 million drivers hitting the road for Thanksgiving. They also expect to respond to over 400K vehicle incidents over the holiday. If you're traveling by car, you should plan on delays, especially in large metro areas.
AAA put together the top interstate corridors that are expected to have the highest amounts of congestion. These major highways experience traffic congestion on a normal basis but will be compounded during the holiday. Here are the top five corridors projected to be the busiest.
New York: I-495 E from E, Borden Ave to Little Neck Pkwy is expected to have a 482% increase in traffic.
Los Angeles: I-5 S, from Colorado St to Florence Ave is projected to have a 385% increase in traffic.
Atlanta: I-85 S, from Clairmont Rd to MLK Dr is expected to have a 340% increase in traffic.
Chicago: I-290 W, from Morgan St to Wolfe Rd is projected to have a 329% increase in traffic.
San Francisco: I-80 E, from I-580 to San Pablo Dam Rd is expected to have a 278% increase in traffic.
📌 How to save time on the roads: If at all possible, avoid roadways from 12 pm to 8 pm Wednesday the 24th through Sunday the 28th. Those times will be the most congested across the country. If you can't avoid driving during the day, be patient, give yourself plenty of space, and be cautious of other drivers.
Know The Restrictions and Requirements Of Your Destination Before Traveling
Whether you are seeking to travel outside America or looking to head to another state for Thanksgiving, it's critical to understand the restrictions and requirements you will face. Some cities have vaccine mandates or mask mandates in place and many businesses do as well.
📌 Extra tips: Download the free Skip app in the App Store or Google Play to get important information and find other ways to save time as an individual or a small business owner.