Fast access to funding can make or break a small business. For new entrepreneurs starting out with no business credit, bad credit history, or insignificant cash flow, a personal guarantee on a loan is one way to obtain capital quickly.
In this article, we'll define what a personal guarantee is, why lenders accept a personal guarantee, what you can use as a personal guarantee, as well as the pros and cons of seeking business financing using a personal guarantee.
What Is a Personal Guarantee?
In its simplest terms, a personal guarantee shows a lender you've got "skin in the game." It is an individual's promise to repay a loan obtained to finance their business enterprise.
Should the business fail, the individual or principal(s) assume the responsibility of repaying the balance of the debt from their personal assets. There are three types of personal guarantees:
Limited guarantee: A limited personal guarantee specifies the amount of money a lender can legally pursue to collect on the debt. This is a common scenario for business partners who take out a loan collectively. Each agrees to share in the debt repayment equally, or otherwise depending on the terms.
Unlimited guarantee: An unlimited guarantee allows the bank to collect the entire loan amount, including interest and any legal fees incurred trying to recover the debt amount. The bank can seize your financial and personal assets — including the money you set aside for your children's college tuition.
Joint and several personal guarantees: Businesses with more than one person applying for the loan, using their individual personal guarantees for the loan. This bears further understanding. If two out of three partners can't pay their portion of the debt, the partner who can pay will take on the entirety of the debt obligation.
The top reason you would need a personal guarantee is to increase your odds of ascertaining of business loan – lenders are more likely to approve you if you sign a personal guarantee. Guarantees are used by a variety of financial institutions, especially with SBA loans. SBA loans require business owners with a 20% or more stake in their enterprise to provide an "unconditional guarantee," the government version of a personal guarantee.
How Does a Personal Guarantee Work?
When seeking capital with a personal guarantee, principals pledge their individual personal assets – funds in checking and savings accounts, real estate properties, cars, or even valuable works of art – to secure, and guarantee repayment of the business loan.
In addition to their business information, applicants must also provide personal credit histories as part of the underwriting process. A lender will perform a hard credit inquiry on each guarantor to obtain a better understanding of their individual — and collective — creditworthiness, to determine eligibility.
If approved, terms may differ, but most lenders ask creditors to repay in monthly installments, instead of equity returns for investors. However, should a business fail and/or default on its debt, the lender can seize the personal assets outlined in the personal guarantee to satisfy repayment of the loan and any associated legal fees.
What Happens if My Business Misses a Loan Payment?
A missed payment doesn't mean an automatic claim against a personal guarantor; however, it will negatively impact both business and personal credit scores. When your business has missed four consecutive months of payments, is 90 days in arrears, or in breach of any other terms of the loan you are in default.
When this happens, each guarantor will receive individual letters of demand and become personally liable for the remainder of the debt – including interest and loan costs. The lending institution then pursues the guarantor's personal assets used to obtain the loan in order to recoup their money.
And yes, your personal property is at risk with a personal guarantee. Your loan application will include details of the items, bank accounts, or other assets to be used as collateral in the event of default.
What are the Pros and Cons of Personal Guarantees?
The top reason a small business chooses to use a personal guarantee is access to capital. Even well-established companies with good commercial credit can benefit from the use of personal guarantees with loans that offer better credit terms.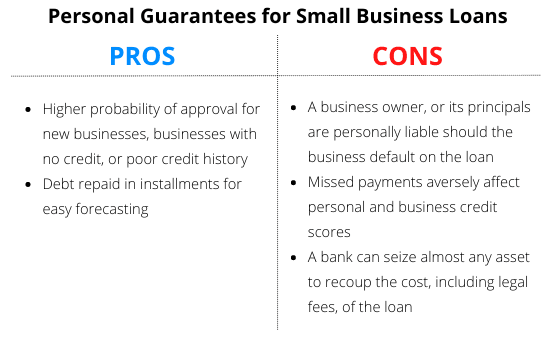 A personal guarantee is a terrific way to fund your business quickly, but it's not without its risks. How? It exposes business owners to substantial personal financial risk.
If your nascent business is dependent upon "just in time" or seasonal deliveries, you could be impacted by the domino effect of supply chain disruptions, and sudden interruptions to cash flow. Or, a major customer goes bankrupt and simply doesn't pay you. All real world scenarios.
Before the lure of "fast cash" blurs your vision, be sure to search for other types of funding or grants, that might act as a stopgap to "move the ball" as you build your business credit.
Need Funding Help for Your Business?
Do you need help getting funding for your business? We can help you with SBA loans, grants, or other business financing options. Get ongoing personalized help from our team. Join Skip Premium today and get 1-1 support for your business.
---
How Else Can Skip Help? Whether you need assistance navigating funding for your small business — like SBA loans, grants, or other financing options, or guidance with government-related services — like TSA PreCheck or DMV appointments, we're ready to help. Become a member and skip the red tape.