Unfilled Job Openings Hits 48-Year High Among Small Business Owners
A recent report from the National Federation of Independent Business (NFIB) shows that the number of businesses that can't find workers has reached a 48-year high. The report also reveals how businesses are being affected by supply chain disruptions, how they feel about the economic outlook, and more. Here's what you need to know.
Businesses With Unfilled Jobs Hits 48-Year Record High
Many small businesses are having difficulty finding qualified workers to fill their positions. 51% reported having at least one job opening that could not be filled, which is "a 48-year record high for the third consecutive month." This correlates with the latest report from the U.S. Bureau of Labor Statistics which indicates that there are still 10.4 million job openings.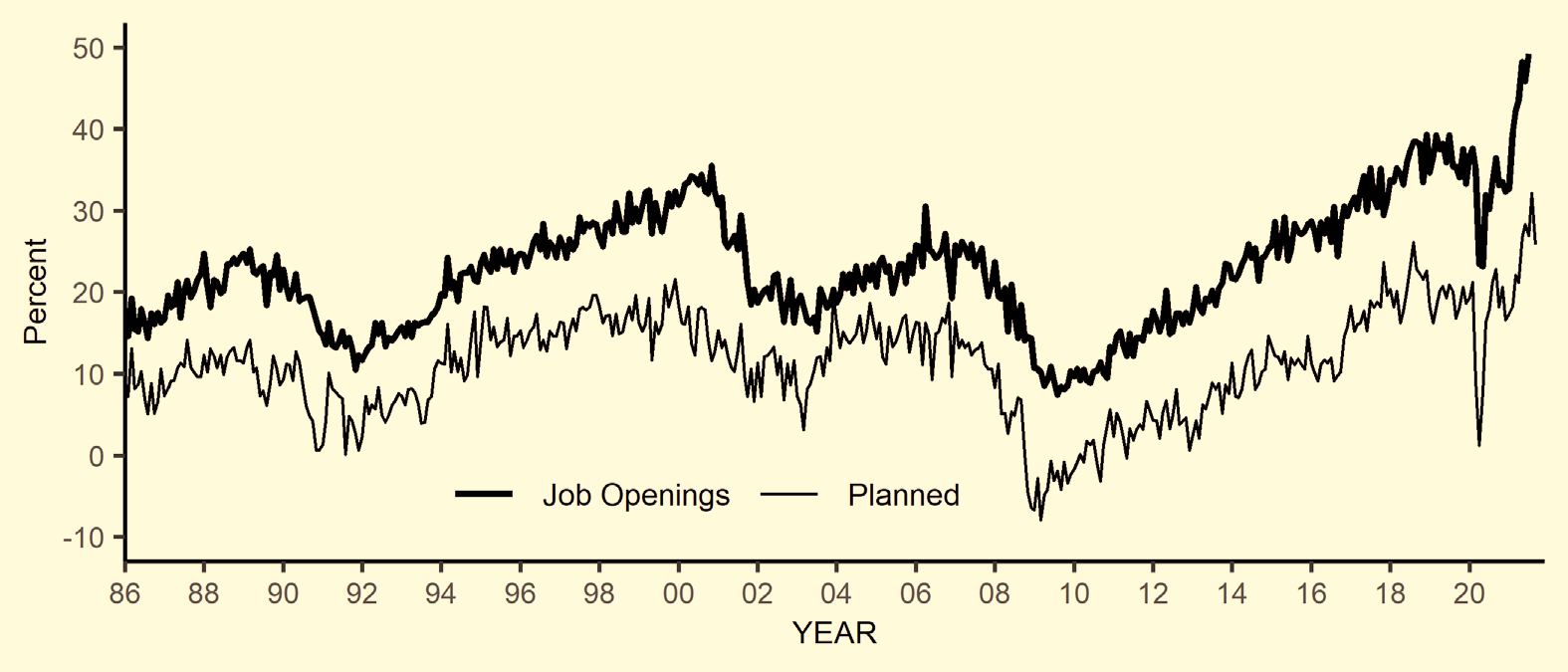 Data from ADP highlights an additional barrier to small businesses. Large corporations are conducting a bulk of the hiring, leaving fewer workers available to hire by small businesses. There is also a disconnect between those applying for jobs and businesses looking for employees. 62% of businesses overall and 92% of those actively hiring reported no or few qualified applicants for the position they are trying to fill.
A 48-Year Record High Number of Businesses Raise Wages To Attract Applicants
In an attempt to attract people to apply to their positions, businesses are increasing wages. The hope is that an increase in wages will not only bring in more applicants but those capable of performing the job function. It's not just about filling the position, but about filling it with someone who is qualified.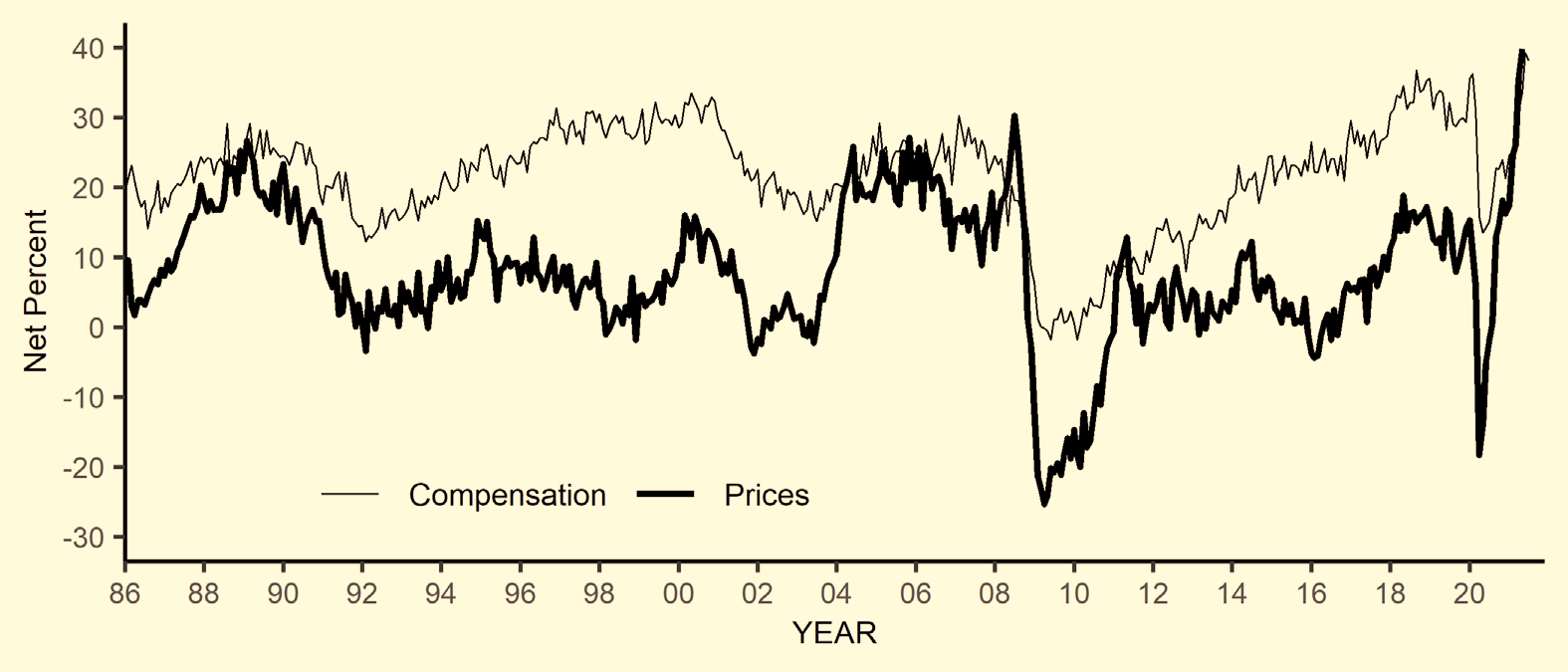 Seasonally adjusted, 42% of employers indicated that they raised employee compensation, which became a 48-year record high. Additionally, 30% plan to raise compensation in the coming three months. Because of this, 12% of businesses stated that labor costs are the most difficult problem.
Meanwhile, inflation has continued to drive prices up, causing businesses to raise prices, setting another record. 53% of businesses reported raising their prices to offset the cost of goods. By sector, 75% of wholesale businesses increased prices, 67% of manufacturers increased prices, and 71% of retail businesses increased prices.
Business Inventories Are Still Limited By Supply Chain Disruptions
The vast majority of businesses are still feeling the impact of supply chain delays and disruptions. 37% of businesses reported that supply chain disruptions are having a "significant impact" on their business. 32% reported the disruptions are having a "moderate" effect on their business, 21% reported a mild impact. Only 10% of businesses reported feeling no impact from supply chain disruptions.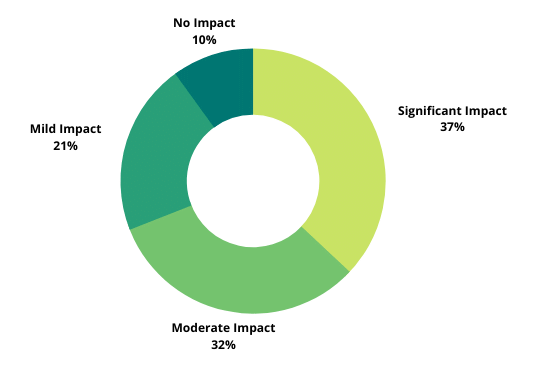 Supply chain disruption is a real challenge to businesses, especially those in the retail sector. The American Apparel & Footwear Association (AAFA) President and CEO, Steve Lamar, stated that the current shipping crisis is "an existential threat to not only American retailers but American farmers and manufacturers." He also added that "this holiday season will be marked by empty shelves, inflation, and lost jobs..."
Businesses Report Having Adequate Access To Capital
One of the positive findings from the NFIB report is that businesses reported having adequate access to capital, specifically credit. 20% stated that all credit needs were met, 62% said they were not interested in a loan, and only 2% said that their borrowing needs were not met.
The reason that access to capital is not an issue for many businesses is possibly due to the Economic Injury Disaster Loan (EIDL) program and/or the Paycheck Protection Program (PPP). The PPP offered over $792 billion in loans, most of which have been forgiven. Additionally, the EIDL has approved over $283 billion in low-interest loans for small businesses.
Economic Optimism Is At A 10-Year Low
One of the many markers that the NFIB puts out is the Outlook Index. This measures the outlook business owners have on future economic conditions. Fewer and fewer businesses are optimistic about the future state of the economy. As the NFIB report states, "this indicator [optimism index] has decreased 21 points over the past three months to its lowest reading since December 2012."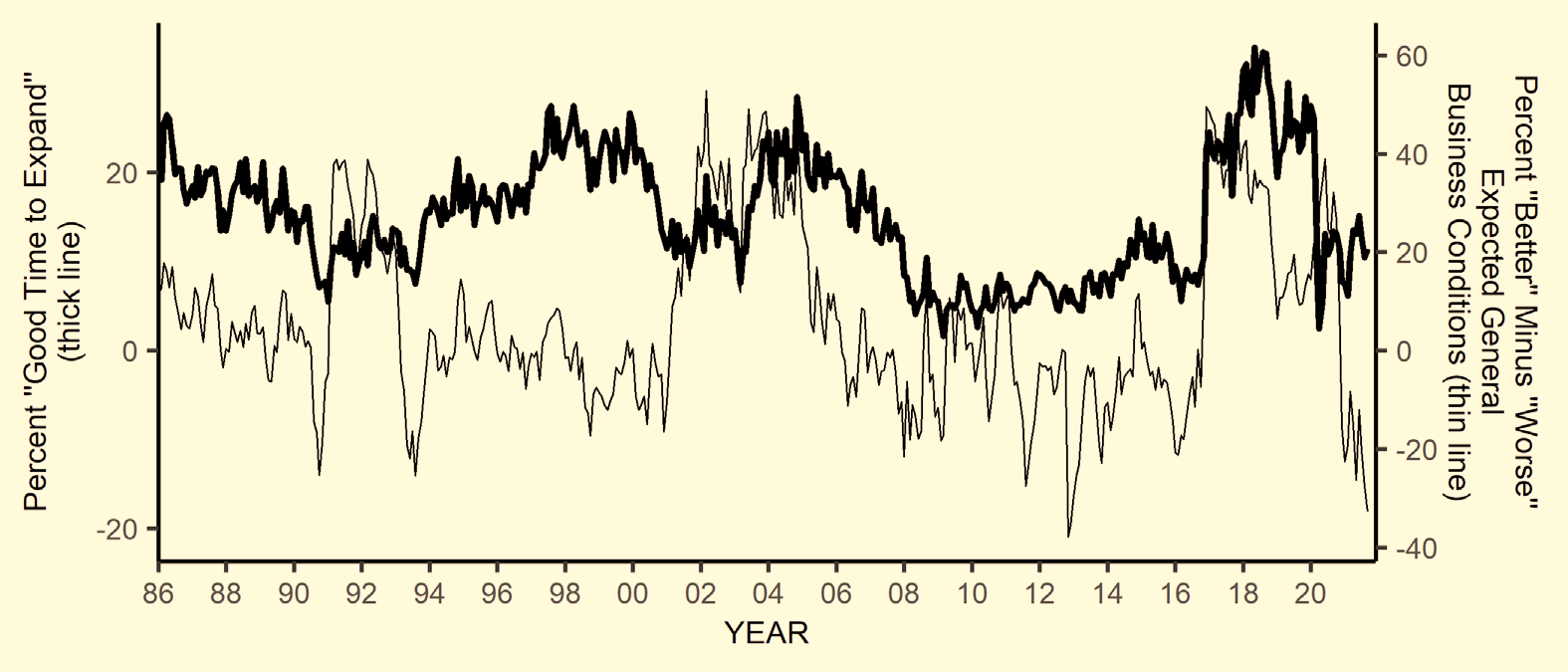 The Optimism Index currently stands at -33, which began to precipitously decline at the beginning of the pandemic. Aside from December 2012, this is the least amount of economic optimism since the NFIB started collecting data in 1986. Two other major depressions in optimism occurred in 1990 and 1993.
Businesses Are Unsure About The Future
Due to rising prices, supply delays, labor shortages, and other factors, businesses have general uncertainty and pessimistic views about the future condition of the economy. Businesses are seeking employees to stimulate their growth, but are being held back by record-setting labor shortages. They are raising wages to lure qualified candidates to apply, but are forced to choose between raising prices as well or taking a financial hit.
Meanwhile, the EIDL program is still open and has over $100 billion available. If you have questions about the EIDL program or business funding, you can get ongoing personalized funding help from our team. There are over 4,500 on our waiting list, but you can skip the waitlist completely with this invite link.