Will Vaccines Be Required For Students?
In this week's coronavirus update, Los Angeles Unified School District is requiring all students 12 and up to receive the Covid-19 vaccine. We also highlight President Biden's Covid-19 plan and have updated nationwide and worldwide coronavirus numbers for you.
LAUSD Will Require Student Vaccination
Los Angeles Unified School District, which is America's second largest school district- following New York City-voted on Thursday to pass a vaccine mandate for all students ages 12 and up. The school board voted unanimously to pass the measure for all students attending in person.  
The announcement from LAUSD drew much attention since it is the first large school district in the nation to pass such a measure. It already had very stringent requirements. LAUSD requires full vaccination for all school staff (with few medical and religious exceptions), regular Covid testing for staff and students, and masks for everyone indoors and outdoors.
The new mandate sets three timelines, depending on the age and activity of the student.
All students 12 and over who participate in extracurricular activities must receive their first dose of the Pfizer vaccine (currently the only vaccine approved for people 12 and over) by October 3, 2021 and the second by Halloween.
Students 12 and over who do not participate in extracurricular activities must receive their first dose by November 21, 2021 and their second dose by December 19, 2021.
For students who will turn 12 during the 2021/2022 school year, they must receive their first dose within 30 days after their 12th birthday and their second within 8 weeks after their 12th birthday.
Exceptions will be made for students with "qualified and approved exemptions under LAUSD's existing immunization policies," but those were not specified. With Delta forcing schools to close once again in some areas of the country, this is now LAUSD's main tool to combat it.
Will More Schools Require Student Vaccination?
To date, only a few schools have ventured into the vaccine mandate territory for students. Hoboken Public School District in New Jersey requires vaccination or weekly negative tests for their students 12 and up. Culver City Unified, a district in Southern California, announced in August that they will require vaccinations for eligible students.
LAUSD may be one of the first (and the largest) to require vaccines for students, but it may not be the last. Multiple governors and mayors have passed state-wide and city-wide mandates for school staff, which could spill into the student population. Additionally, Pfizer announced this week that they will seek FDA approval for use of their vaccine in children 5 and older in the near future. This could cause a vaccine mandate for students Kindergarten though 12th grade.
Biden Seeks Vaccine Mandate for 100 Million Americans
During a press conference on Thursday, President Biden announced his plan to "reduce the number of unvaccinated Americans," which he estimated would affect 100 million Americans.
Biden plans to use the Department of Labor's Occupational Safety and Health Administration (OSHA) to mandate that all businesses with 100 or more employees require their employees to be fully vaccinated or provide a weekly negative test. Those who don't could face a $14,000 fine per violation.
In addition, President Biden signed an executive order to require all federal employees in the executive branch to be fully vaccinated, all contractors working with the federal government to be fully vaccinated (as well as their employees), and employees of all health care facilities that receive Medicare and Medicaid reimbursements to be fully vaccinated.
Latest U.S. Numbers
Over the last two weeks, there has been a 6% decrease in the number of cases, the same number of hospitalizations, and a 30% increase in the number of deaths.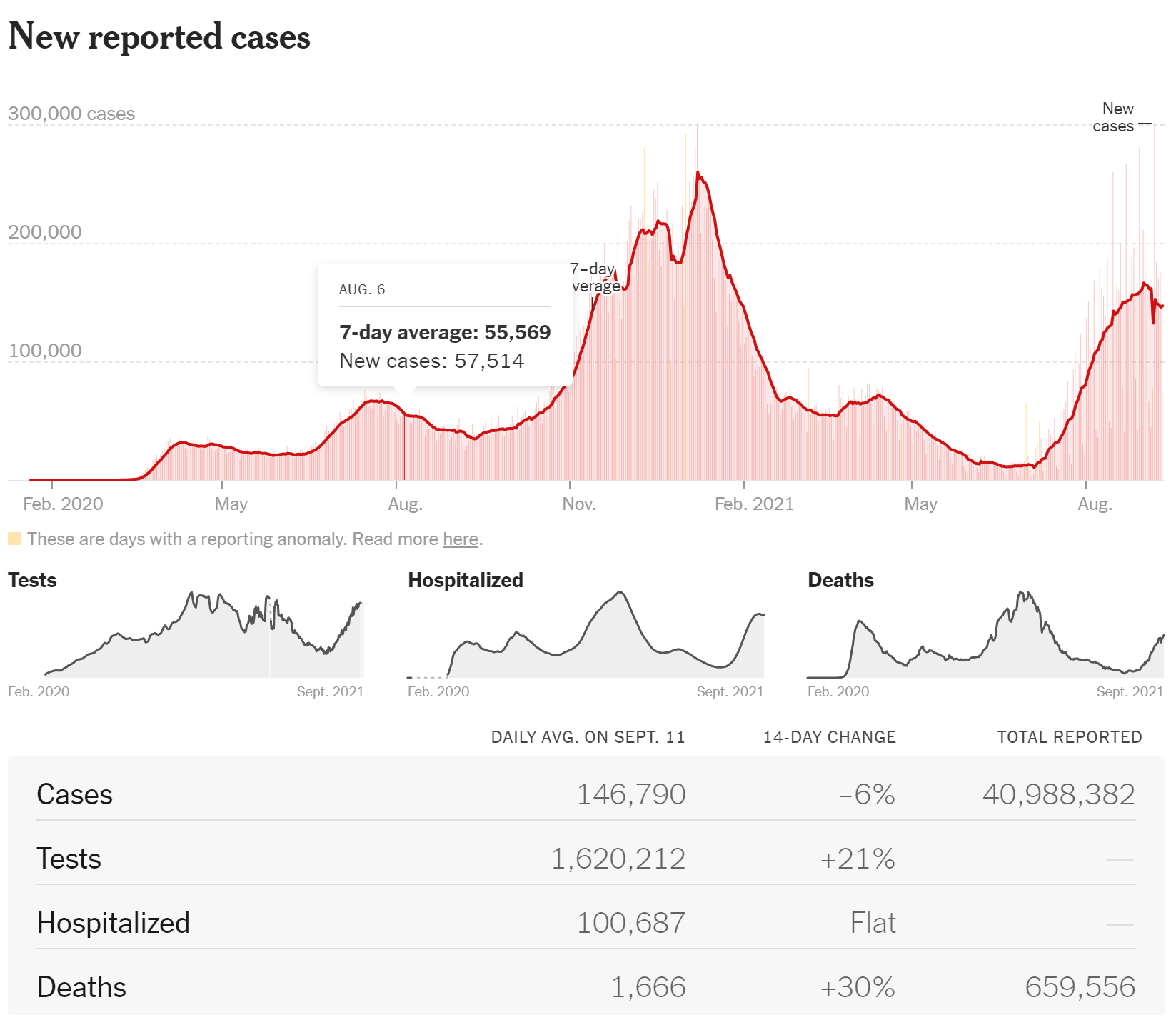 Several areas in the U.S. continue to have hot spots. Tennessee's cases have increased by 12% with 100 cases per 100,000. West Virginia's cases have increased 62% over the last 14 days with 92 cases per 100,000. Kentucky's cases have decreased 1% over the last 14 days with 91 cases per 100,000.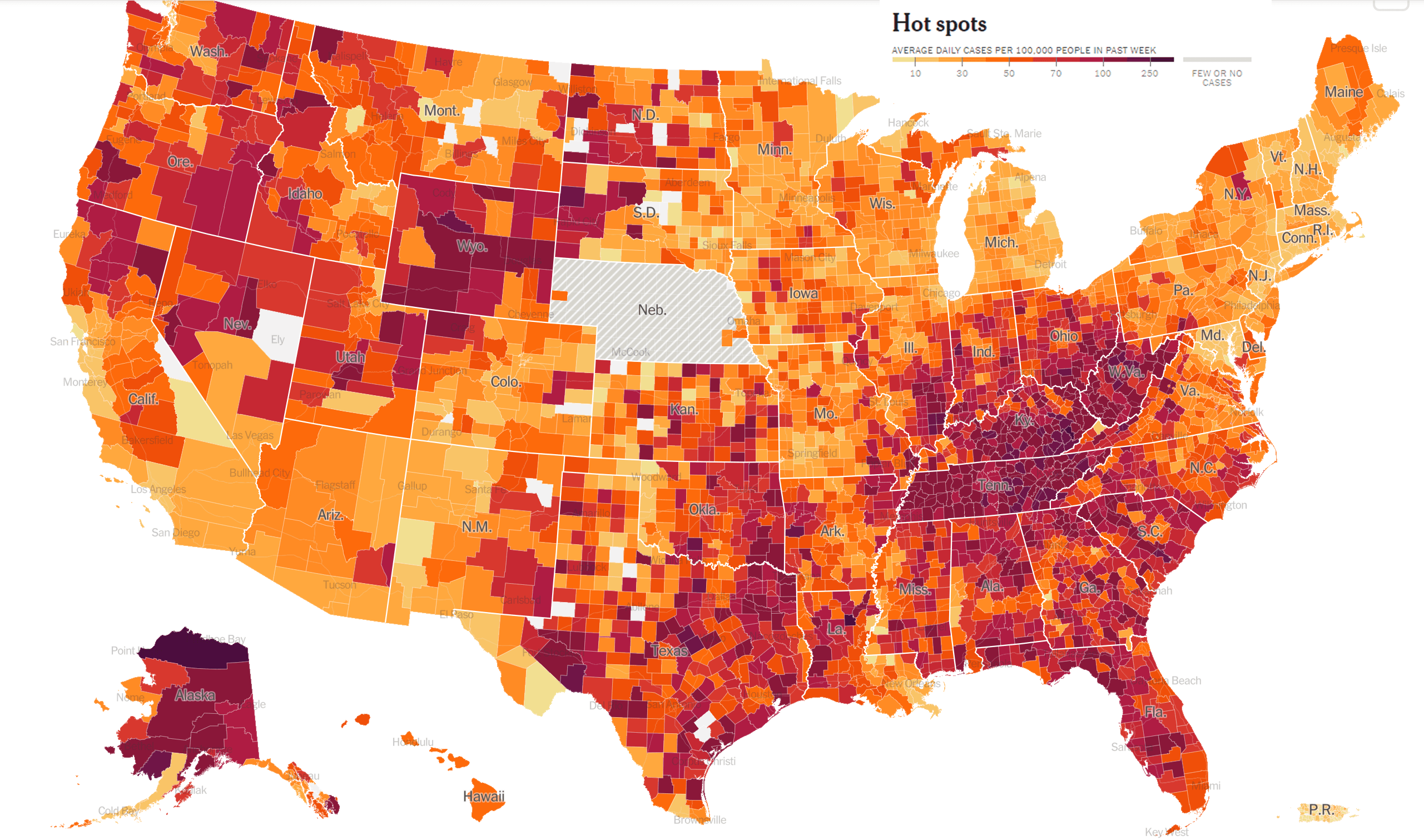 The CDC estimates that 178.3 million Americans are fully vaccinated. This accounts for 53.7% of the total population and 64.8% of adults 18 years and older. 64.8% of the total population (75.6% 18 and over) have received at least one dose.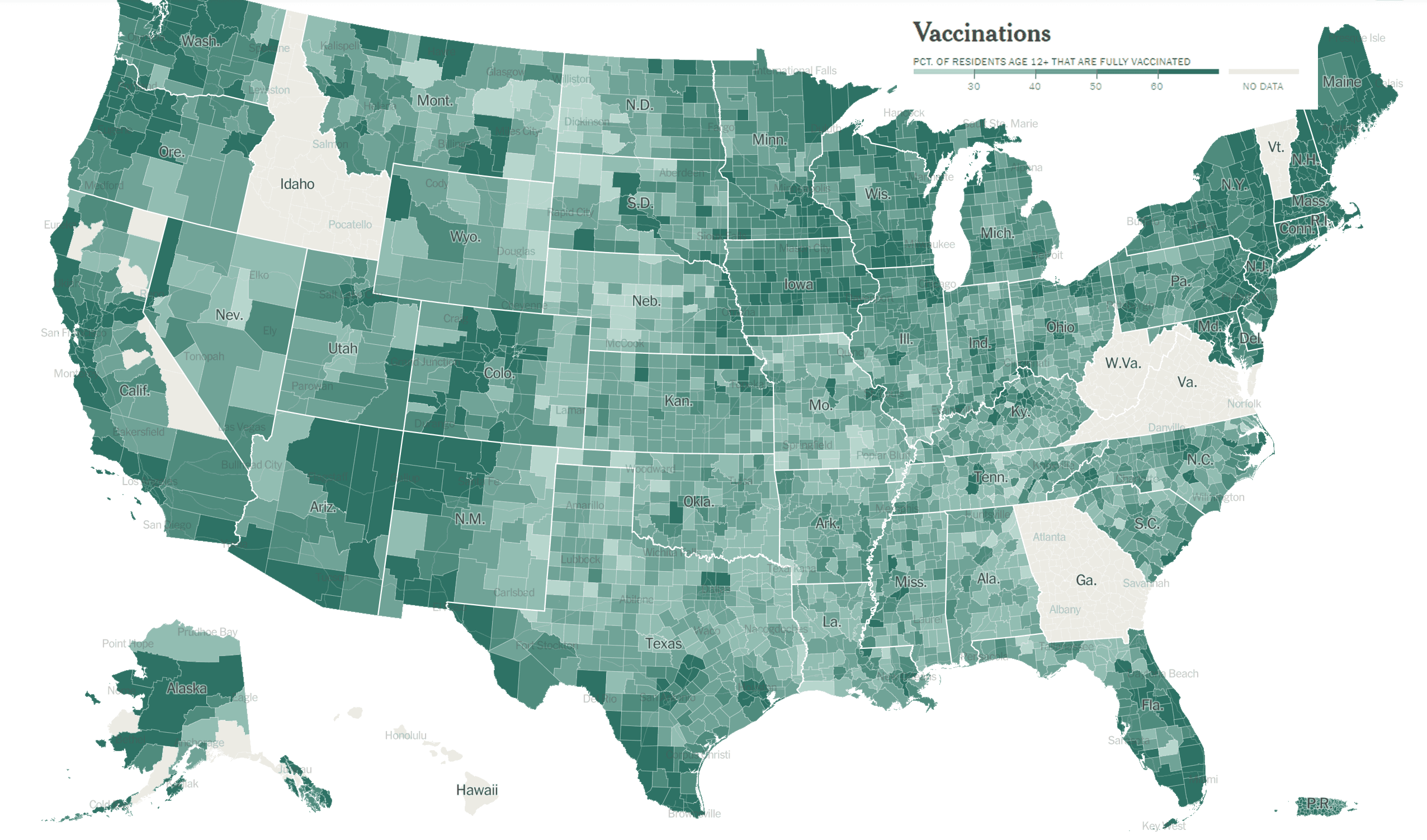 Below is a risk map of the U.S. based on testing data and current cases.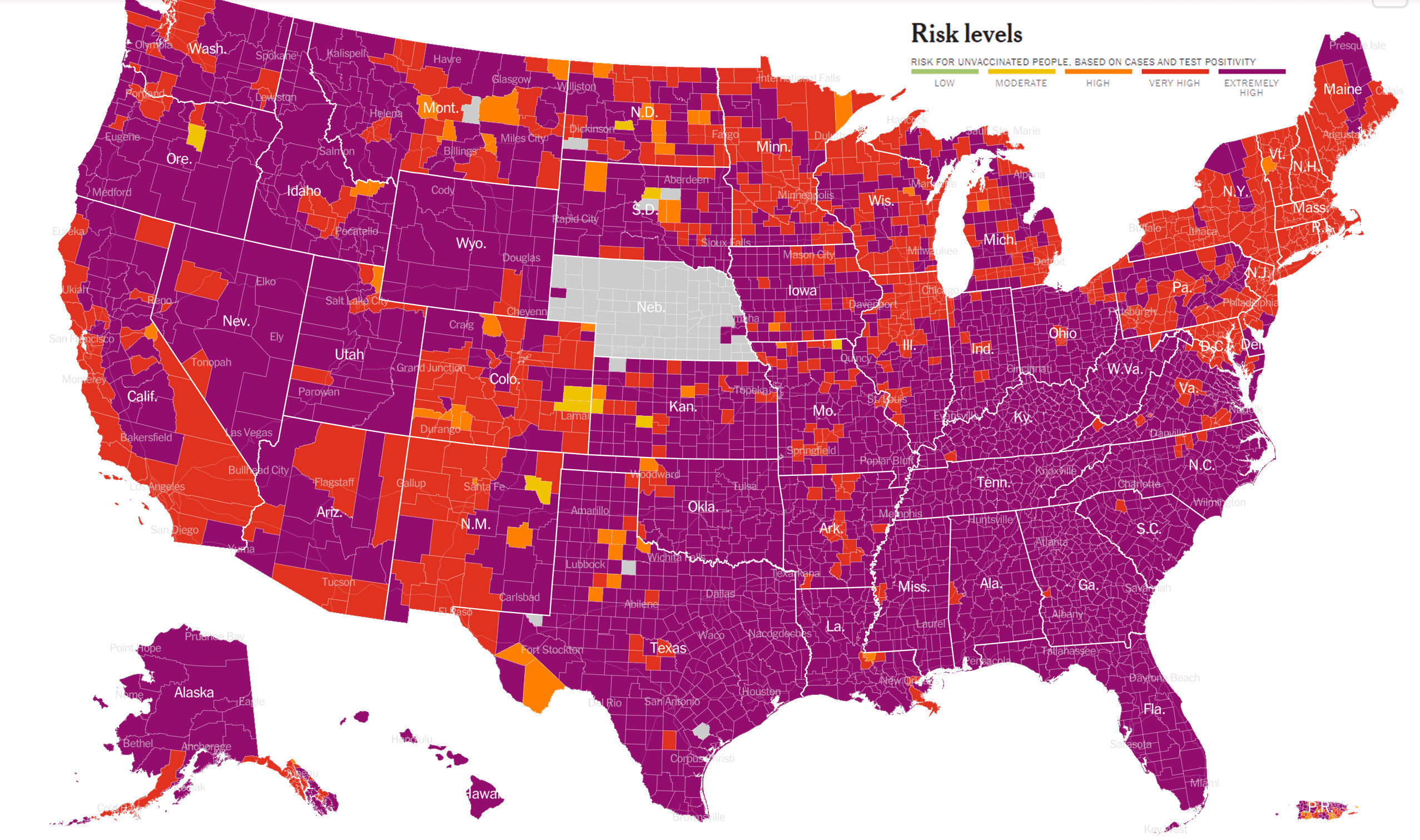 Latest Worldwide Covid Numbers
The number of Covid cases decreased around the world. Cases have decreased by 15% to just over 561,000 cases on a daily average. Deaths have decreased by 11% to over 8,900 on a daily average.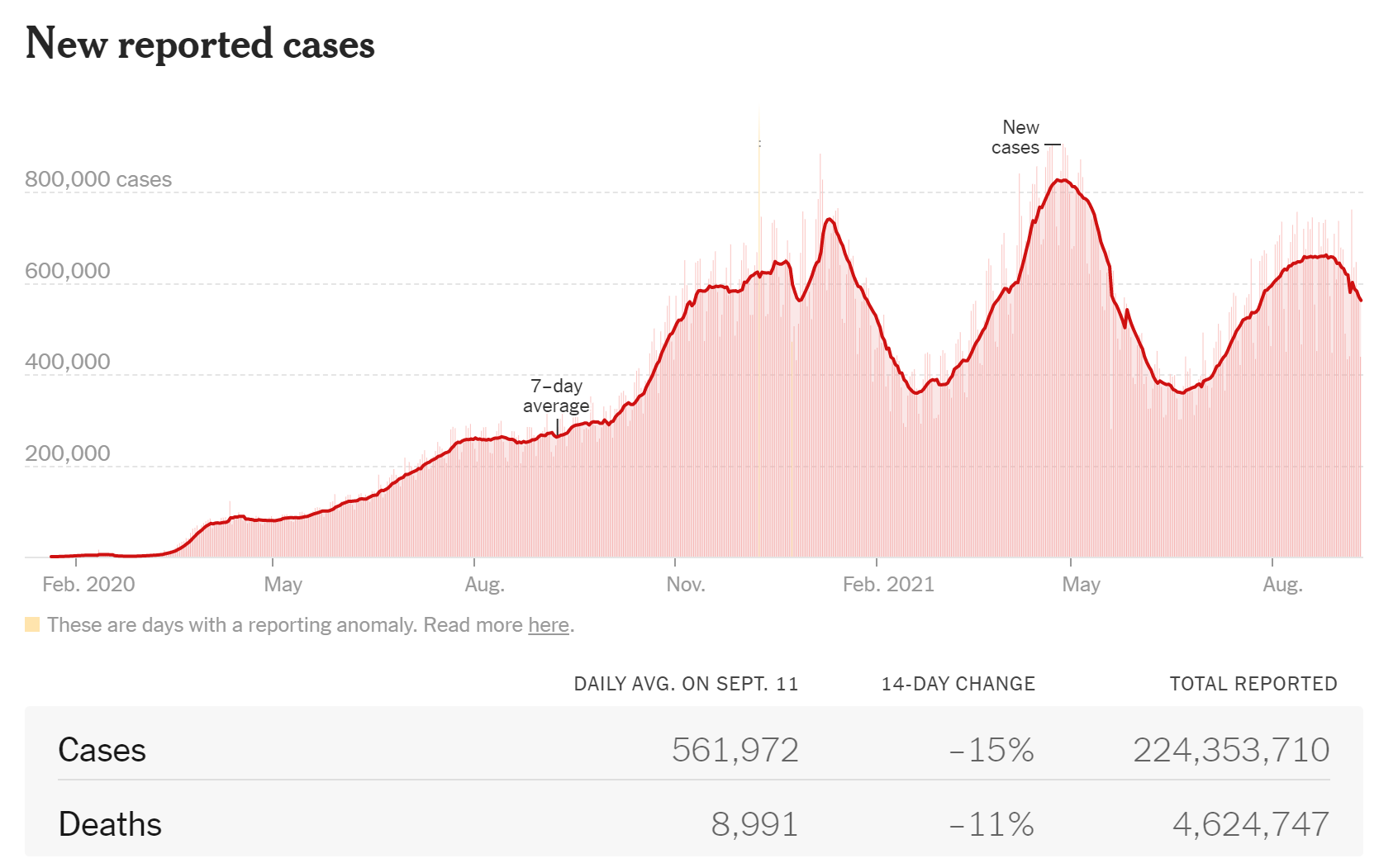 Countries around the world are continuing to have spikes in cases. Countries with the highest level of cases per capita are Grenada with 159 cases per 100,000, Mongolia with 106 cases per 100,000, and Bermuda with 93 cases per 100,000.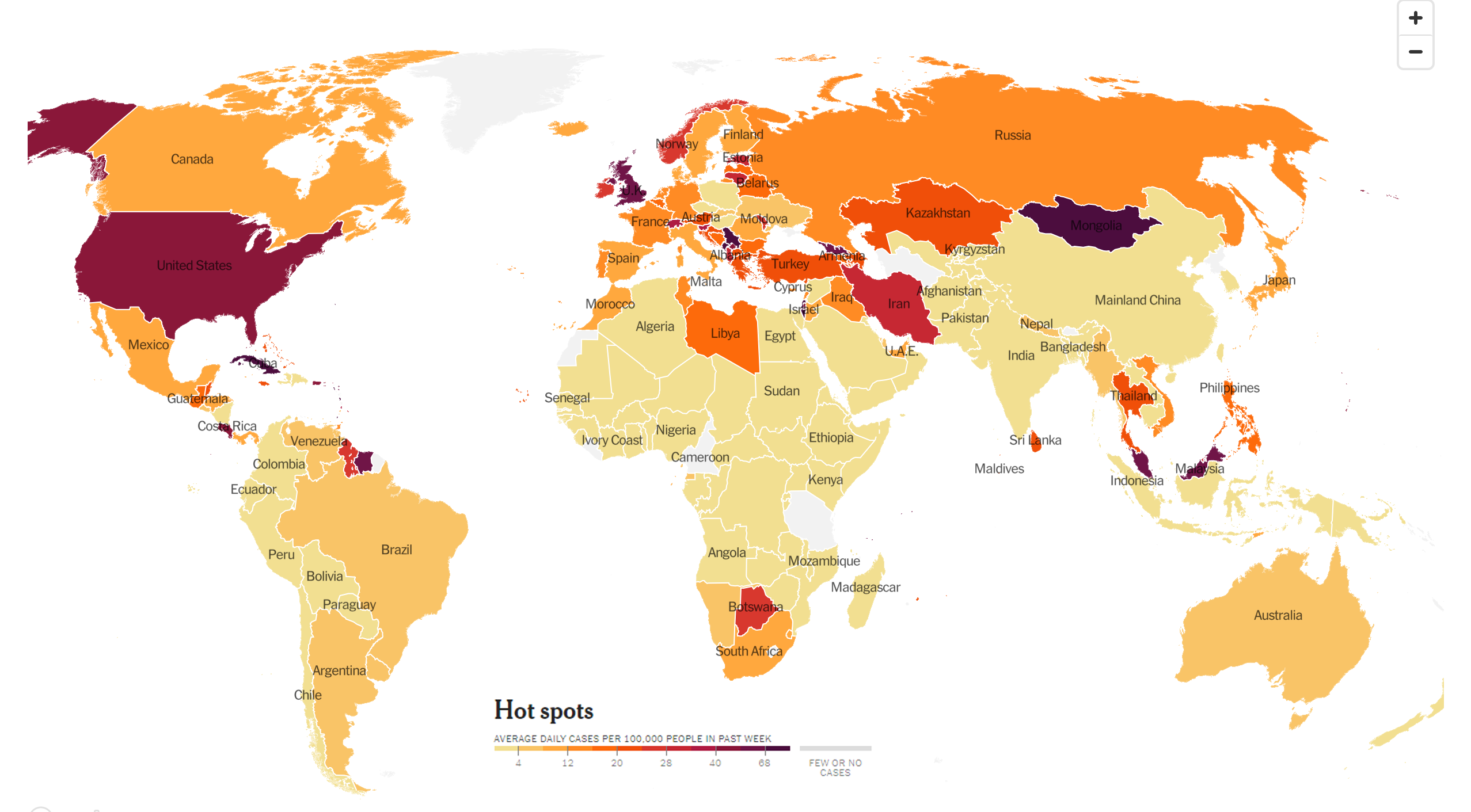 📌 If you are traveling anytime soon, be sure to check out the appropriate travel requirements. We track each country's testing and vaccination requirements for you, so you don't have to.