Are you looking to lower your COVID EIDL payments temporarily to free up cash flow for other parts of your business? Here's an important post on how to lower EIDL payments step-by-step and why more businesses are considering this option. A recording of our members-only Q&A webinar on how to lower EIDL payments is also included here.
Why The SBA Announced the Hardship Accommodation Option
In November 2022, the SBA announced the Hardship Accommodation Plan option for small business owners and entrepreneurs who received COVID EIDL loans. This allows many of the 4 million COVID EIDL borrowers to temporarily reduce their EIDL payments by 90%.
The SBA announced this because millions of borrowers have begun EIDL repayments yet many are still facing economic hardships. Hardships include a global recession affecting consumer demand and spending patterns, difficulties paying bills or other loans, and difficulties gaining and retaining customers post-pandemic.
Why Business Owners Are Deciding To Opt For Lower EIDL Payments
In short: to free up cash flow. If you have a $1M EIDL loan, your monthly payments are around $5,000 per month. What if you could save $4,500 per month and put it toward other parts of your business and only pay $500 toward the loan temporarily? Many business owners who are still facing economic challenges would likely opt for this option.
The EIDL Hardship Accommodation is NOT EIDL loan forgiveness and does not in any other way reduce your EIDL payment overall. In fact, you'll be paying more over the long run, because interest will be accruing. However, these higher payments ("balloon payments") you won't have to make until the end of the loan term, which is in 2050 and 2051 for most borrowers.
Step-by-Step Guide to Lowering EIDL Payments
Here's a post on how to lower payments, and we've illustrated this below, step-by-step.
EIDL Loans Below $200K
If your EIDL loan is under $200K, and your payments are already due or due within 60 days you should be able to login to the new MySBA Loan Portal. Use the same credentials you used for the CAFS dashboard. It's straightforward if you need to reset your password or create an account.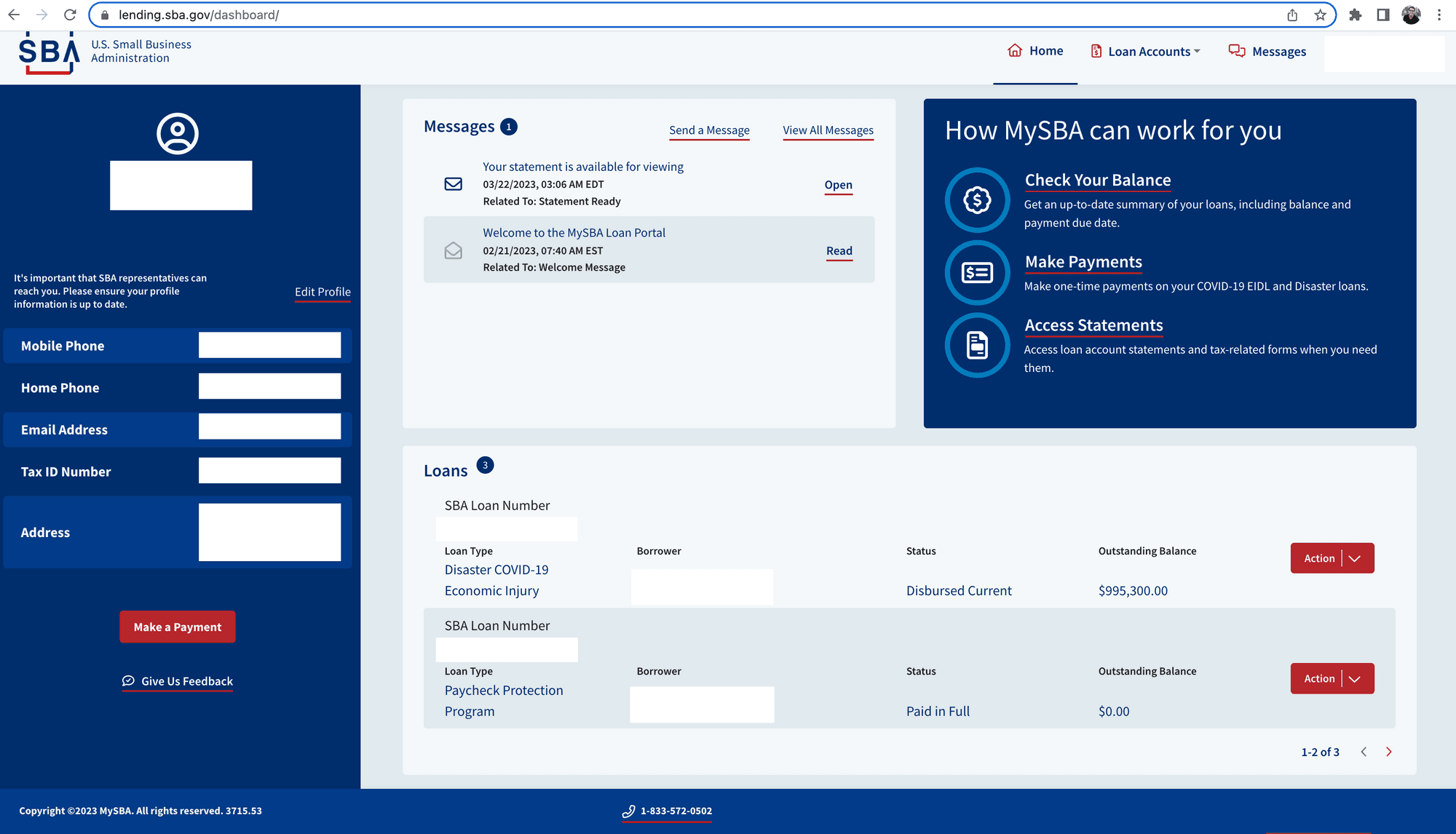 On your dashboard, under Make a Payment option, you should see an option for the Hardship Reduction to reduce your payments. You may also see this under your Payments History. If you don't see it there's a chat bot and a phone number to help assist you.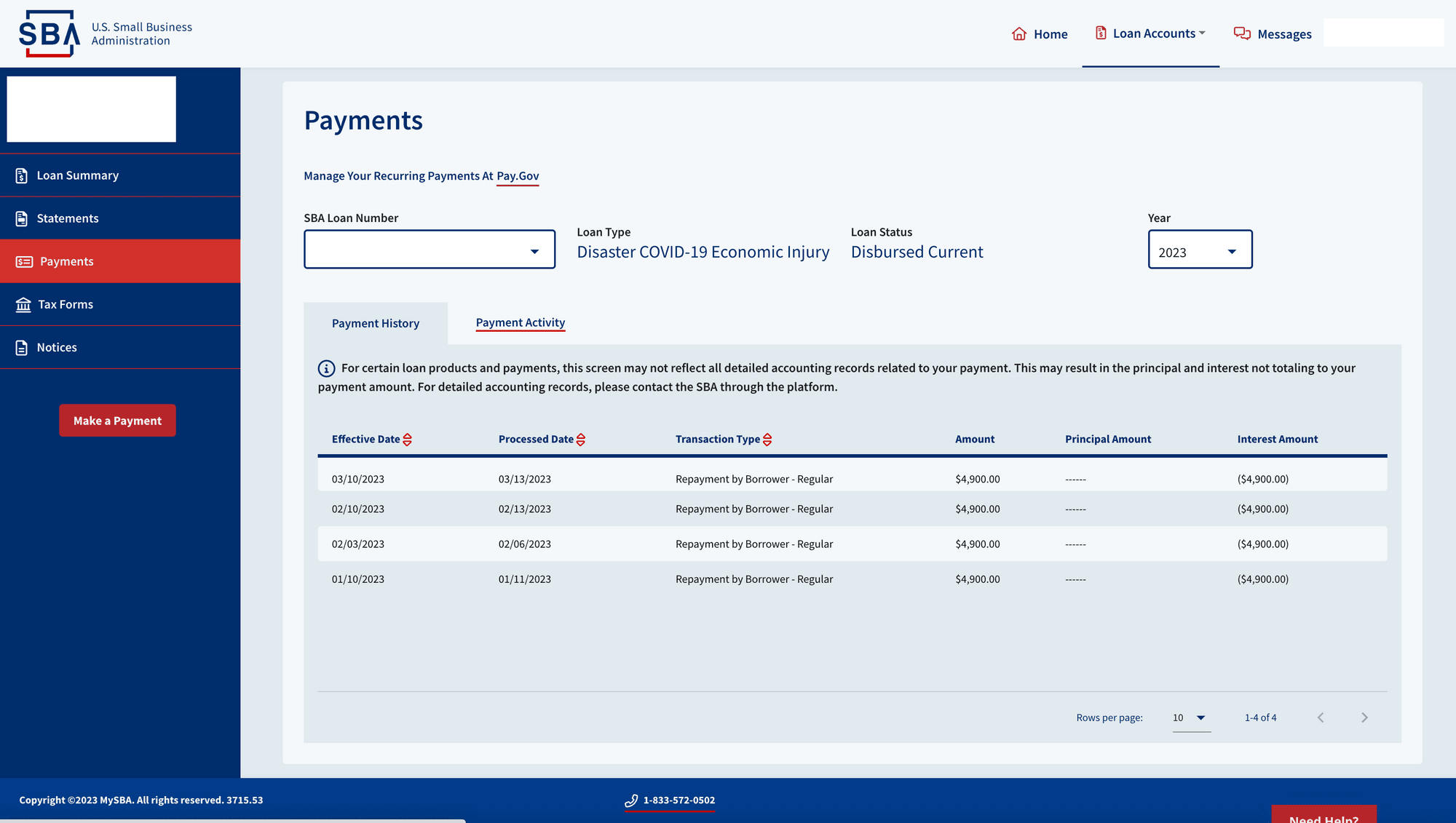 In this example above, you can see past payments were $4,900, so these payments are for an EIDL loan of around $1M. However, this borrower was able to request Hardship Reduction for 6 months lower their payments to $490, as shown in below screenshot.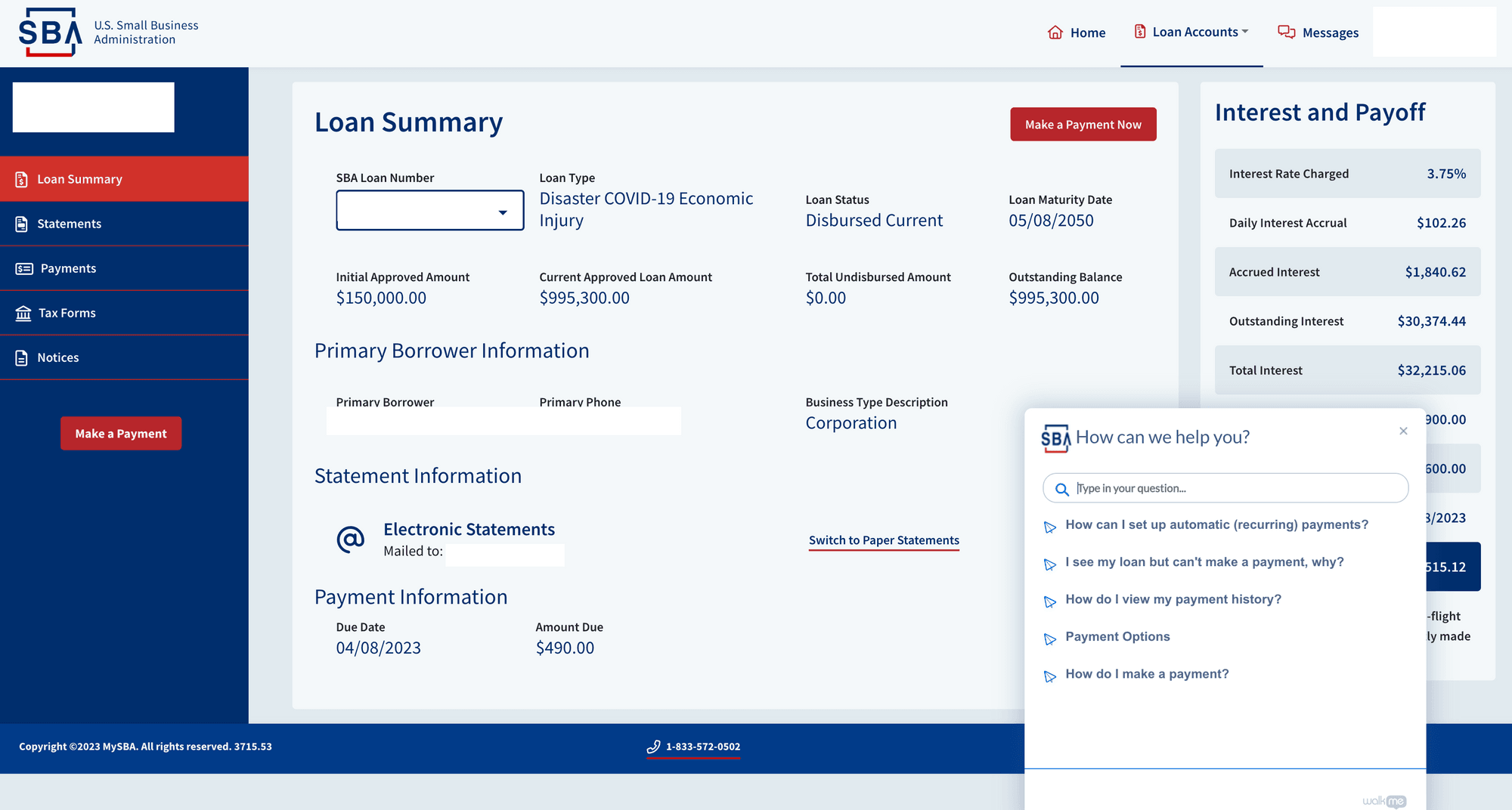 EIDL Loans Above $200K
The example above, since it was for an EIDL loan above $200K, was actually manually requested for approval from the SBA. The one-pager Hardship Accommodation Form, which is straightforward and may take a few minutes to fill out, can be found here.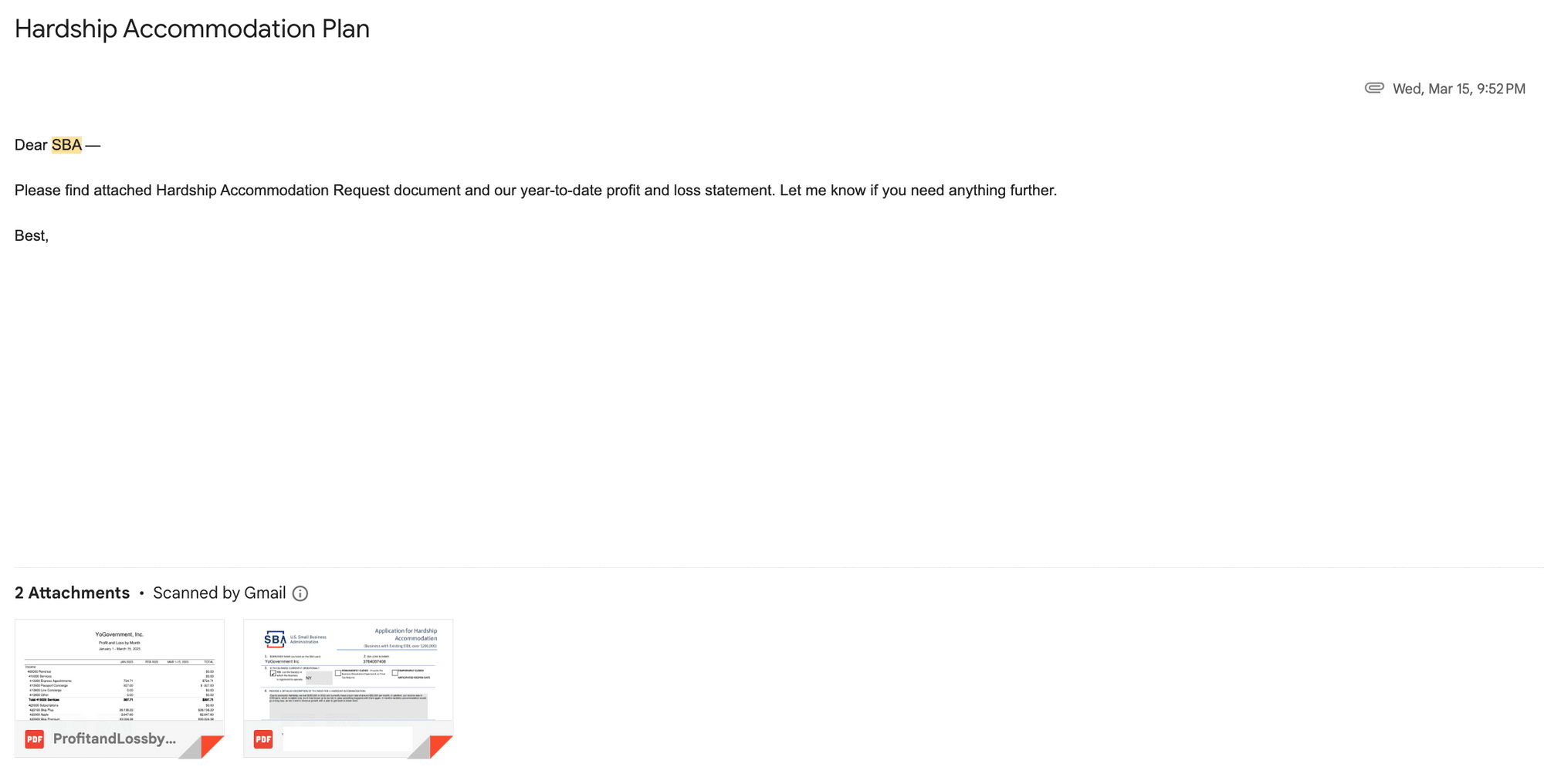 Once you fill this out, you can send it to DisasterCustomerService@sba.gov along with a copy of your year to date Profit and Loss. See above email example.
In this case, an SBA loan assistant reponded within a few days with an attachment issuing approval as long as the borrower replies "Agreed" to the email.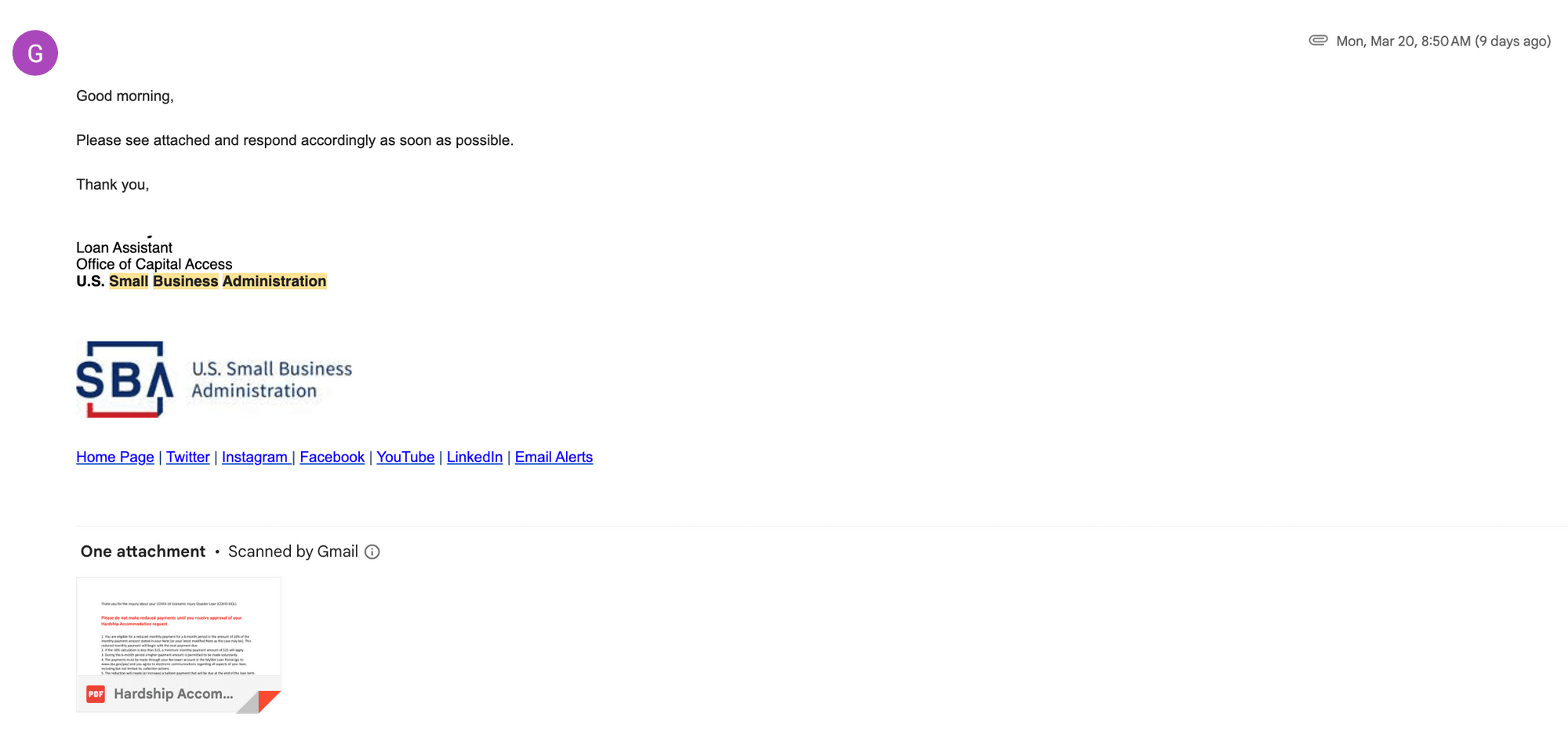 In the email, is the fine print (below). That's it!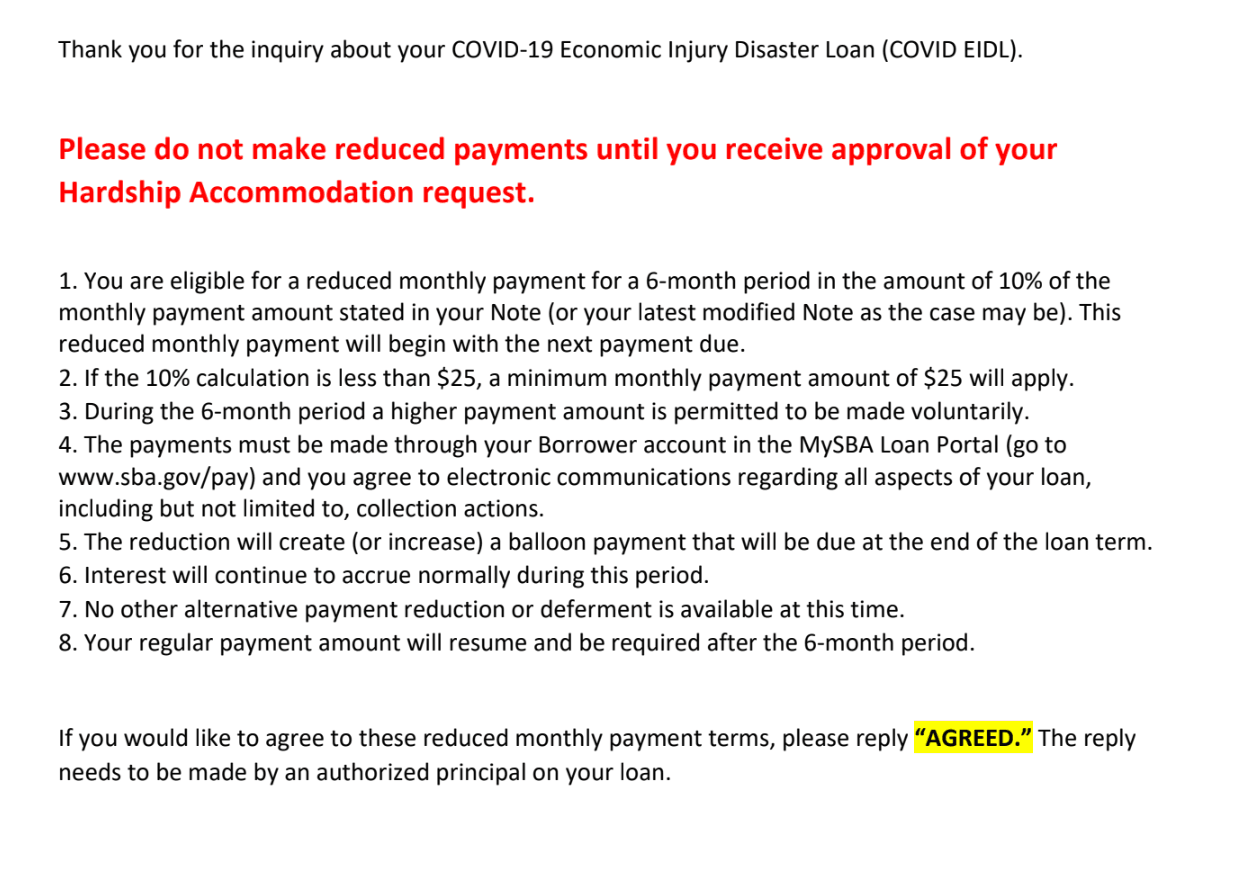 If you have any questions or want help 1-1 from our team with this form, get in touch with your client success manager or become a member here!