According to our EIDL survey, one-third of business owners are unsure of how or when to repay their EIDL loan to the Small Business Administration (SBA). Even if your loan is in deferment, it is still accruing interest. Here's a guide on everything you need to know about EIDL repayments, when they start and how to set them up.
There is no pre-payment penalty so making early payments can help you stay on top of the interest fees. If you need, or want, to begin making payments on your EIDL loan, here's a step-by-step guide on how to do it.
📌 NEW PROCESS February 21, 2023 Update*: The SBA has just released their brand new MySBA Loan Portal to manage and pay for EIDL loans, manage other SBA loans, and message the SBA. Here's the link to the new portal. *The copy below will be updated to reflect the new portal soon.
📌 Pro-tip: Want us to help you set up EIDL repayments and help you save money on repayment for free? Book a call with us here.
When Do EIDL Payments Begin?
The SBA extended the deferment period for EIDL borrowers from 24 months to 30 months. Meaning, your EIDL payments begin 30 months after the date of your loan origination date, e.g., if your EIDL loan originated in May 2020, your payments begin in November 2022. Here's more information directly from the SBA press release:
The deferment extension is for all approved 2020 - 2021 EIDL loans. Repayments will begin 30 months after the date of the Note.
You can still make payments during the deferment period, but you are not required to.
The SBA sends monthly payment reminders via email, but will not send SBA Form 1201 payment notices.
If you established a Preauthorized Debit (PAD), or recurring payments on your loan, contact your SBA servicing center to pause them during this deferment period. Or, do this yourself if you used Pay.gov or another bill pay service.  
How Do I Check the Balance of My EIDL Loan?
Before making payments to your EIDL loan, check the current loan balance. Head to the SBA's Capital Access Financial System (CAFS) website and create an account. Your CAFS account contains all the information about your loan — including the payment dates, loan amount (principal and interest), and your monthly payment amount. Here's how to do it.
Step 1. Head to the CAFS Website
Navigate to the SBA's Capital Access Financial System (CAFS) website and create your account (if you don't have one). To do this, click on the "Not Enrolled" link.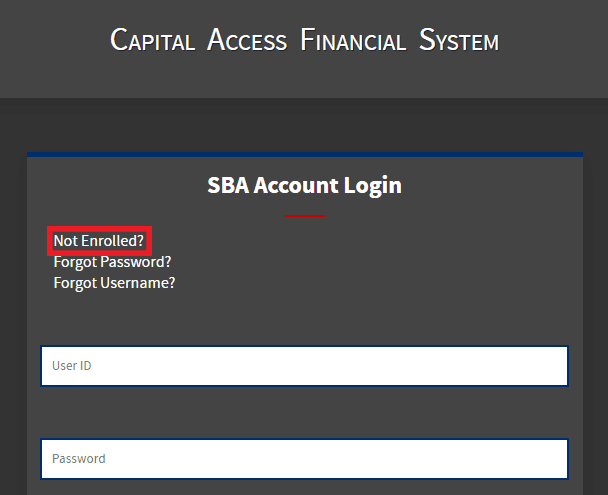 Step 2. Create a CAFS Account
Once you choose "Not Enrolled," you will be redirected to the application to create an account with the CAFS system. You will be asked the following information:
Name and date of birth
User type (borrower)
Address and phone number
Social Security Number
SBA loan number (not the application number)
If you don't know your SBA loan number, check your RAPID portal or your original loan documents. SBA loan numbers are 10-digit numbers that generally start with the number 2 (but not always). If you cannot access or find your SBA loan number, contact your SBA loan officer or call one of the Disaster Loan Servicing Centers.
El Paso Loan Servicing Center (El Paso, TX): 1-800-487-6019
Birmingham Loan Servicing Center (Birmingham, AL): 1-800-736-6048
Step 3. Log In
After creating an account, log in. A PIN is sent to your phone or email address for verification. After receiving your PIN, enter it and click "Verify PIN," the enter key will not submit the form.
Once inside, click on the word "Borrower" in the blue bar near the top left side of the screen. Next, click on borrower search, then your highlighted loan number. You should be able to see your loan information, including the total balance, payments, and more.
How Do I Pay My EIDL Loan?
There are three ways to make payments to your EIDL loan.
You can pay online — the SBA's preferred method.
Use a bill pay service either through your bank or a third party to send ACH payments to the SBA.
Pay by mail.
How Do I Pay My EIDL Loan Online?
Paying online is the fastest, and simplest way to make your EIDL payments to the SBA. You'll need an account with pay.gov — the official website for all government-related loans — such as EIDL, VA loans, and more. Here's how to pay your EIDL loan online:
Step 1. Sign In or Create an Account at Pay.Gov
Navigate to the government's official payment website, pay.gov. Sign in (top right corner) if you have an account, or create an account if you don't have one. If you need to create an account, select either personal or company account.
📌 Pro-tip: If you are a sole proprietor or independent contractor, register a personal account since you and your business are one and the same. For all others, you'll want to select "Company Account."
Step 2. Find the SBA 1201 Borrower Payment Application
Once you create and verify your account, navigate to the SBA 1201 Borrower Payment form. You can find it on the pay.gov homepage. Click on "Pay it right here" inside the "Make a SBA 1201 Borrower Payment" section.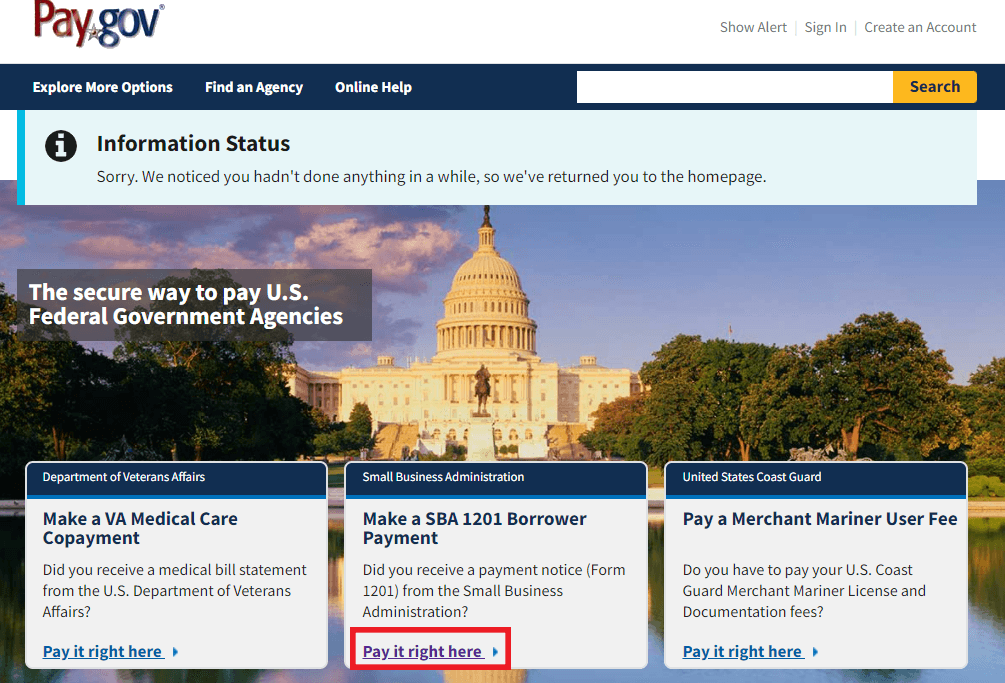 The next page explains the process and answers some frequently asked questions. The 1201 Borrower form should NOT be used for Paycheck Protection Program (PPP) payments or to pay back EIDL Advances — just the EIDL loan and other disaster loans.
You'll need your 10-digit SBA loan number — not the application number. You cannot pay your EIDL loan with a credit card; however, you can pay with your bank account (ACH payment), with a PayPal account, or with a debit card.
Step 3. Fill out the Form and Make Your Payment
When you begin the 1201 Borrower Payment form, the borrower's name and address will auto-populate if you're signed in. You will be asked for your SBA loan number and the desired payment amount — your monthly payment amount should be on your EIDL portal and your CAFS portal.
Click continue, not save. Then click ok on the popup to confirm.
After you confirm the payment amount, you will proceed to the "Enter Payment Info" page. Here is where you will select the payment method — ACH bank payment, PayPal, or debit card. Click "Next." You'll be asked if this is a one-time or recurring payment along with the frequency of payments (if recurring), and the number of payments you want Pay.gov to collect before it stops.
If you choose recurring payments, you must enter a number in the "end scheduled payments when I have made" box. For example, if you want to pay off the loan in 5 years, the number to enter in this box would be 60 (12 months x 5 years). After that, review and submit.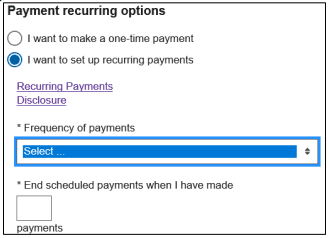 📌 Pro tip: Want help with EIDL payments? Join Skip VIP and book a time to talk with us.
How Do I Pay My EIDL Loan by Mail?
Paying by mail is straightforward. The SBA still recommends that you create an account with CAFS and with Pay.gov, if nothing else to monitor your payments and change your address if needed. Here's how to pay by mail
Send a check or money order payable to the "U.S. Small Business Administration."
Make sure that your 10-digit SBA loan number is in the memo field.
Mail your payment to:

U.S. Small Business Administration
P.O. Box 3918
Portland, OR  97208-3918
How Do I Pay My EIDL Loan Through My Bank Account?
If you prefer to pay the SBA through your bank's (or a third-party's) bill pay service, follow your bank or program's specific procedures. Add the Small Business Administration as the payee and your 10-digit loan number as the "account number." If you need to enter a phone number for the SBA, use the phone number provided on the front of your EIDL statement. If you need an address, use the following:

U.S. Small Business Administration
P.O. Box 3918
Portland, OR  97208-3918
Get EIDL and Funding Help for Your Business
Do you need help getting started with EIDL payments or getting other funding? We can help with EIDL repayments, SBA loans, grants, or other business financing options. Get ongoing personalized help from our team. Join Skip VIP today and get 1-1 support for your business.
---
How Else Can Skip Help? Whether you need assistance navigating funding for your small business — like SBA loans, grants, or other financing options, or guidance with government-related services — like TSA PreCheck or DMV appointments, we're ready to help. Become a member and skip the red tape.