On Thursday, the SBA announced Disaster Loan Assistance for those affected by Hurricane Ian in Florida. Here's the latest information on what counties are eligible and what type of disaster assistance is available.
📌 On Wednesday October 5 at 3pm EST, an SBA director is joining our CEO Ryder Pearce to discuss this new disaster funding and how you can apply for it. Subscribe to our YouTube channel to be notified when we go live with this special event.
📌 Pro-tip: Get alerts when applications go live.
Florida EIDL Disaster Funding Eligible Counties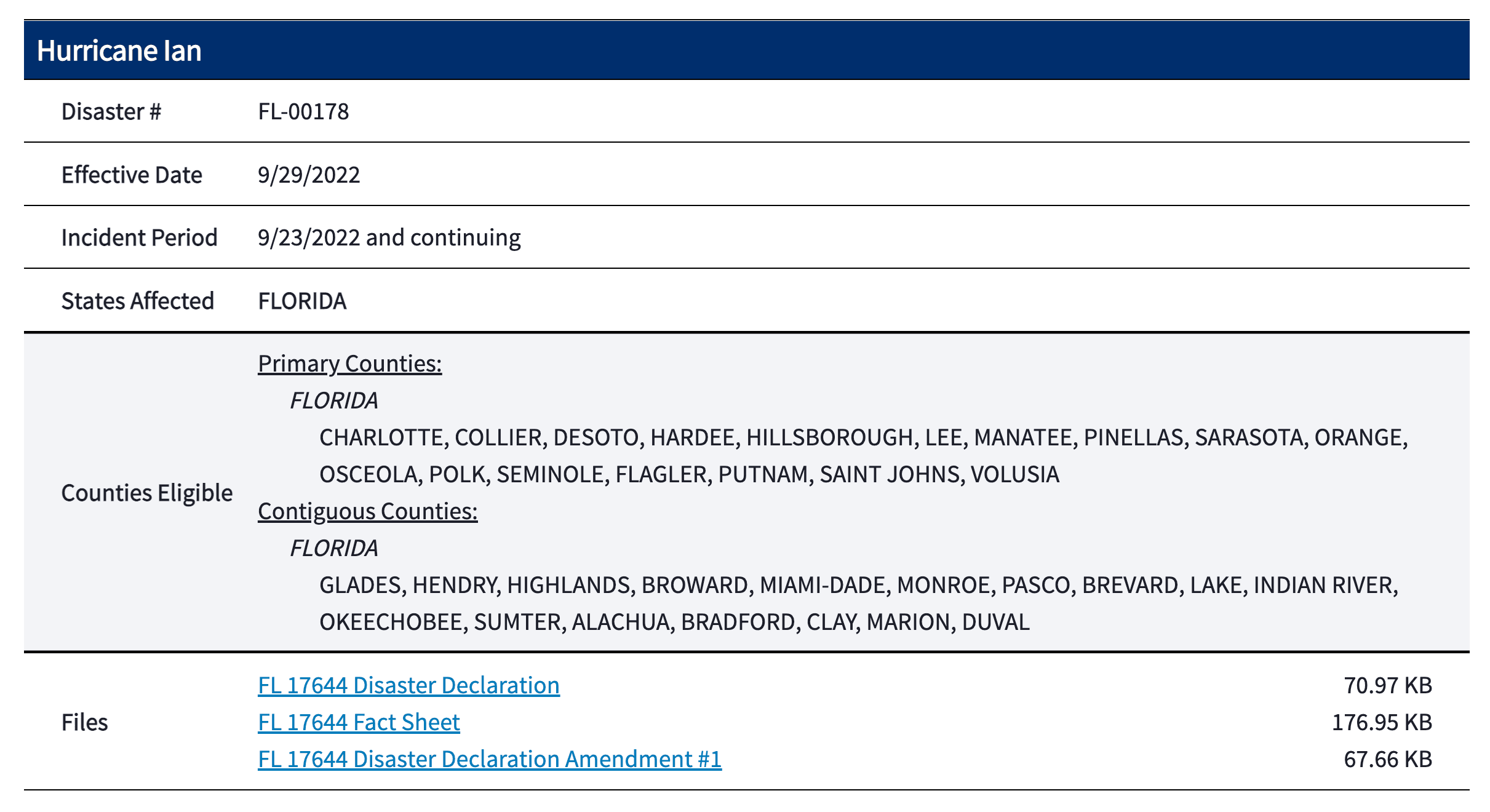 The SBA announced disaster assistance on Thursday September 29th for a dozen or so counties in Florida affected by Hurricane Ian.
The primary counties eligible are: Charlotte, Collier, Desoto, Hardee, Hillsborough, Lee, Manatee, Pinellas, Sarasota, Orange, Osceola, Polk, Seminole, Flagler, Putnam, Saint Joins, Volusia.
The contiguous counties eligible are: Glades, Hendry, Highlands, Broward, Miami-Dade, Monroe, Pasco, Brevard, Lake, Indian River, Okeechobee, Sumter, Alachua, Bradfard, Clay, Marion, Duval.
The contiguous counties are only eligible for EIDL loans while the primary counties are eligible for both physical disaster loans and economic injury loans.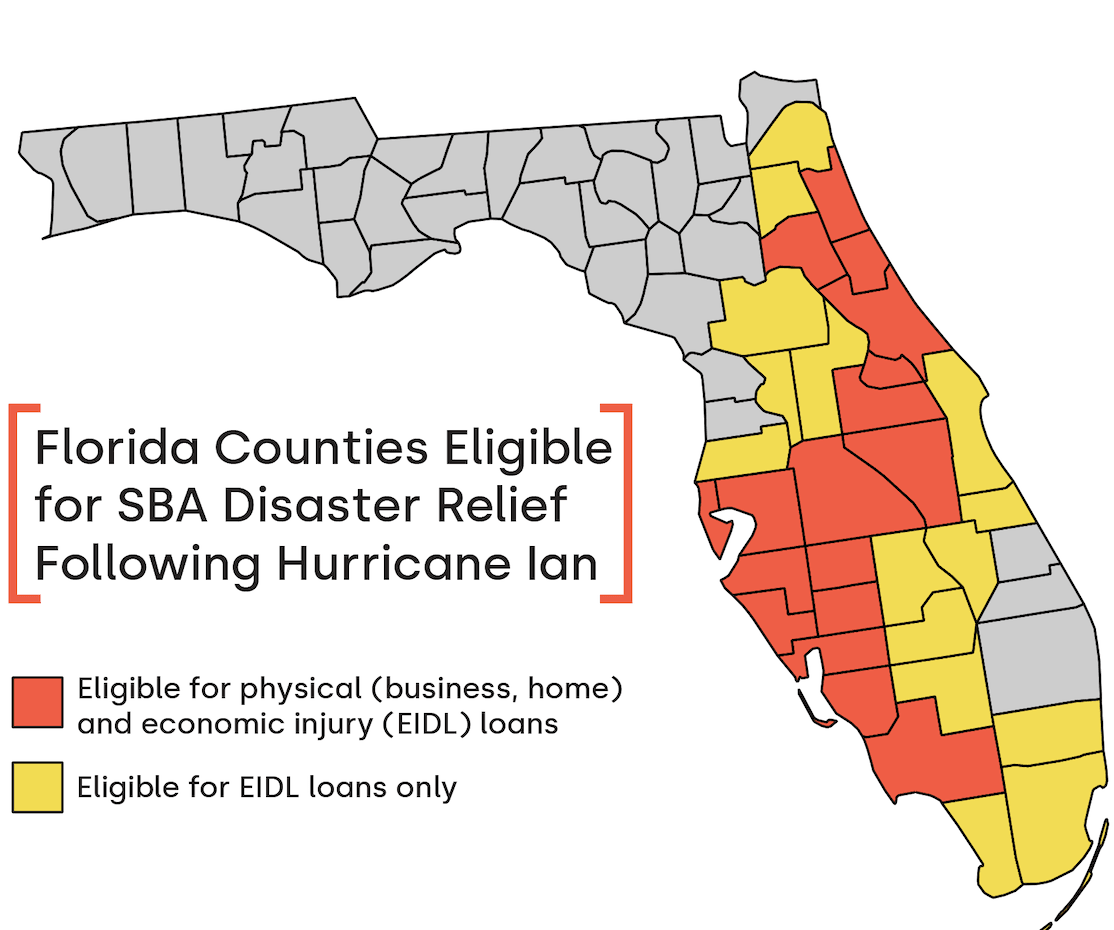 How Is This Different Than the COVID EIDL Funding?
For this disaster funding there are multiple types of assistance available. This includes Business Physical Disaster Loans, Economic Injury Disaster Loans, and Home Disaster Loans.
The EIDL loans included here are for working capital loans intended to help through the disaster recovery period. Some of the terms are similar to the COVID EIDL loans — including the $2M limit. For more information as it becomes available, book a time to talk with us on one of our memberships.
What are the Florida EIDL Deadlines Due to the Hurricane Disaster?

Here is an overview of the loans available in more detail:
Business Physical Disaster Loans – Loans to businesses to repair or replace disaster-damaged property owned by the business, including real estate, inventories, supplies, machinery and equipment. Businesses of any size are eligible. Private, non-profit organizations such as charities, churches, private universities, etc., are also eligible.
Economic Injury Disaster Loans (EIDL) – Working capital loans to help small businesses, small agricultural cooperatives, small businesses engaged in aquaculture, and most private, non-profit organizations of all sizes meet their ordinary and necessary financial obligations that cannot be met as a direct result of the disaster. These loans are intended to assist through the disaster recovery period.
Home Disaster Loans – Loans to homeowners or renters to repair or replace disaster-damaged real estate and personal property, including automobiles.
Here are the deadlines: Physical Loan Application deadline is 11/28/22 and the Economic Injury Disaster Loan (EIDL) deadline is 06/29/23.
How To Apply for the Florida Disaster and EIDL Funding?
There are a few options: You can learn more on the SBA website including mailing addresses and phone numbers to call. You can also talk with our team; we have various options to help you. If you want help applying for these EIDL loans and going through requirements and eligibility, we recommend connecting with our team.