SBA Begins Accepting Targeted EIDL Grant Reconsiderations
The SBA began allowing people to email to be reconsidered for their Targeted EIDL Grant if they've been denied. The SBA announced this late yesterday, and it's welcome news for the high percentage of people who've been denied.
Of all of the people who've had a decision with regards to their Targeted EIDL Advance, 60% have been approved and 40% have been denied. Here's all of the reasons people have been denied.
This is a similar email process to the EIDL Loan Increase we detailed here.
Action: Send Targeted EIDL Grant Re-evaluation Email
👉 Click here for pre-populated email with subject & what to include, to the SBA
Here are the specific instructions from the SBA if you're curious for the full info: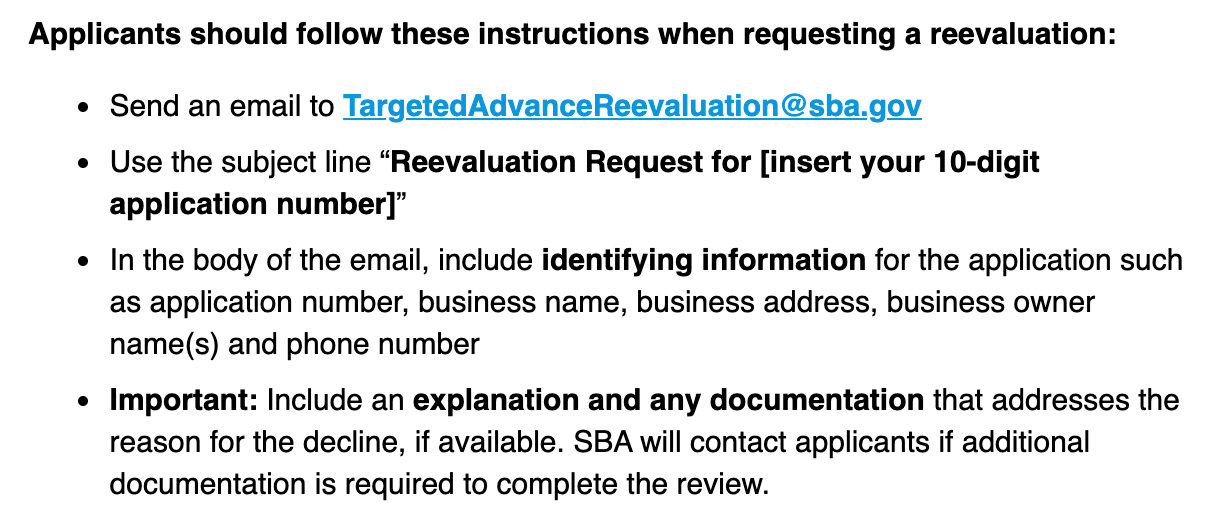 More Targeted EIDL Grant Re-evaluation Information
This is breaking news. We will be updating this post as more information becomes available. In particular, what reconsideration information might be helpful for the SBA to make a positive determination in your favor.
📌 Pro-tip: Find out about new grants and funding opportunities with 15 days free of Skip Plus. Join nearly 100,000 others getting early access to grants and other funding opportunities. See New Grant Opportunities
"I can't recommend Skip Plus enough. It is so wonderful to have the confidence that the Skip team is researching for me and they'll alert me if I need to take action on grant opportunities. -Stephanie J, Los Angeles, CA
"Thank you Skip for keeping me informed on grants and loans. It seems like you're adding new features every single week. Big help for my shop in Atlanta — thank you again." -Danielle K, Atlanta, GA