SBA Microloan vs EIDL: Which One is Better For Your Business?
For businesses that are waiting on a decision for their EIDL loan or for those that don't need much more funding, a Small Business Association (SBA) Microloan is an option to consider. In this article, we will briefly compare the EIDL and Microloan programs, reasons to consider a Microloan, and how to apply for one.
SBA EIDL Program vs Microloan Program
The SBA EIDL program and the Microloan program have similar features. They both allow businesses to use the funds in a wide variety of ways, but one may be more applicable to you.
The SBA just announced EIDL 2.0 that contains updated rules and policies. Under the new regulations, businesses can apply for a loan of up to $2 million at 3.75% interest with a 30-year term. EIDL funds can be used for working capital, operating expenses including payroll, utilities, rent/mortgage, and to pay down other business debt. The Covid-19 EIDL program will expire on December 31, 2021.
Microloans are offered continually. The SBA provides funding to financial intermediaries, such as Community Development Financial Institutions (CDFIs), and other nonprofit community-based organizations. These intermediaries then offer microloans to businesses.
Microloans cap at $50,000, so they are better for businesses that do not need a lot of capital or that are starting out. Microloan rates vary by institution, by can fall between 8% and 13%. The maximum term for microloans is six years. Microloans can be used in many of the same ways as EIDL funds (such as working capital), but cannot be used to pay off other business debt.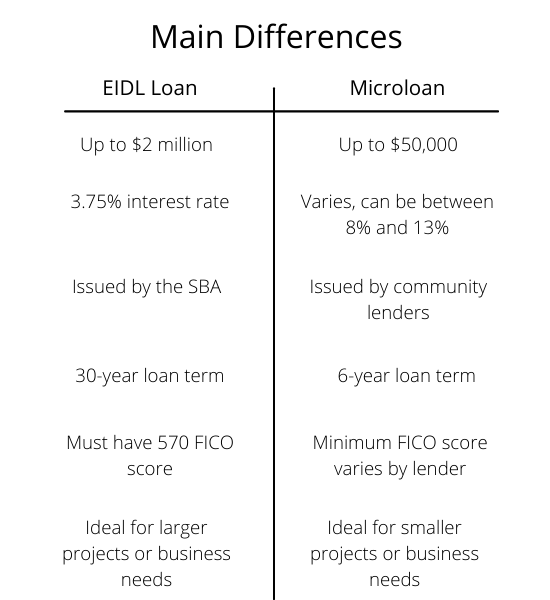 Reasons to Consider an SBA Microloan
There are three main reasons you should consider applying for a microloan over an EIDL loan or increase.  
Faster Timeframe The first reason to consider a microloan instead of an EIDL is the timeframe. While the SBA continues to make strides on clearing the backlog, likely tens of thousands of businesses are still waiting for their increase or a decision on their initial EIDL application.
According to a recent survey we conducted of over 3,300 business owners, 20% are still waiting for an initial decision on the EIDL application and 52% have been denied or denied and are in reconsideration. Pursuing a microloan through an authorized microlender in your community may be faster than waiting on your EIDL loan or increase.
Loan Amount Requirement Another reason to consider a microloan is the amount that you need. Most businesses we surveyed need less than $100K in additional funding to stay afloat. If you need $50,000 or less, a microloan can fill that gap instead of increasing (or pursuing) your EIDL loan.
Lower Interest Accrual A third and final reason to consider a microloan is the lower amount of interest you could be paying. For example, let's say you accepted the original EIDL amount of $150K but want an additional $50K. If you increase your EIDL loan by $50K, up to $200k, you could pay $20,000 more in interest than if you took out a microloan for $50,000.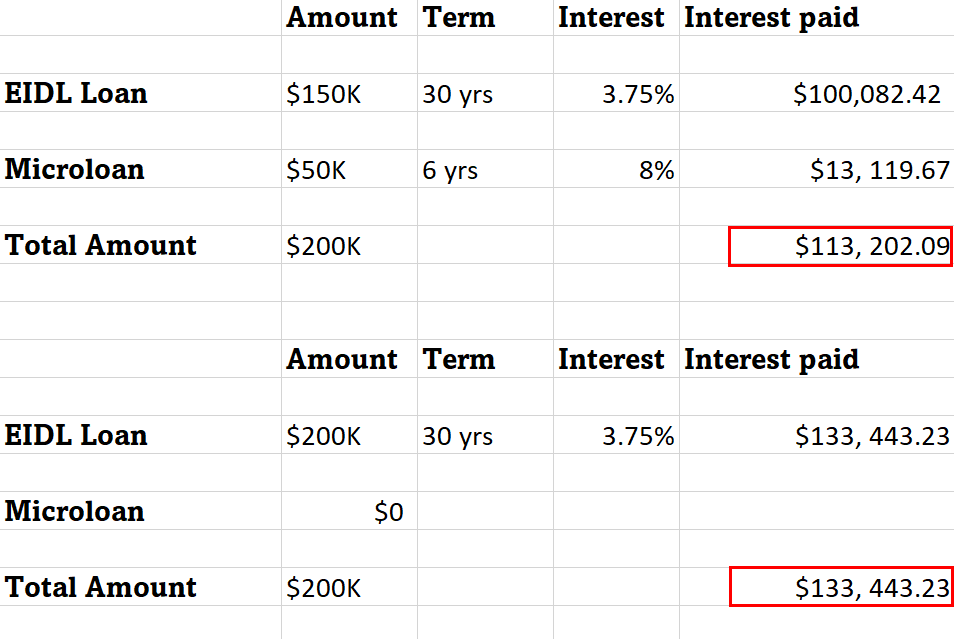 Who Should Apply For an SBA Microloan?
There are a few factors to consider when deciding between a microloan and the EIDL program. You may benefit from a microloan if:
You do not need more than $50,000
You are able to pay the loan off in 6 years
You do not want/can't wait very long for approval
You have good credit (depends on lender)
You do not need an SBA loan to pay off another business debt
How Do You Apply for an SBA Microloan?
Unlike the EIDL program, microloans are funded through SBA-approved financial intermediaries. These intermediaries set their own qualifications and credit requirements. In order to find an SBA-approved financial intermediary, contact the SBA District Office closest to you, and they will provide you with a list.
Conclusion: Microloans Are Viable Alternatives to EIDL Loans
While EIDL 2.0 increases the loan cap to $2 million (among other changes), many businesses do not need more than $500k in funding. For businesses who need an additional $50K or less, a microloan may be the better alternative in the long run. If you need personalized assistance with your specific situation, check our availability and book a spot to talk with us today before the spots fill up.