SBA Releases EIDL Loan Increase Backlog Data
In a follow-up briefing this morning, the SBA released additional information regarding the EIDL loan increase total backlog, the average loan applications reviewed per day, and the average EIDL loan reviews per day by each loan officer. We've unpacked all the new information in today's video update and done a recap of the important points below. You can get early access to videos by subscribing to our YouTube channel.
The SBA Has Increased EIDL Loan Increase Processing by 12X
According to information released from the SBA, the daily EIDL loan application review was 1,647 on June 28th. On July 21, that number had increased by 12X to 20,169.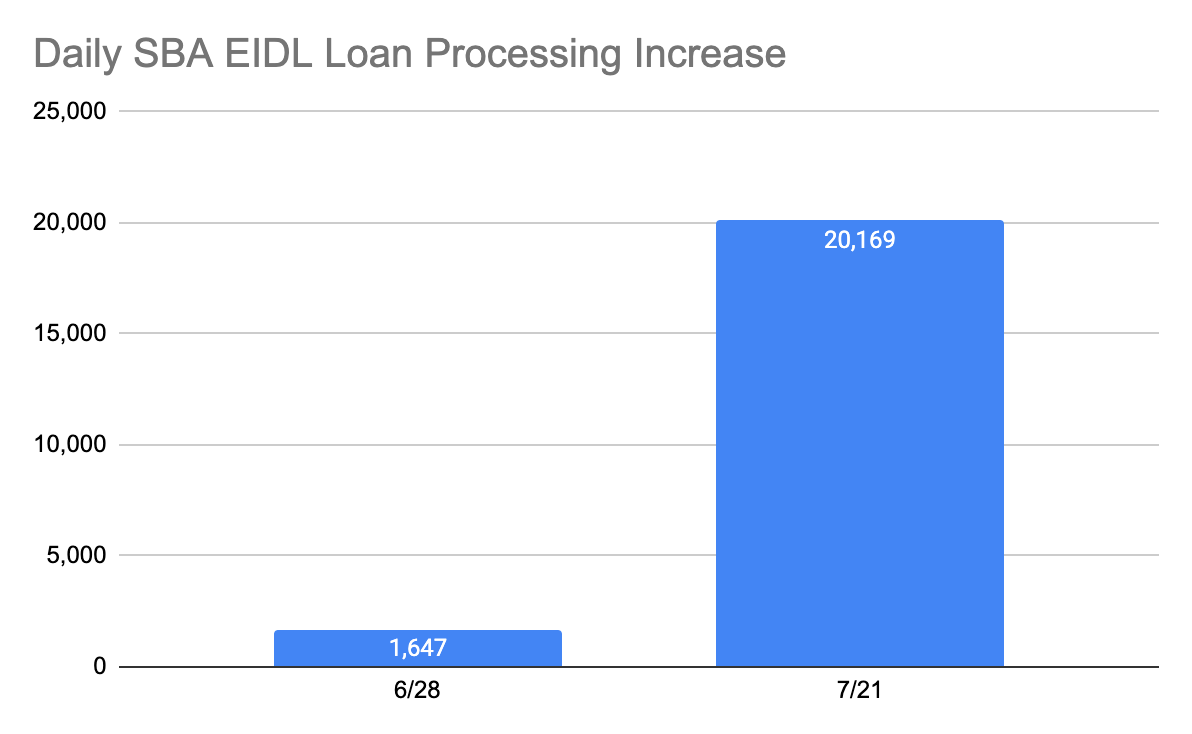 In addition, it was reported that loan officer daily efficiency has improved by 7X during that same time period, from less than 2 applications reviewed on average to now 15 per day on average.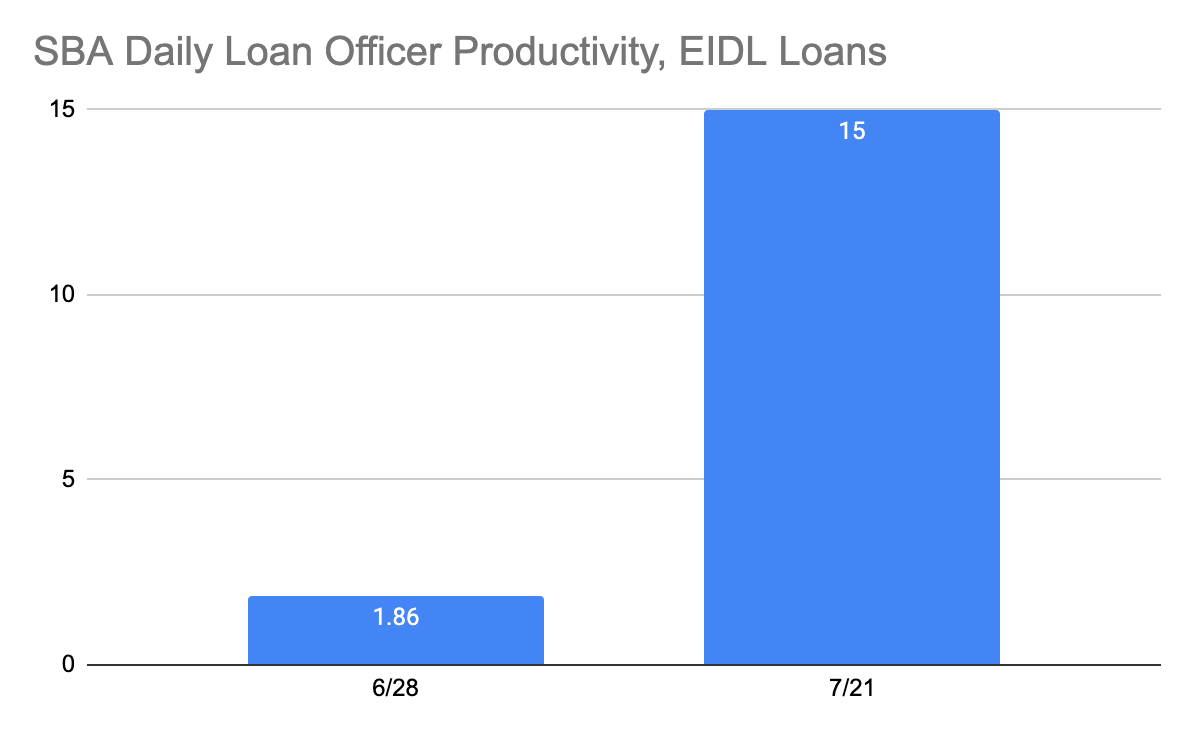 Based on this information, it appears that the SBA may have around 1300 loan officers reviewing applications.
📌 Pro-tip: You can search all EIDL loan and grant recipients here.
The SBA Has Made Dramatic Shifts on EIDL Loan Processing
These dramatic changes to EIDL loan processing, while good news, also raise many questions about how and why? How did switching EIDL loan processing from the Office of Disaster Assistance to the Office of Capital Access allow for such a significant shift to happen? How much does this increased throughput rely on technology and automation? And why did it take 3 months to make this switch?
Questions aside this is very welcome news from the SBA. This data report today increases the confidence borrowers and applicants will have as hundreds of thousands still await their EIDL loan increase decisions.
In addition, it points to the continued effort everyone at the SBA continues to make — from management to loan officers to customer support — to help millions of business owners across the US.
Based on the current daily rates, the 600,000 backlog will be approved toward the end of August. It's likely that the daily rate may continue to increase. And at the same time, a certain percent of applicants will also get back into the reconsideration queue as well.
Conclusion: Great News for the EIDL Loan Program and Applicants Still Waiting for Decisions
Today's additional webinar provided long awaited additional data, data we asked for in yesterday's post and video. We now have insight into the throughput of EIDL applications, the current backlog, and the potential path toward EIDL application completion.
If you have comments about the process, leave them on our YouTube video here. If you want to share information on background or off the record, email us at tips@helloskip.com.
If you've been denied for an EIDL loan increase, here's a reconsideration template you can use. If you're interested in more grant and funding information, you can become a Skip Plus member. You can join hundreds of thousands of others and get two weeks free right here. This trial ends at the end of this week, so get your free access now.
"I can't recommend Skip Plus enough. It is so wonderful to have the confidence that the Skip team is researching for me and they'll alert me if I need to take action on grant opportunities. -Stephanie J, Los Angeles, CA
"Thank you Skip for keeping me informed on grants and loans. It seems like you're adding new features every single week. Big help for my shop in Atlanta — thank you again." -Danielle K, Atlanta, GA