Updated Tuesday March 14, 2023
Following the collapse of Silicon Valley Bank on Friday and the FDIC closing a second bank on Sunday, the Federal Government announced steps to prevent further damage to the US banking system and economy on Sunday evening. Here's the latest and a recap of the events that led to the SVB collapse last week.
The Federal Government Issues Joint Statement Protection SVB Depositors and Other Banks With Zero Taxpayer Cost
On Sunday evening, the federal government issued a joint statement to prevent further panic in the US banking system following last week's collapse of SVB.
The four main items they outlined are as follows:
All SVB depositors will have access to all of their funds on Monday morning
All Signature bank depositors — which was taken over by the FDIC on Sunday — will also have access to their funds Monday
The Feds will also have funding available for other banks that may have liquidity issues
This will have no cost to the taxpayer and the US banking system remains robust
You can read the full press release here.
A Recap: What Happened Last Week
The second largest bank collapse in US history — and arguably the largest collapse affecting small business owners — happened on Friday. In a little over 48 hours, Silicon Valley Bank experienced an unprecedented bank run and was taken over by the federal government. Here's how this unfolded so quickly, why this is such a drastic situation for certain small business owners, and what actions you may want to take now.
*Below was written on Saturday March 11th and does not reflect the above updated information*
The SVB Collapse — How It Started
Silicon Valley Bank, which had over $200 billion in deposits working with tens of thousands of startups. SVB invested the bulk of these deposits in securities, including $80 billion in mortgage-backed securities recently.
The trouble is that when rates started to go up, mortgage assets got hit hard. Now these investments (i.e. where SVB put its customer deposits) were in trouble. Much higher yields were available in the market.
Deposits at SVB fell from around $200 billion in March 2022 to around $165 billion by the end of February 2023. Part of this decline was due to the system-wide contraction in the economy.
Whatever the case, as a result of this decline in deposits, SVB needed to reposition its balance sheet. This week, Silicon Valley Bank sold $21 billion of available-for-sale securities to raise cash. The bank lost $1.8 billion on this sale, so it also needed to raise capital at the same time. This news all became public and the rest was history.
Customer fear turned SVB's modest deposit outflows into a massive bank run — nearly all online wire transfers — and the subsequent takeover by the federal government on Friday morning.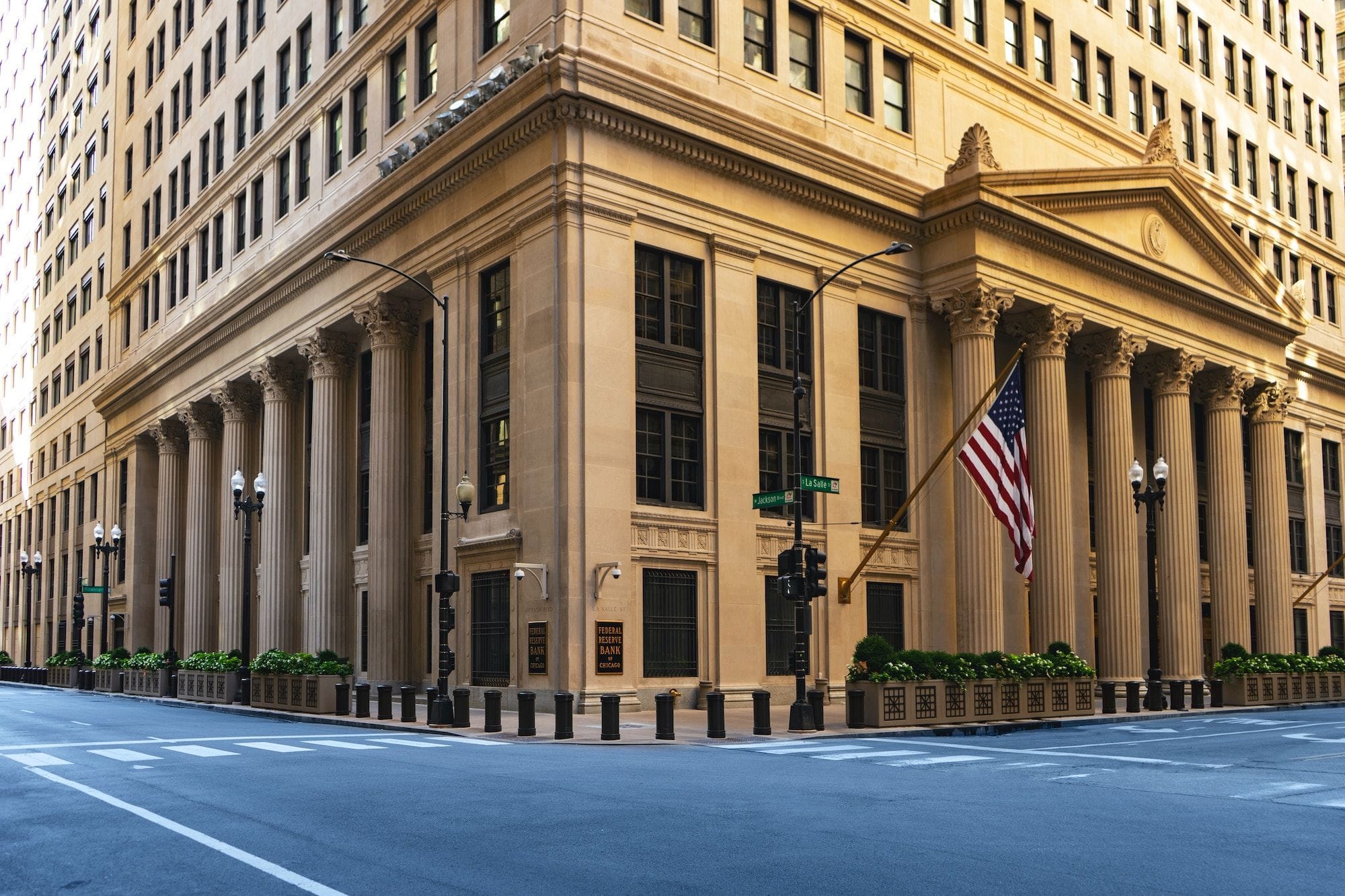 The Major Problem — $157 Billion in Deposits Are Uninsured
Here's why THIS collapse is arguably the largest ever affecting small businesses and startups.
Silicon Valley Bank was known among founders raising capital for their startup as THE bank to use. Just like starting a Delaware C Corporation became the de facto structure for new startups, SVB had a similar hold on the startup consciousness — Raising money? Keep it in Silicon Valley Bank.  
As a result, most deposits — in fact 93% — were over the $250,000 FDIC insured limit. That means this: If you had $1M, $10M, or $100M in financing sitting in your SVB account, as of this moment you're only immediately guaranteed to have $250K available.
To the entire small business & entrepreneur community - DID you have all or part of your business cash in Silicon Valley Bank? Please chime in and share 👇 #SVB #SVBCollapse

— Skip (@SkipConcierge) March 11, 2023
What's Next for SVB Customers?
For SVB customers, there are more questions now than answers — BUT a couple things that have communicated.
First, the FDIC communicated (press release below) that by Monday March 13th, customers will have access to their insured amount of $250,000.
For customers with accounts in excess of $250,000 the press release says to call a toll-free number — but it's likely we'll have more information by Monday on this.
There are a lot of conversations happening this week on how a bank buyout or bailout could happen, and policymakers likely understand how necessary this is to happen immediately.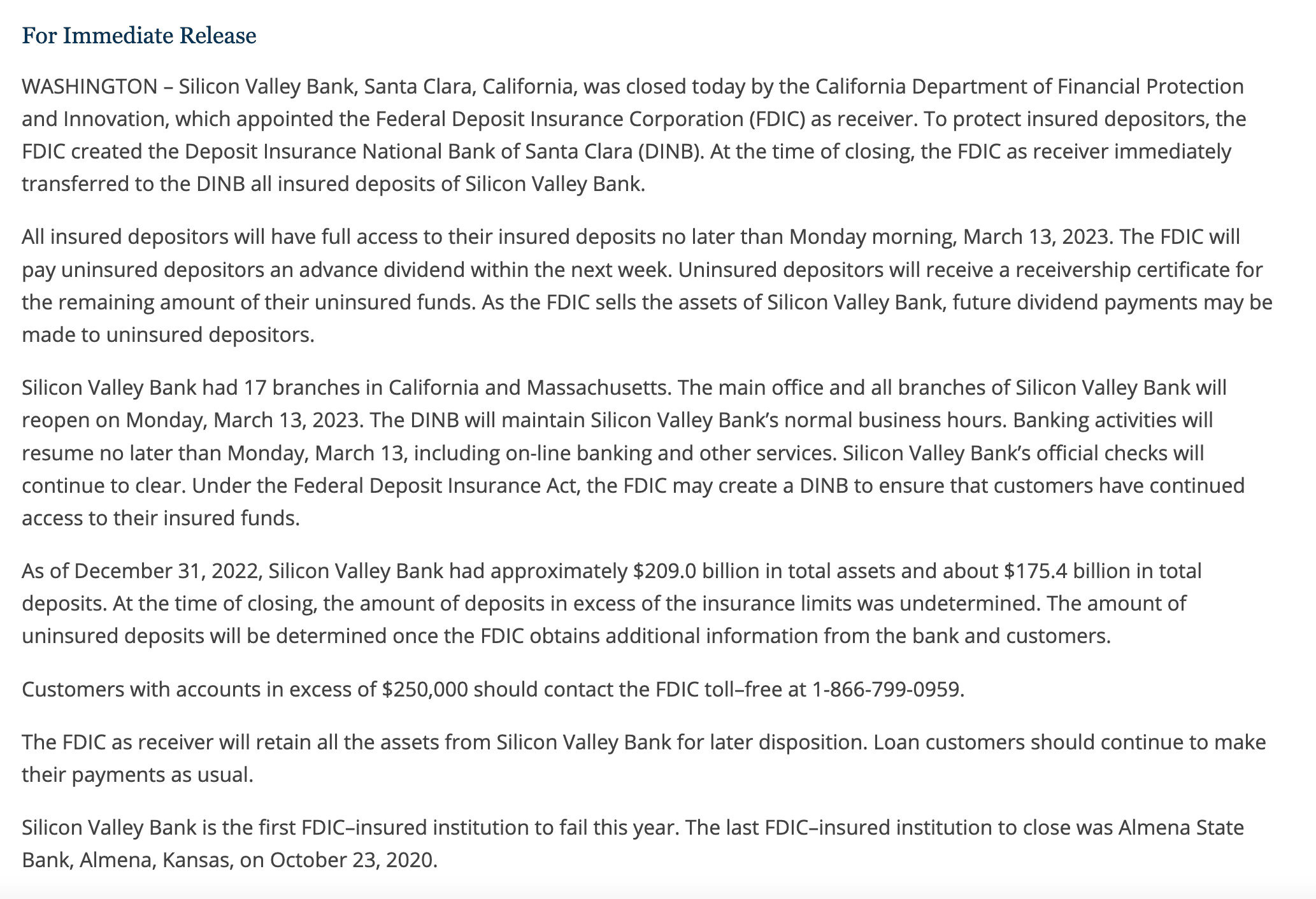 What's Next for Small Businesses More Broadly?
There's a much broader risk for small businesses in general — and general trust in the banking system after a collapse like this. Collateral damage will happen, the question is how much.
There's a couple immediate things businesses are starting to think about. (Disclaimer: This is not financial or legal advice, and is for informational purposes only)
First, for small business broadly now is a prudent time to re-assess risk. Just like our team at Skip has suggested diversifying options when looking for funding — now it's prudent to do the same for money that you HAVE.
Some business owners are looking at some of the largest banks that exist, including business checking options at Chase or American Express.
Others are looking at newer bank options, such as Novo, Bluevine (our recommended partner), Mercury, or Capital.
Second, now is a good time to look at other ways to strengthen your business position in case things get more turbulent. This includes raising additional funding if you can or looking at ways to increase revenue. If you want help exploring funding or revenue growth options, here are some options.
📌 Are you affected by the SVB bank collapse? Feel free to email us at tips@helloskip.com