If you're a small business just starting out or an established enterprise in need of additional working capital — up to $50K — the Small Business Administration's (SBA) Microloan program is a great option. In this article, we'll explain what the SBA Microloan program is, who is eligible, and how to apply through an SBA-approved intermediary.
📌 New Event Announcement — April 20th: If you're looking for up to $50,000 in business funding and want to learn how to apply for SBA microloans, what you'll need, what type of credit score and business documentation is necessary, or what some alternative funding options are, we're doing a members-only webinar on Thursday April 20th at 3pm EST.
Interested in the microloan webinar? Skip Members can access on their Skip Dashboard. Not a member? Become a member and use invite code MICRO for access. Spots are limited. Interested in an SBA microloan?
What is an SBA Microloan?
Sometimes referred to as "the startup loan," an SBA microloan is a small, short-term, low-interest rate loan designed to assist self-employed individuals, small businesses (with few employees), and underrepresented communities — like women, veteran, or minority-owned or low-income for-profit businesses.
Some non-profit child care centers also qualify for SBA Microloans. The average funding amount ranges between $10K - $14K, but the maximum loan amount is $50K.
What is an SBA Lending Intermediary?
The SBA Microloan program provides working capital for small businesses through its nationwide partnership of community-based, non-profit lending intermediaries. These intermediaries are enabled to approve microloans as little as $500, with interest rates between 8% and 14%.
Skip has partnered with Newtek to offer SBA lending, including microloans. To apply now, click here and indicate you're interested in microloans in the "Loan Type" field.
There are many other lenders who participate in SBA lending. To look for an intermediary in your state, refer to the SBA's list of lenders. There may be dozens to choose from, depending upon your business type and status, e.g. minority-owned, woman-owned, etc.
What Are the SBA Microloan Eligibility Requirements?
In general, an SBA Microloan requires a form of collateral or a personal guarantee from the business owner to qualify for the program. You must also meet the following criteria to be eligible for financial assistance through the microloan program:
Operate for profit
Conduct your business in the United States or its possessions
Have invested equity in the business
Used alternative financial resources before seeking assistance with the SBA
In  general, intermediaries expect microloan applicants to have a business plan exhibiting how they will become profitable. Another benefit of the microloan program is that the applicant's credit history is not as big of a factor as it is with other loan types.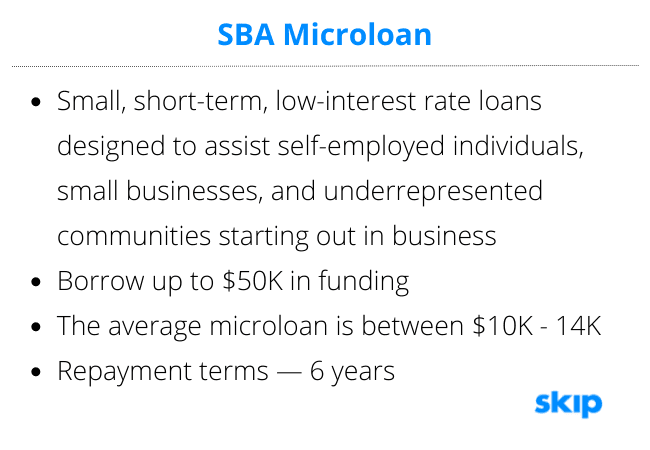 Individual microlenders may have additional requirements — such as no personal bankruptcies or foreclosures — as well as providing proof of adequate income (or expected income) to pay back the loan. Lastly, your business might be required to be located in an intermediary's service area.
What Can I Use an SBA Microloan For?
You can use your SBA Microloan for a variety of purposes, except to pay existing debt or to purchase real estate. Aside from those restrictions, you can use your microloan financing for business-related expenses, including:
Equipment
Fixtures
Furniture
Inventory
Machinery
Supplies
Working capital
How Do I Apply for an SBA Microloan?
If your business is generating revenue, we encourage you to apply via our partner Newtek here – just indicate you're interested in a microloan in the "Loan Type" field.
If you're just starting out, or pre-revenue, you can still apply for a Microloan. To look for an intermediary in your state, refer to the SBA's list of lenders.
You can also apply via your local intermediary bank. They may need microloan applicants to fulfill certain requirements — like attending business development seminars or other types of training designed to assist you in launching or expanding your business.
To apply, at a minimum you'll need a business plan outlining how you plan to make your business profitable, and how you'll use the funds.
How are SBA Microloans Repaid?
The terms of the loan are set out by the intermediary and vary according to several factors, including:
Loan amount
The planned use of funds
Needs of the small business borrower
Other intermediary requirements
The maximum repayment term allowed for an SBA microloan is six years. Interest rates vary depending on what the U.S. Treasury charges the intermediary to fund your microloan. Generally, rates range between 8 -14%.
Are There Other Types of SBA Loans Available for Small Businesses?
Yes. Aside from microloans, the SBA has several other funding options for small businesses, each with slightly different qualifications.
SBA 7(a) Loan Program. An SBA 7(a) Loan is more of a partnership with lenders by way of a government-backed loan guarantee. With an SBA loan, lenders are guaranteed up to 90% repayment if a small business defaults, for loans up to $5M. In this way, the SBA incentivizes lenders to offer greater access to capital, at lower interest rates, and with better repayments terms.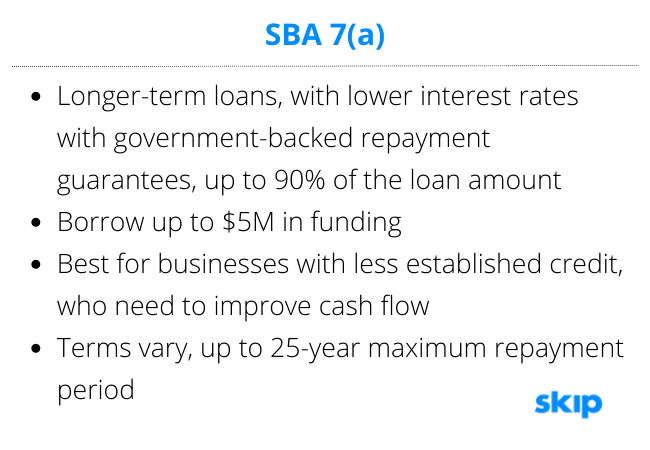 The 7(a) Loan is best suited for businesses with less established credit and who want to improve cash flow, refinance debt, fund improvements, or purchase equipment or real estate. The 7(a) loan features longer terms and lower down payment requirements than conventional loans.
SBA 504 Loan Program. The 504 Program provides longer-term fixed-rate loans of up to $12M, to be used for the acquisition of fixed assets (equipment, commercial real estate, etc.) that promote long-term growth — and job creation within the business. With generous loan amounts and up to 90% refinancing options, the 504 loan is  best suited for larger or established businesses in need of long-term financing.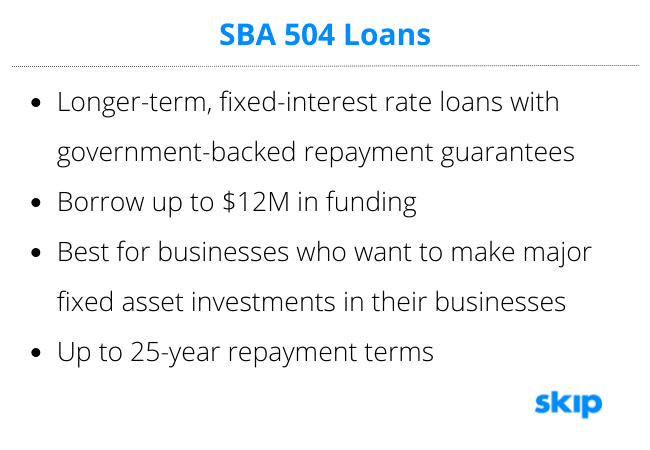 The 504 loans are made available through Certified Development Companies (CDCs), which are SBA-sanctioned community-based partners whose role is to promote economic development within their communities.
You can apply for these loan types through Newtek as well, via this link.
Interested in the 4/20/23 SBA microloan webinar? Skip Members can access on their Skip Dashboard. Not a member? Become a member and use invite code MICRO for access. Spots are limited. Interested in an SBA microloan?
Get Help for Your Business
Do you need help getting funding for your business? We can help you with SBA loans, grants, or other business financing options. Get ongoing personalized help from our team. Join Skip today and get 1-1 support for your business.