Updated 6/10/23
If you're a woman entrepreneur looking for financial support for your business, there have never been more grant and funding opportunities focused on supporting you. Here's a list of recent grants for women-owned businesses below that you can ready about and apply for today.
📌 Two important notes:
In the following we'll share several recent funding opportunities specifically for women-owned businesses as well as broader information on what qualifies as a women owned business.
New 2023 Grants for Women-Owned Businesses
Reminder: We do our best to update this page often so bookmark and check back often. Alternatively, you can always see the latest grants list here.
Are you interested in several other grants due soon for women-owned businesses or for any US-owned businesses? See more on the Skip app.
More Details on Women-Owned Businesses
In This Article:
Women-Owned Business Designation
A woman-owned business is a specific designation used by Government agencies and industries to encourage, empower, and enable female business owners. To qualify as a women-owned business you must:
Business Grants Defined
Essentially, grants are "free money" from a federal entity, corporate, or private donors meant to fund ideas and projects that benefit the public. A grant could be used for community-based disaster recovery efforts or innovative scientific research for fast-acting vaccines and anti-viral drugs, to name a few.
Grants are meant to stimulate the economy through job creation, and small business growth. Unlike a small business loan or business credit, you don't pay it back. But that's not to say you won't work for it. The grant application process can be arduous and time-consuming.
📌 Pro tip: Be the first to hear about new and upcoming grant programs by joining Skip. We post new grants and loans twice a week on our app for our members before announcing them to the public.
How You Can Use Business Grants
With so many grants, it's impossible to say how your business might use its grant funds. But, keep in mind, the benefactor may still have expectations, if not parameters as to how you choose to employ your grant money. Our advice — use it wisely to grow your business and benefit your community.
Women-Owned Business Certification (WOSB)
All federally-funded grants for women require certification as a women-owned small business (WOSB), but corporate and private benefactors do not.
However, it never hurts to become an SBA certified WOSB, or other recognized women-specific business such as Women-Owned Enterprise (WBE), or Economically Disadvantaged Women-Owned Business (EDWOSB).
Certification improves the probability of being awarded grants, as well as provides women-owned businesses with exclusive opportunities to bid on contracts within the Federal Government's vast supply chain network.
Federal Grants for Women-Owned Businesses
Competition for grants is fierce — and you'll need more than just your ducks in a row. We've made the process a little easier for female business owners by pointing you in the right direction on where to find grants for female entrepreneurs, along with some tips on how to qualify.
Grants.gov
Grants.gov is the BIG database of all federal grants, including federally funded grants for women. You'll find thousands of federal, state, or local grants specifically for female business owners.
How to Qualify
Be a women-owned business
Obtain a DUNS number
Register to do business on the SAM.gov (System Award Management) website
Create an account at Grants.gov
Enter search terms like "Women-Owned," "WOSB," etc.
Select Grants under Funding Instrument type
Select a Category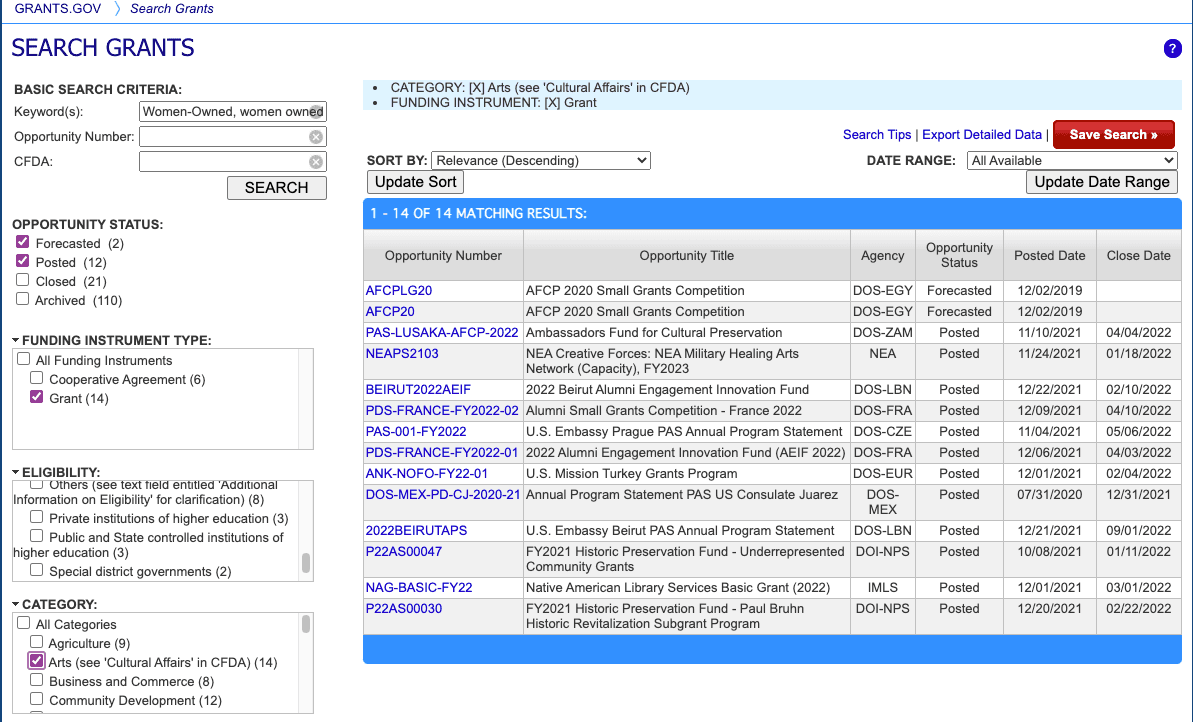 State and Local Small Business Grants for Women
Since there is a lot of competition for federal grants, you may not find one or be awarded one the first time. There are, however, other state resources for you to look into.
Small Business Development Center (SBDC)
Another good place to start looking for grants is with a local Small Business Development Center (SBDC). These regional SBDCs provide mentoring, training, and tools to support business start-ups or existing businesses to grow.
Specifically, an SBDC can assist your women-owned business with access to grant opportunities, as well as access to capital, business planning, financial management, and marketing, to name a few.
There are regional SBDCs all over the country, so find your local SBDC and begin searching here.
Women's Business Centers
Women's Business Centers (WBCs) are similar to SBDCs, but with a specific focus on women. Part of a national network of women entrepreneurs, WBC's mission is to level the playing field for female business owners through mentorship, networking opportunities, small business grants for women, as well as expert guidance on accessing capital.
There are regional WBCs all over the country. Contact your local WBC office and see what options that have available for you.
Private Small Business Grants for Women
Many private organizations and corporations hold their own grant programs throughout the year. As we find them, we will post the details here.
Amber Grant Foundation
The Amber Grant Foundation awards over $400K per year to women-owned businesses, and two $25K grants are awarded annually at year's end. Recently, the Amber Grant Foundation expanded to include non-profits and bi-annual marketing awards.
It's perhaps the easiest grant application you could hope for, however, there is a nominal $15 application fee.
KKR Small Business Builders Grant
To qualify for a $10K grant, your business must be at least 51% owned and operated by a woman or woman-identifying individual, have between 5 and 50 employees, have less than $7M annual revenue, and have a need for support with a plan moving forward.
The ideal candidate is someone who faced challenges during the pandemic, had to make changes to their business, and is still in need of assistance. The ideal candidate will also have a commitment to service and their community. The deadline to apply is April 22nd.
Fearless Strivers Grant Contest
The Fearless Fund and Mastercard have teamed up to offer the Fearless Strivers Grant Contest, which is awarding $10K grants to 11 businesses this year. To be eligible, you must be a black woman-owned business that makes $3M per year or less, has 50 or fewer employees, and that has been in business since February 10th, 2022. Each month is a new entry and selection period, so be sure to apply to the grant every month.
Free Marketing Campaigns For Minority and Women-Owned Businesses
Comcast created their Comcast RISE program to provide business owners with technology assistance, creative media, and marketing campaigns. If your business is for-profit, at least 51% women-owned or minority-owned, is independently owned and operated, has been in business for at least one year, and is in Comcast's coverage area, you may qualify for one of their programs.
Comcast will choose hundreds of businesses and assist them with the creation of a televised media campaign or a technology makeover for their business. The deadline to apply is June 17th, 2022.
Freed Fellowship
The Freed Fellowship offers monthly grants of $500 to women and people of color to assist them in their entrepreneurial adventure. They also provide business mentorship and the opportunity to win their year-end grant of $2,500. To start, just answer a few quick questions and click submit.

You will receive feedback on your business idea whether you are selected for the grant or not. Applications are received on a rolling basis.
HerRise Micro-Grants
Business owners who are women of color are eligible to apply for a $500 micro-grant through HerRise. HerRise seeks to offer financial support to women of color who are unable to secure capital for their business elsewhere.

Every month, they award a $500 micro-grant to help with small projects, marketing, and other necessities. Find out more about HerRise micro-grants and apply here. Applications received on a rolling basis.
IFundWomen Universal Grant
IFundWomen, in addition to the Entrepreneur of the Year Grant, has a Universal Grant Application. This is open for all women-owned businesses. They have a pool of $8 million from corporate grants and have only distributed 40% of it.

When you apply, IFundWomen scans your application to see if it fits the qualifications for the grants they have. When there is a match, they will notify you. They accept applications on an ongoing basis and take about 20 minutes to complete.
IFundWomen's Entrepreneur of the Year
IFundWomen's Entrepreneur of the Year grant is open. Six winners will receive a $5K grant plus one year of educational services and resources. One lucky grand prize winner will receive a $100K equity investment in their company. Must have been in business on or before March 8, 2021, and meet other criteria.
This opportunity is open to women-owned small businesses in the following business categories: Beauty, Tech, Community Impact, Health & Wellness, Business Services, Food & Beverage, or the Art, Media, & Entertainment industries. The deadline to apply is June 8th.
Beyond Yoga's For Women BY Women Grant
In honor of Women's History Month, Beyond Yoga and Hello Alice are offering virtual coaching to 10 female founders through the Beyond Yoga's For Women BY Women Grant. In addition to the 10 coaching prizes, they are giving away one grand prize grant of $10K and one-on-one time with Michelle Wahler.
To apply, your business must be owned by a woman-identifying founder, be within the first 5 years of business or entrepreneurial journey, and have annual gross revenue of less than $5M. The deadline to apply is April 15th.
SOGAL Black Founder Startup Grant
Black women entrepreneurs are the fastest growing demographic in the country, if not the world, yet, consistently receive less than .5% of funding. SOGAL aims to eliminate at least one barrier for this demographic with their Black Founder Startup Grant, created specifically to offer business grants for black women with $5K and $10K grants.
Corporate Counsel Women of Color
Corporate Counsel Women of Color is a non-profit organization of women attorneys of color who serve in various general counsel roles from non-profits to Fortune 1000 companies. They are awarding $5K grants to businesses owned by women of color through their Corporate Counsel Women of Color grant.
To qualify, your business must have EIN, must have been established by January 1, 2020, and have generated over $25K in profit since January 1, 2020. Submissions will be reviewed in May.
Other Grants to Consider
There are other grant programs that are not specific to women-owned businesses that you can apply for as well.
The Halstead Grant
If you are a silver jewelry artist, the Halstead Grant is one for you to consider. Every year, Halstead awards one grand prize grant of $7,500 and up to 5 grants of $250 or $500 to semi-finalists. The winner and semi-finalists also receive personalized feedback and promotion for their business. Applications are now being accepted and are due August 1, 2022.
Other Small Business Grant Pages
If you don't qualify for the grants currently mentioned here, check back later and take a look at the following grant guides.
Get Help With Business Funding
Need help with business grants or have business funding questions? We can help with EIDL, SBA loans, grants, or other business financing questions. Get ongoing personalized help from our team. Join Skip Premium today and get 1-1 support for your business.
---
How Else Can Skip Help? Whether you need help navigating small business funding – like SBA loans, grants, or other financing options–or help with other government-related services – like TSA PreCheck or DMV appointments — skip the red tape.