EIDL Loan Increases Over $500K Already Being Denied
EIDL 2.0 took effect on September 8, 2021, making numerous changes to the EIDL rules. Under EIDL 2.0, the maximum loan amount was raised from $500K to $2 million for eligible businesses. Decisions on increases above $500K were to be postponed until October 8, 2021, but businesses are already being denied. Here's what you need to know.
Businesses Are Being Denied for EIDL Increases Over $500K
This week, businesses already received denial letters for their EIDL increase request over $500K. Below is a denial letter dated October 2, 2021, explaining that the increase request was denied. The denial reason for this particular request was "lack of repayment ability." This comes as a surprise given the 30-day exclusivity window that the SBA announced in September.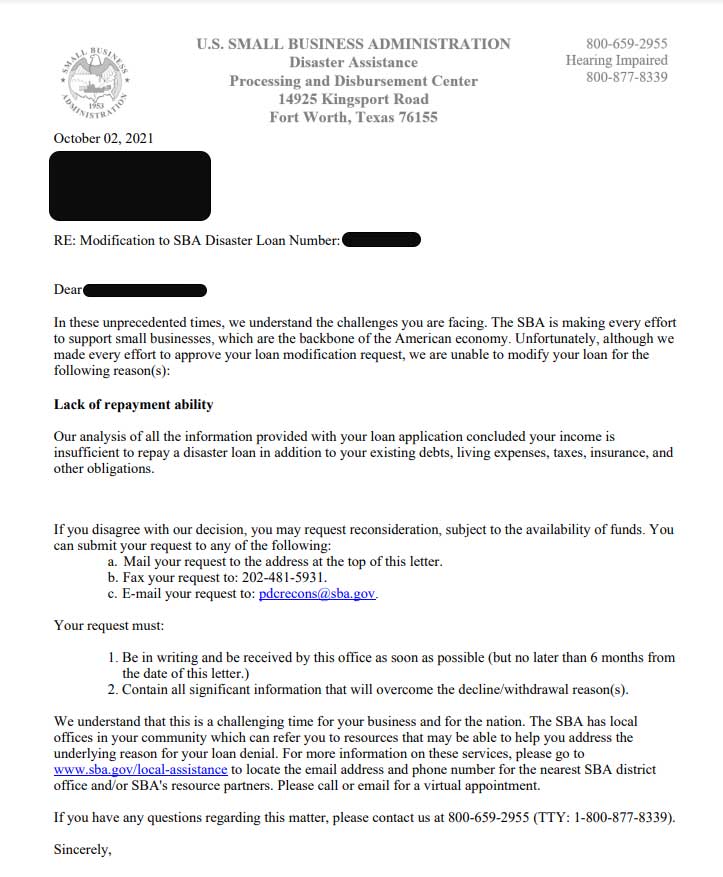 The SBA stated that it would not approve any loan increases above $500,000 until October 8th, 2021 (the 30-day exclusivity window). For the 30 days between September 8th and October 8th, the SBA would be exclusively working on clearing the backlog of applications who were waiting for an initial decision or a decision on their loan increase below $500K. The SBA reiterated that point on several occasions, but denials are already being sent out.
Potential Reasons For EIDL Increase Denials
As more information from the SBA and other EIDL borrowers is received, the reasons for EIDL increase denials for loans over $500K will become clear. Here are a few reasons and potential reasons businesses will be denied for an increase of over $500K.
Business does not qualify for an increase. It could happen that upon review of your business tax information and cost of goods sold, your business doesn't qualify for an increase to the amount you requested. The SBA stated that it will approve loans up to the amount each business qualifies for. Double-check the amount your business qualifies for on our dashboard.
Lack of repayment ability. As stated in the letter above, another reason you may be denied an increase is the lack of repayment ability. The letter states that this person's income is insufficient to repay the EIDL loan considering this person's existing debts, living expenses, taxes, insurance, and other obligations. For loans over $500K, the SBA requires five additional forms that they use to base their decision on.
Insufficient Collateral. The SBA stated that collateral requirements will be decided on a case-by-case basis, and confirmed that personal assets will not be used as collateral if business real estate does not exist. Because the SBA will assess collateral on a case-by-case basis, there is a possibility that individuals will not be eligible for an EIDL loan above $500K if they lack sufficient collateral to back the amount they request.
What To Do If You Are Denied For An EIDL Increase
If you are denied a loan increase of over $500K, the SBA still provides you the opportunity to request a reconsideration. We created a reconsideration template for loans below $500K that you may use as a guideline, but you will need to adapt it for loans over $500K.
To request reconsideration, you can mail the SBA a physical letter to the address on the denial letter. You can also fax your letter to the SBA or email your reconsideration letter to pdcrecons@sba.gov. Consider asking your loan officer if they can provide more detail on the reason for denial, so you can address those denial reasons in your reconsideration letter. The SBA also recommends reaching out to your local SBA office to find out more about the denial reason.
Get Personalized Assistance With Your EIDL Application
If you would like more assistance with your EIDL situation, we offer one-to-one coaching sessions. Currently, we have a waitlist of over 2,000 people, but if you need help now, you may bypass the waitlist by using this link and receive 1-to-1 guidance from a member of our team. Whether it be EIDL, other SBA loans, grants, or private funding options, we are here to provide you with ongoing support to help your business grow and thrive.