New Bill Proposes Additional $5,000 in Targeted EIDL Grants
The new $1.9 trillion stimulus package text, released Friday by House Democrats, includes $15 billion in additional EIDL Grant funding, allowing certain small businesses to get an additional $5,000 on top of whatever they've already received. Here's what the legislation says, who would be eligible, and our video on the breaking news.
The New 600-Page Stimulus Bill Text Is Released
On Friday, House Democrats released the nearly 600-page relief bill, the $1.9 trillion package. It includes a lot — but noteworthy is that 600 pages is a light read compared to the 5,600 page bill passed in December.
We'll focus only on the EIDL grant in this post, but there are plenty of other important provisions we'll cover in upcoming posts (unemployment, minimum wage, other small business funding and benefits).
$15 Billion Has Been Set Aside for More Targeted EIDL Grants
In the bill there are two things of note: First, an additional $15 billion is set aside for these "supplemental" grants. Second, the text also says this is in addition to any other funding available.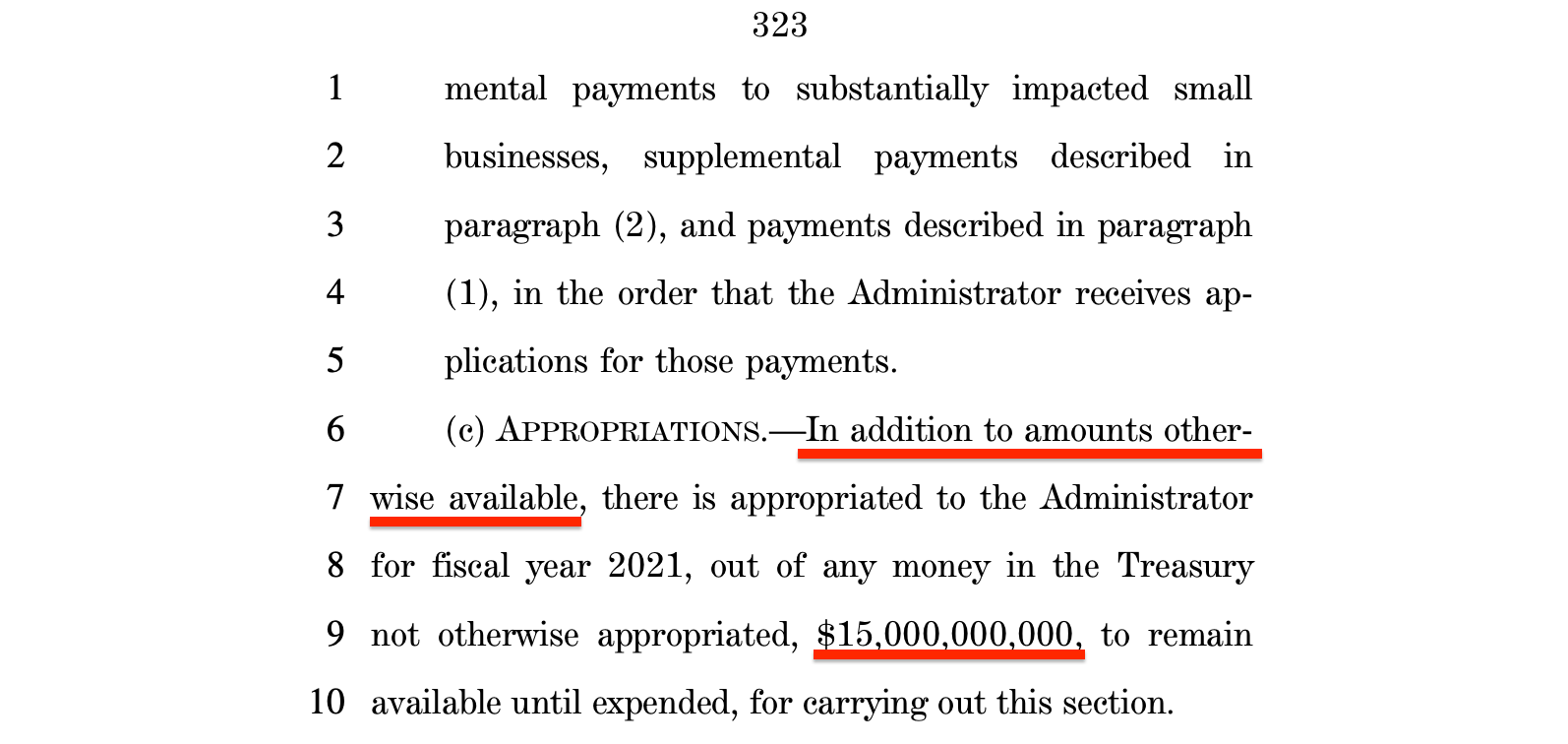 This Funding Is Still Only For "Covered Entities"
Unfortunately the way this is written, you would only qualify for this "supplemental" grant if you meet the "covered entity" requirements in the December stimulus package. This, of course, means your business needs to qualify under the low-income area provision.
If you want to see if your business might qualify, you can check your business address on our free app to see if you qualify, by using our EIDL Grant tracker.

Then, Two Groups Would Be Eligible for Additional $5,000
First, you might qualify as a "severely impacted small business" if you're a covered entity that has suffered an economic loss of greater than 50% and has 10 or fewer employees.

Second, you might qualify as a "substantially impacted small business", which, as we read it, means you have 10 or fewer employees and don't need the 50% economic loss threshold but you do meet the existing 30% threshold.

And, the Additional $5,000 Is In Addition to Existing Funding
What's also important to note is that this means you could potentially get up to $15,000 in EIDL Advance funding. Previously the cap has been $10,000.
Basically, this means that if you've already gotten an email invite for the Targeted EIDL Grant or you previously tapped out at $10,000 last year (with 10 employees), you could now be eligible for an additional $5,000 on top of this.
Do I Need To Do Anything Now?
No. As of February 21, 2021 this is just legislation. The House may decide to vote on this bill this week, then pass it to the Senate. Then it will need to go to President Biden to be signed into law, and — if all goes well in the House & Senate — this may become a law by mid-March.
Once that happens the SBA has 2 weeks to basically share the "rules" of the new program. This includes any clarifications to who would qualify.
You can follow us on Instagram and YouTube to get the news first. By the way, we have a brand-new video being released Sunday afternoon that talks more about this, so you can see here.
Oh, and you can also share this post with friends & family if you find it helpful. Finally, if you haven't downloaded our free app, you can download on the App Store or Google Play.